These are the top series Warwick students are loving in lockdown 3.0
Let's be real, we could all do with more on our watch list
With the endless days of lockdown 3.0 merging into one, we want to know what series our Warwick students have been loving at the moment. Whilst everyone in the UK is being forced to 'stay at home', TV has become an essential part of keeping us entertained.
We asked 11 Warwick students for their top recommendations of series to watch whilst being bored in the house and in the house bored. After all, there is only so many times you can re-watch that same episode of 'Friends'.
1. Isabella Clark: 'Tiny Pretty Things'
First up, my top pick!
Lockdown series: 'Tiny Pretty Things' (Netflix)
One Sentence Summary: "Pretty Little Liars meets Black Swan."
How did it help you through lockdown? "Tiny Pretty Things is an amazing series if you are looking for a Gossip Girl sequel drama, but with an added touch of ballet dancing. As an avid appreciator of dancing, this series hit the spot! The Series also has a great playlist which is linked on Spotify."
Rating out of 10: "10 out of 10. The dancing is incredible!"
2. Laura Procasteaknits: 'Fleabag'
Lockdown series: 'Fleabag' (BBC iPlayer)
One sentence summary: "I really don't think I can summarise it without spoiling it, it had very relatable moments, and it made me laugh so much. Plus the script writing and dialogue were impeccable."
How did it help you through lockdown? "I basically watched the entire series in one sitting, I'm not even exaggerating. It helped me get my mind off deadlines and everything else for a bit which I really needed."
Rating out of 10: "10 out of 10."
3. Anushka Dugar: 'Brooklyn Nine-Nine'
Lockdown series: 'Brooklyn Nine-Nine' (Netflix)
One sentence summary: "It's about a group of immature but talented NYPD detectives headed by a stern and serious newly appointed captain"
How did it help you through lockdown?: "Brooklyn nine-nine is my feel good show. I've watched it so so many times that I can almost recite it from memory. It's funny while tackling some real life issues. It is a show I used to watch with my sister when I was at home. It just reminds me of a simpler and a happier time."
Rating out of 10: "I would say that show is 100000/10"
4. Jakub: 'Love, Victor'
Lockdown series: 'Love, Victor' (Coming to UK's Disney+ on Feb 23)
One sentence summary: "It's a story about an LGBT teen from a conservative household trying to figure out his sexuality and accept it."
How did it help you through lockdown? "It made me self-reflect a lot (for which I have a lot of time in lockdown) and helped me get over my post-movie depression of its cinematic prequel Love, Simon (which I also highly recommend)."
Rating out of 10: "9/10"
5. Beatriz: 'Alice in Borderland'
Lockdown series: 'Alice in Borderland' (Netflix)
One sentence summary: "A guy obsessed by videogames ends up in an alternative version of Tokyo where him and his friends must complete dangerous games to survive."
How did it help you through lockdown? "As for the helping part it was the only thing that made me feel something a part from extreme boredom and made me feel very involved in the series, so that gave me a break from the reality of lockdown."
Rating out of 10: "8/10"
6. Adrian Gans: 'Sense8'
Lockdown series: 'Sense8' (Netflix)
One sentence summary: "Sense8 is about 8 people from across the world, who are all 'connected' with each other, allowing them to read each others mind, communicate with each other, and more…"
How did it help you through lockdown? "It really just gave me something to do, whilst we were all super bored during lockdown! It's definitely one of those series that you just want to binge watch, so I was quite busy for a few weeks, since it has a lot of seasons! I'd definitely say it's one of my favourite series I've watched so far."
Rating out of 10: "10/10"
7. Emily Rose Beale: 'Caliphate'
Lockdown series: 'Caliphate' (Netflix)
One sentence summary: "Caliphate is a Swedish mini-series on Netflix about the radicalisation of young girls in Sweden and the troubles faced by the character Pervin, after she travels to Syria to marry an Isis fighter."
How did it help you through lockdown? "This series really helped motivate me to work on my dissertation, which is on a similar topic and was something exciting to look forward to in the evening after studying."
Rating out of 10: "10/10"
8. Tash Boret: 'The Wilds'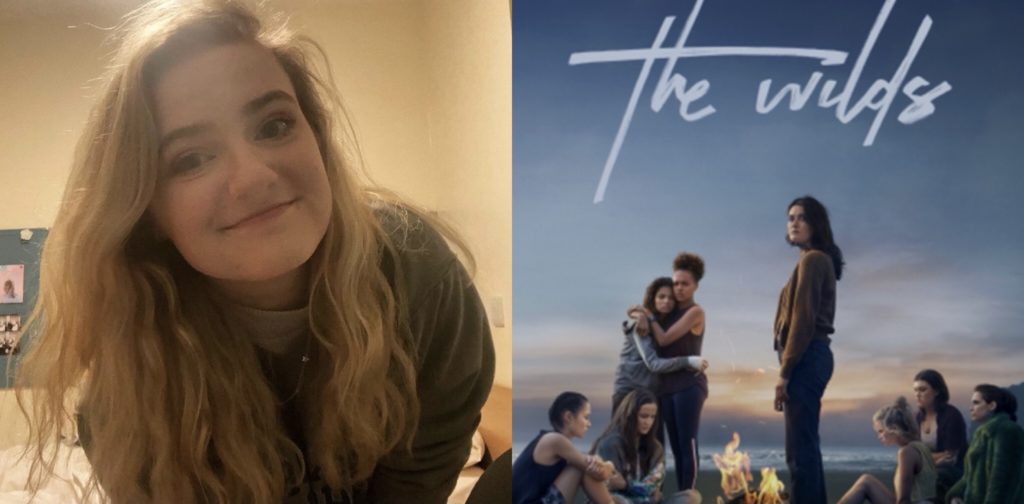 Lockdown series: 'The Wilds' (Amazon Prime)
One sentence summary: "A group of teenage wilds from radically different backgrounds find themselves stranded on a deserted island, unaware that they have just become the subject of an elaborate social experiment."
How it helped you through lockdown? "Very easy to immerse yourself into the show with some strong female characters, and amazing friendships and bonds that form."
Rating out of 10: "10/10"
9. Fran: 'Firefly Lane'
Lockdown series: 'Firefly Lane' (Netflix)
One sentence summary: "The heart-warming Netflix show is about two best friends. It shows their lives from teens in the 70s to being in their forties in the early."
How it helped you through lockdown? "It has helped me in lockdown by giving me escapism and helping me appreciate my close female friends. I would give it an 8/10."
Rating out of 10: "10/10"
10. Sophie: 'American Horror Story'
Lockdown series: 'American Horror Story' (Netflix)
One sentence summary: "Each season of American Horror Story is completely different, so it's like watching several mini series, but they use the same actors, making each season feel new and familiar at the same time."
How it helped you through lockdown? "During lockdown it gave me something to look forward to and I found myself getting absorbed in the plot and forget about everything was going on. Plus I discovered my love for Evan Peters."
Rating out of 10: "I'd probably give it an 8/10, because some seasons are considerably weaker than others"
11. Daisy May – 'I May Destroy You'
Lockdown series: "I May Destroy You" (BBC iPlayer)
One sentence summary: "I May Destroy You is such an honest, interesting commentary on consent, and one of the best pieces of TV set in London."
How it helped you through lockdown? "Such a binge-worthy series but one that really makes you think about important things and change your perspective!"
Rating out of 10: "10/10, if you haven't seen it get on it"
Related articles recommended by this writer:
• We asked for your worst Warwick Valentine's stories, and wow, some of these are horrendous
• Our top tips for staying motivated whilst studying online at Warwick Uni
• Answer these eight questions and we'll tell you what classic Warwick pub you are