RIP District Brighton – our beloved alternative club night
| UPDATED
After four memorable years amongst the seafront's iconic arches, 'the UK's biggest alternative club night brand' has closed its dark doors on Brighton's clubbing scene. So, whether out and proud or pushed deep down into your guilty past along your angsty Tumblr account and giant fringe, it's time for your inner emo kid to begin the process of mourning.
With an aptly morbid irony, Halloween 2019 brought District's final event, leaving the ghost of the brand to haunt the beaches for many a Wednesday night to come. This gave clubbers the chance to give their beloved rock retreat the dark and spooky sendoff it truly deserved.
Operating (until now) in eight cities across the UK, District unites students and locals in pursuit of an alternative scene to the typical pop and electronic nightlife circuit that most student cities have to offer.
Skipping around from Coalition to Hideout, and from Tuesdays to Fridays to Wednesdays, it was clear that this emo oasis was struggling to please everybody. Nevertheless, regulars and guilty goers continued to cross its rebellious threshold every week.
So, tragic endings aside, and without further ado, here is our tribute to everything we loved most about Brighton's favourite weekly emo night.
The music
The main rock, metal and pop-punk room may not have provided the perfect playlists for a bop or a grind, but no one that shared the the uniquely refined emo taste was complaining at District.
Who needs to sing and dance when you can scream and head bang your deadline stress away to a spot of Limp Bizkit? And, even if My Chemical Romance isn't still your ultimate jam, there was no time to cringe over your emo teens when nostalgia brought those lyrics flooding back.
The crowd
Fighting through mobs of sports socials on a Wednesday night, District's weirdos of the night flocked to Hideout with their brilliantly colourful hair and black painted nails.
United in their love for all things heavy, this crowd attracted some of the most kind and interesting people you'd ever chat with in a smoking area.
Dragged your doubting friends away from The Arch for the night? No problem! The indie room was there for you just a hop, a skip and a mosh away with cheesy sing-along hits all night long. There really was something for everyone.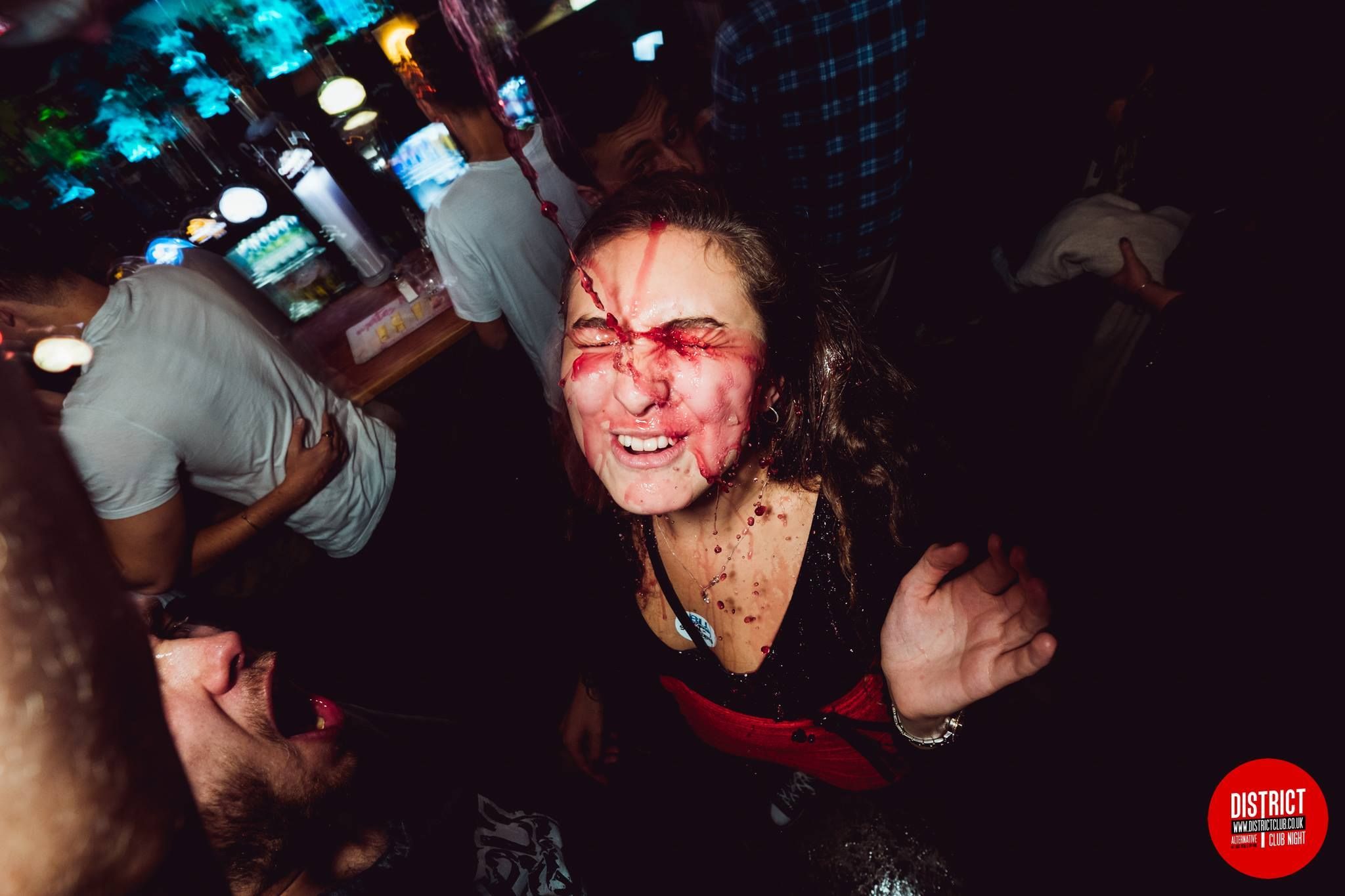 The drinks
Ah, the Donkey Kong pint cocktail, you shall be sorely missed.
Even though we barely managed to drink half of you on account of your ridiculous weight and the moshers spilling your sticky contents all over us, no sickly sweet bev will ever both make and ruin a night in quite the same way.
Pop punk pizza parties
Did you know that pop punk fans live almost exclusively off energy drinks and pizza? Well, District certainly did.
Hosting regular free pizza parties, they kept us broke student emos good and fuelled.
Many Brighton venues such as Komedia and The Hope and Ruin do have us covered with occasional rock club nights that will scratch that emo itch from time-to-time, but nothing will ever quite beat our old faithful District.
Whether on the Highway to Hell or Knocking on Heaven's door, District Brighton's death will be mourned for time to come.
Club photos courtesy of District