Introducing Heavy Lids: The Sheffield students set to be dream pop's next big thing
The band formed at Uni Of
There is no shortage of good Sheffield bands emerging at the moment, and dream pop five-piece Heavy Lids have already established themselves as one of the city's most exciting new prospects.
Made up of Uni Of students Maria (vocals), Harry (guitar), Charlie (bass), Tom (synths), and Micah (drums), the group release their first single next Friday (8 June), before playing their biggest headline show to date at Cafe Totem the following day.
Four of the group sat down to talk to The Tab about work-life balance, mental health in the music industry, and how Pop Tarts played a part in their formation.
How did the band form?
Micah: Well, me and Harry are housemates, we met before uni.
Harry: We've been in a couple of bands together beforehand, we don't talk about that. With Heavy Lids, there was more consistency to it than there had been in the past.
Maria: We know what we're going for.
Harry: I had like five or six songs, and needed a female vocalist.
Tom: I remember coming up to Micah in November/December time in Pop Tarts and saying "you better be the drummer!" I don't know if that swayed him.
What sets Heavy Lids apart?
Micah: It's more of a niche sound.
Harry: Yeah, it's a sound you don't tend to come across in small scenes as well, younger bands as well.
Maria: A few people have said stuff like that to us, like it's good to see people our age making the music that we are.
Harry: It's why we've done a photo shoot, if they didn't have faces to put to the music they'd think we were all middle aged.
Who are your main influences?
Micah: For me it's Richard Hawley. The rhythm section, slow but very groove-orientated.
Harry: Definitely. I really like the way he grounds the songs in the Sheffield cityscape, and I feel like we were trying to channel that with Neon Graffiti, our first single. Name drop.
Micah: His music is very distorted but mellow as well, which is the power in our music.
Maria: Cocteau Twins, they're amazing. She's got quite a high vocal range and I have as well.
How have you balanced Heavy Lids with uni life?
Tom: Towards the end of the dissertation, that was quite difficult. But especially at the start it was alright really. A lot easier balancing that than maybe A-Levels or something like that.
Harry: It's been fine as well, I've managed to work in…Neon Graffiti, the song we're putting out in a couple of weeks…
Micah: Wait, we're putting a single out?
Harry: That was originally written for a university assignment.
Micah: I've found it quite hard, I always look forward to the gigging and practices because it's my downtime.
Maria: Yeah, it's a nice break.
Have other students been supportive?
Micah: Incredibly.
Tom: It's a lot of our mates who come down really.
Harry: I guess there's a worry in that because we're third year a lot of people who come down to our shows are students, and we've been working to try and broaden our fan base to people on the scene in Sheffield.
If the band was a VK, what would it be?
Harry: It's got to be fucking yellow hasn't it?
Tom: Yellow's the best.
Maria: It's fruity and fun.
Harry: They all are, aren't they?
Maria: Yellow especially.
Harry: It's a mellow colour.
Micah: We don't want to be a blue VK.
Mental health is a big issue in the music industry, how have you managed the stresses and demands of being in a band?
Micah: Good organisation and planning ahead.
Harry: Openness generally. It's something people have learnt to be a lot more open about. For example, a lot of (Maria's) lyrics are about mental health.
Maria: I feel like it's very cathartic to be writing about mental health. Gigs can be really nerve racking for everyone involved, but performing can be really good for anxiety.
Tom: As a band, we're really supportive of each other.
Micah: It's hard to isolate yourself in a band scenario. Being with a very close knit group of people really helps.
What other local bands can you recommend to our readers?
Tom: Life Aquatic Band.
Harry: It has to be Life Aquatic Band.
Maria: Lio.
Harry: Cora Pearl, Graces, Seamonsters. Seamonsters are probably the ones I can see breaking through.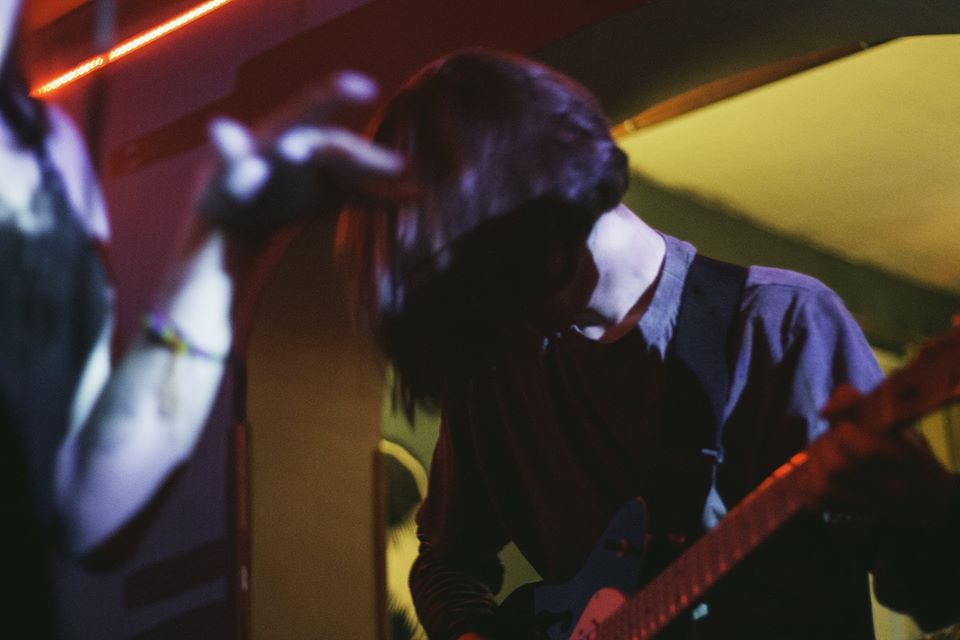 Finally, where do you want Heavy Lids to be in a year's time?
Harry: I'd like to have played a few shows outside of Sheffield. A couple more singles, an EP, that's the plan.
Micah: Just set up across the north.
Maria: To have progressed in terms of skills.
Tom: And hopefully play a few festivals as well.
Heavy Lids release their debut single Neon Graffiti on 8 June. Tickets for their show at Café Totem on Saturday 9 June can be bought here.
Photo credits: Stephen Harrison, Hannah Shemlit and Hannah Rees.