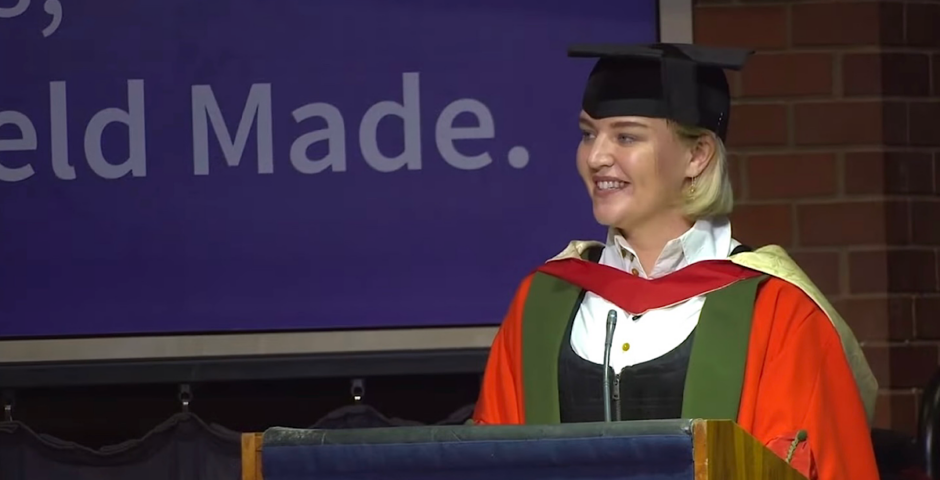 Self Esteem headlines cast of Sheffield stars receiving honorary degrees from the uni
'It's completely pointless to think you're anything other than the absolute tits'
The University of Sheffield has this week announced its 2023 honorary degree awardees and a few famous local faces have bagged gongs.
Whilst you were sweating it the IC to scrape that 2:1, these overachievers were touring the country and winning Olympic medals. To add insult to injury, they got a doctorate at the end of it.
Meet the class of 2023:
Self Esteem – Doctor of Music
Headlining this year's roster is Rotherham born Rebecca Lucy Taylor. If that name isn't ringing any bells, you may know her better as Self Esteem — the moniker under which she's performed since 2016.
Before her recent academic success, Taylor was nominated for the Mercury Prize in 2021 off the back of her sophomore smash Prioritise Pleasure. That album was released to critical acclaim and bore The Guardian's song of the year I Do This All The Time.
Less than a year later, the multi-instrumentalist composed the musical backdrop for (another northern blond legend) Jodie Comer's West End show Prima Facie.
In her emotional speech, Taylor described entering "a music industry where male music reigned supreme" and her career-long battle with feelings of inferiority. You could write an essay on the spectrum of misogyny women encounter in music, academia and elsewhere. However, Doctor Esteem said it best:
"It's completely pointless to think you're anything other than the absolute tits."
Bernadine Everaristo – Doctor of Letters
If Brits and tits don't impress you, Bernadine Evararisto's CV might. Everaristo adds this honorary degree to her 77 (and counting) other honours and awards.
In 2019, the author and academic became the first black woman and first black Brit to win Booker Prize for her novel Girl, Woman, Other.
Some of those aforementioned 77 honours include an MBE, OBE and a Fellowship of the Royal Society of Literature and Royal Society of Arts. Finally, Everaristo can now add University of Sheffield Honoree to that list.
Hollie Pearn-Webb – Doctor of Letters
View this post on Instagram
If the arts aren't your thing, then maybe Olympic gold medalist (and former Roar regular) Hollie Pearn-Webb can serve as some inspiration.
The University of Sheffield alum graduated with a BA in Economics in 2013 before becoming one of the top hockey players in the world. In the process (at the pinnacle of her career) Pearn-Webb helped Sheffield inflict yet another defeat on Hallam at Varsity.
In 2016, the defender backed up her Varsity win by helping Team GB to their first ever women's field hockey Olympic gold medal. For her Varsity (and Olympic) triumph, Pearn-Webb was awarded an MBE in 2017.
See the eight other honorary awardees here.
Featured image via YouTube.
Related articles recommended by this author: