Fallow-een is here and so is a round up of all your best looks
Everyone make some noise for sexy Patrick Bateman
You may be confused what this article is going to be about. "Fallow-een?" You're desperately texting the group chat, fearing the emergence of a new surprise seasonal celebration. Ha. It is simply a wittily thought of Halloween pun, no need to panic.
Every year you plan on thinking of something humorous to wear early on but before you know it, the 31st is on the horizon and you've got nothing in your wardrobe except a pair of cat ears and you've had enough of being called basic.
Next year you will make sure to plan ahead but for now, you're dousing your British Icons David-Bowie-in-Labyrinth costume in fake blood and calling yourself a vampire. Fair play.
Some Manc students had their fits sorted a little earlier and the commitment has paid off…
In Liz we Truss
No saving the best till last here. Rosette possession either a sign of extreme dedication to the costume or an extreme dedication to the Swiftie herself.
Bananas in Pyjamas
Creative, funny, easy. Minimal effort required but provides optimum rewards in the form of all night comfort.
Also classes you as a funny girl on Halloween which saves you the dirty looks from other girls dressed as Magic Mike who think they are better than you just because they didn't opt for sexy Halloween this year. Or whatever.
Sharon and Ozzy
Hello darling. Few of these duos circulating Fallowfield this year – weird considering no-one quite knows who either of them are. That one off X-Factor?
Breaking Bad
Its Walter White yo. Extra points for Heisenberg apron and Salamanca's grey roots (hopefully fake but if not, premature greying is so totally ok and cool).
Fight Club
I have nothing to say here. I'm not sure who she is dressed as and even if I did I probably would refrain from talking about it.
American Psycho/Men in Black
Classic man costume. Never dressed up for Halloween before uni but the time has come to show that you are A. A manly man and B. Actually really into cinema. Idk if you've heard of this underground film called Fight Cl-
Peaky Blinders
So many Peaky Blinders roaming Fallowfield. So so many. Please, no, don't let it be another Peaky Blinder in thigh high stockings and a mini skirt. 19th century Birmingham has never been so accurately depicted. Our editor better be embarrassed.
Mystery Inc
Neither over- nor under-rated. Fewer Velma/Daphne duos roaming the streets this year compared to last. Perhaps a sad indictment of modern times, the loss of classic costumery to yet another Tory government.
Liz Truss lettuce
A costume is for 44 days, not just for Halloween.
Top Gear
Possibly the only Top Gear costume in Fallowfield this year. Impressive group coordination. Tonight: Clarkson experiments with a mullet.
Angel & Devil
This is an excellent outfit and it is also truly excellent and great.
Nun
Get a load of this mad lad! He's come dressed as a Nun. Will regret this when the job offers stop rolling in on account of blasphemy.
Cowgirl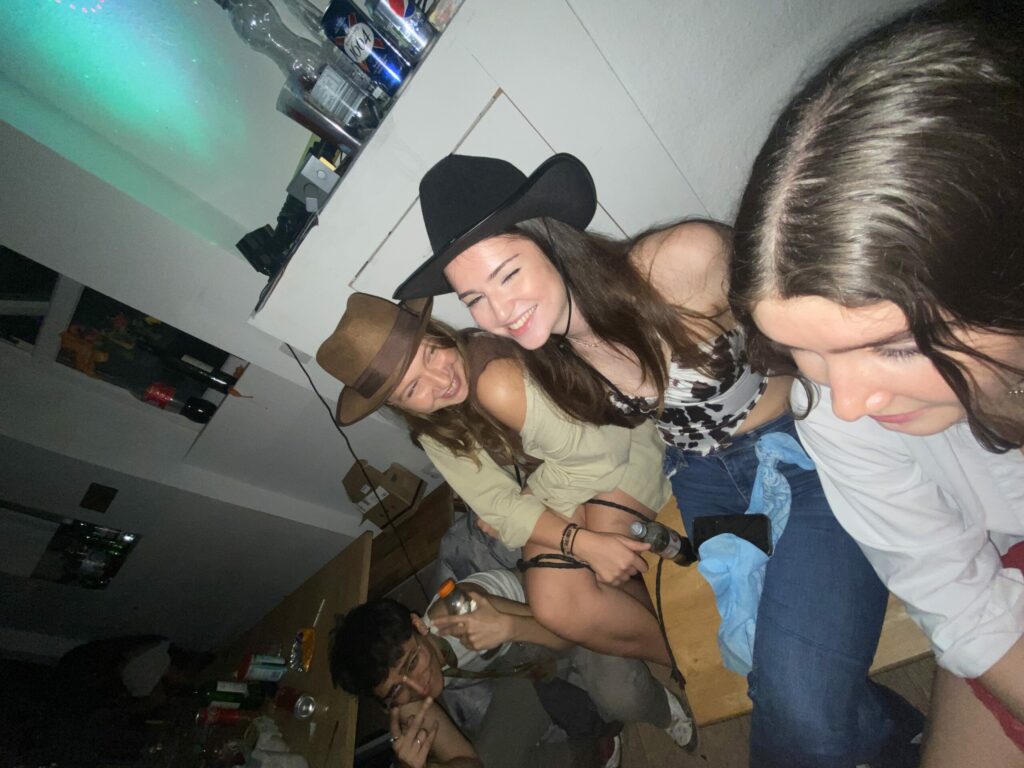 Variations included Jessie from Toy Story or reverse cowgirl – carried out by the tactical placement of an UNO reverse card upon one's hat.
Zombie and Cat
As a simple rule: what has always worked will always work.
These bad boys will continue to be the most reliable costumes for centuries to come. Don't fix what's not broken.
Related stories recommended by this writer:
• Hot or not: Everything you need to know to stay hot in Fallowfield