UCL's best moustaches of Movember
Out comes the Gillette as Movember finally comes to an end
During November, many individuals and sports teams chose to participate in Movember – a charity that raises awareness for mens mental health, suicide prevention, prostate cancer and testicular cancer.
The official UCL Movember page outlines that "UCL are looking to educate Men and Women about the issues of Testicular Cancer, Prostate Cancer, as well as Mental Health and Suicide Prevention."
All together UCL raised a total of nearly £21,000 for the charity, with the top 3 sports teams raising most money being:
1. UCL Men's football club (£9,333.45)
2. UCL Men's rugby (£4,152.35)
3. RUMS Football Club (£1,220)
In ending the month, The London Tab assessed and put together our top picks under relevant categories. So check out below for our favourite moustaches of Movember 2021:
Best growth
Worst growth
Most likely to be mistaken for a pedophile
Most wholesome
Winner:
Runners up:
Sexiest pose
Winner:
Runner up:
Shouldn't have even tried
Our favourites (for no particular reason)
Best overall
And here is a collection all of the moustaches grown during November by the sports teams:
UCL Men's football club
Kudos to the UCLFC for giving weekly Movember updates on Instagram and leading the campaign by storm.
https://www.instagram.com/p/CWvKzgqgk55/?utm_source=ig_web_copy_link
UCL Men's Rugby
https://www.instagram.com/p/CW6DRxyALch/?utm_source=ig_web_copy_link
RUMS Football
https://www.instagram.com/p/CW6XmWEg3zh/?utm_source=ig_web_copy_link
RUMS Rugby
https://www.instagram.com/p/CW5l7VTguzq/?utm_source=ig_web_copy_link
UCL Emperors American Football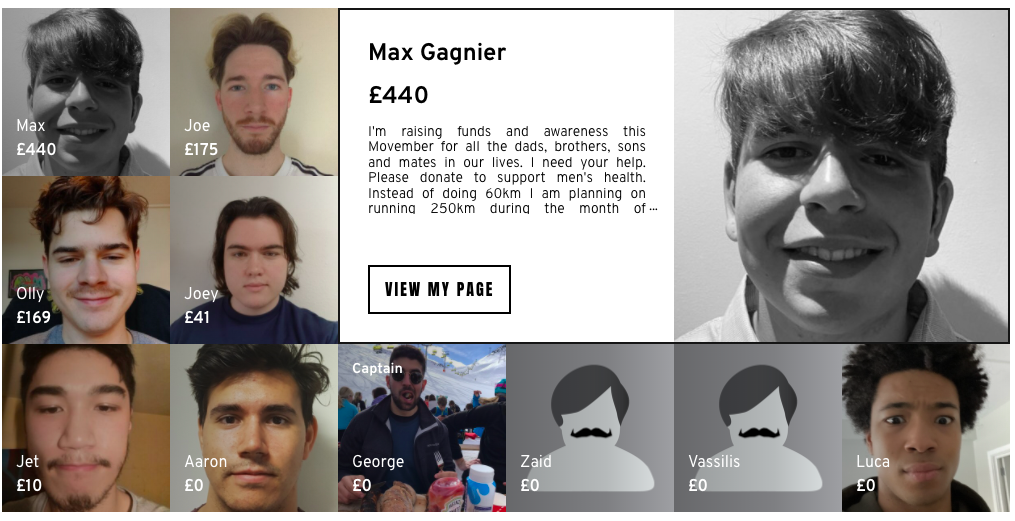 Overall, an overwhelming number UCL students, including 16 UCL sports team, showed their support for the Movember movement this November by growing a moustache. But as fun and lighthearted this campaign is, the global crisis it tries to address shouldn't be ignored. Around 10.8 million men globally will face life with a prostate cancer diagnosis. And one man dies by suicide every minute of the day, with males accounting for 69% of all suicides worldwide.
You can still donate on the UCL Movember page.
Related stories recommended by this writer:
• This female Trent student is drawing a moustache on her face every day for Movember
• Why Movember is more than some ugly moustaches
• 'We're so proud of everyone': Exeter Uni has already raised over £87,000 for Movember