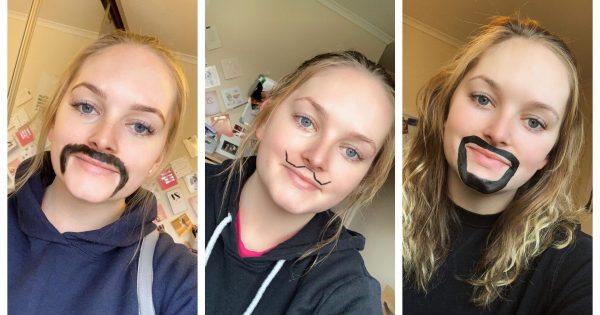 This female Trent student is drawing a moustache on her face every day for Movember
She's raised £125 already!
Every one of your mates in sports teams and in your lectures at uni this month have probably been raising money for Movember, a movement where men grow moustaches and in turn raise money for men's health issues, such as testicular cancer, anxiety, and suicide.
Some can grow only tiny, wincy lines, some massive handlebars, and… some draw theirs on with marker? At the beginning of November, a third year student at NTU had a brilliant idea of joining in and raising money for men's health.
Trent student Zoe Mallett, studying Sports Science, began the month drawing a moustache on her face every day in support for the movement, in an effort to join her male friends in raising money. She had the idea of joining the Movember movement after her experiences with boys in her childhood growing up in male-dominated family.
"Growing up I got on really well with guys and they would open up to me quite easily. That made me aware how there is still a huge stigma behind guys being tough and emotionless," Zoe said.
Helping her guy friends through tough times and hearing how they wouldn't want to reach out to their mates for help, Zoe believed that raising money for Movember would be a great initiative for raising awareness of male mental health and prostate and testicular cancer.
"I thought I'd draw a moustache on every day and have a little fun with it to help."
Zoe recounts that women can help too with the mental problems men face. "I'd want my dad, brothers, and friends to be able to receive the help if and when they needed it."
She has since free-styled with the moustaches she draws on. Some have been radical 80s handlebar staches straight out of West America, others take inspiration from Inspector Clouseau in Pink Panther.
Zoe has raised £125 so far on her Movember account. She originally aimed to raise £100, but after raising that in 12 days her new target is £300.
By raising money and drawing on her face, Zoe hopes by the end of this month to "make all the guys who know me know that I'm there to talk to whenever they need me."