How to celebrate Diwali: student flat edition
Even though lockdown has screwed Diwali over, we can still celebrate from the (sometimes questionable) comfort of our student flats
Diwali, like many other religious festivals, will not be going ahead as planned this year (thank you coronavirus and UK government), however, that doesn't mean you won't be able to celebrate it at uni! So we have put together a guide on how to celebrate from your uni flat, with all the fun and (hopefully) none of the Covid.
Diwali is a festival celebrated by thousands of people across the country and is regarded as one of the most important days in the Hindu calendar, and is also celebrated by Sikhs and Jains. It is a festival of light, food, family and community celebrating a number of important things, such as the Hindu New Year, prayers to the goddess Lakshmi for wealth and prosperity, and the return of the god Rama to his home Ayodhya after defeating the evil demon Ravana. Celebrations are normally either at home, with family members coming together to celebrate, or large-scale community celebrations at the temple.
In London, there is an annual celebration at Trafalgar Square which has over 30,000 attendees and has a mixture of live-performance, fireworks, food and more. This year, there will be no big celebrations due to lockdown, and many students will find themselves unable to even go home to their families for the festival due to the travel restrictions currently in place.
So here we are to tell you how you can celebrate Diwali and still have fun in the hellish year of 2020:
Get your flatmates involved
The current lockdown means that it is difficult for students celebrating Diwali to return home to visit their families, or even to visit other friends that are also celebrating. Being stuck at home means being limited in who you can socialise with, but it is also an opportunity to get your flatmates involved in the celebrations. Even if they don't celebrate Diwali, take this as an opportunity to teach them about the festival and the cultural and religious significance.
If they're down, you could turn Diwali into a flat party/bonding experience and take part in the celebrations together – Diwali is a time of togetherness after all.
Decorate your flat
Your student flat may not be the most glamorous of places, but you can spruce it up with a few Diwali decorations to get into the spirit of the festival. Since Diwali is the festival of light, divas (small oil lamps) are typically lit in the household, but you can easily recreate this atmosphere with tea-lights (electronic or real) or even scented candles. Since light is so important during Diwali, something simple like putting up fairy lights could make your room feel more celebratory. If you have any Indian style decorations or rangoli designs to decorate that would be amazing, but any form of decoration can turn your flat into a whole new place to celebrate Diwali this year.
Get creative with rangoli patterns
We all remember that phase of lockdown when everyone was trying desperately to fill their time doing random creative tasks from adult colouring books to knitting to painting. Since we all have a bit more time on our hands this year, it's the perfect time to actually do something creative, and rangoli is a great way of getting into the Diwali spirit. Rangoli are patterns typically made from dyed powders and sands on the floor, and you can easily make one yourself at home from whatever you can find. Why not get creative and use glitter or paint or coloured pens if you don't have access to loads of craft materials. If you're really not the creative type you can even just print out a rangoli pattern from the internet and colour it in – colouring is a therapeutic way of passing the time doing something creative without too much thought, and the rise of adult colouring books shows that everyone has an inner child in them who just wants to colour in the lines.
Bonus creative activity: if you have a henna cone or can get one easily, Diwali is a great time to do mehndi patterns on your own hands or your flatmates (if they let you!). It's super fun and you can create temporary designs of your own choosing – they can be traditional Indian mehndi patterns or something totally different.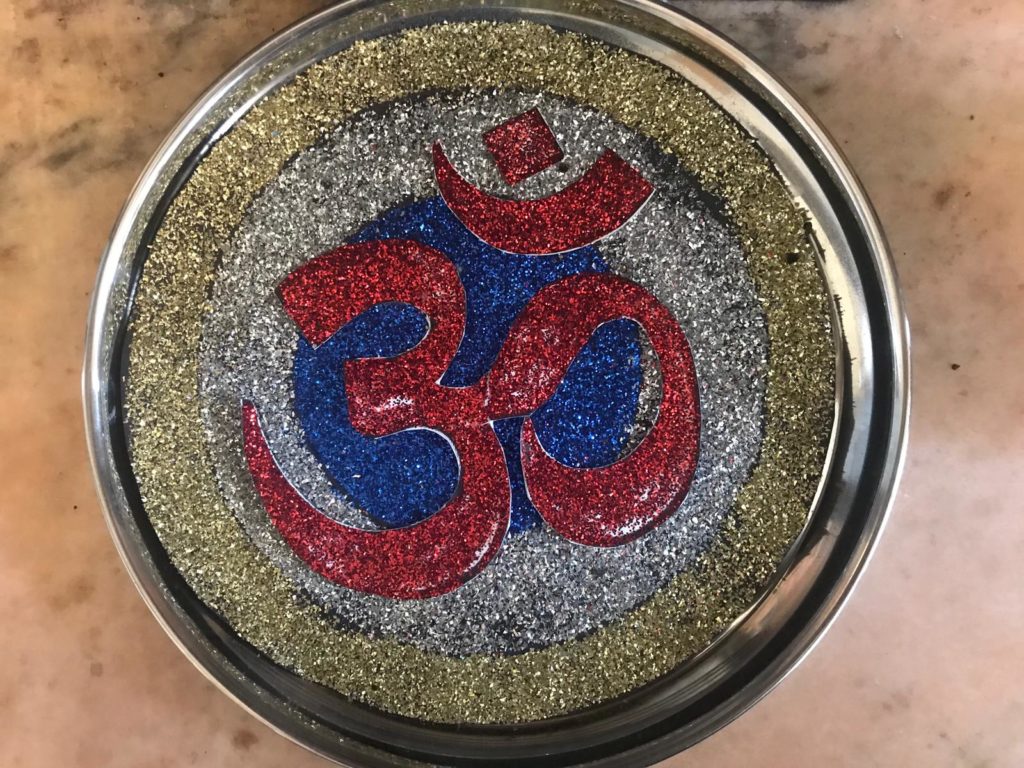 Send Diwali cards
This year, more than ever, it is harder to stay connected with friends and family during this auspicious time. Even if you're not typically in the habit of sending Diwali cards, this year might be the time to start as they are a great way of letting people know that you are thinking of them even if you can't spend the festival with them physically. You can source Diwali cards from card shops and supermarkets, or you can find personalised ones from sites like Moonpig. If you want to support smaller businesses, I even bought some Diwali cards from Etsy this year for the first time, and there's a great selection to peruse!
Eat lots of Indian food
One thing that is central to Diwali and the celebrations is food. Whether you normally gather as a family over a home-cooked meal, or go to the temple and serve up food in an Annakut celebration (offering huge amounts of food to God to be blessed). Even if you're celebrating from your uni flat, you can still make food the centre of your celebration and feel like you're celebrating at home. Cooking some Indian food for yourself and your household is a great way of bringing people together: cook whatever is traditional and nostalgic for you, be as adventurous as you want to or just whip up whatever you can manage even if it's just something simple like curry and rice. If you're really bad at cooking and haven't quite managed to move past the uni staples of pasta and oven pizza, perhaps consider ordering in from a local Indian and giving them your support during the festival – there will likely be loads of options on Deliveroo or UberEats, or if you have a favourite local curry house that is doing take aways or deliveries during lockdown give them your support!
Get some Indian sweets
Yes, food is so essential it deserves 2 separate spots on this list. Indian sweets, or mithai, are a Diwali staple and are often used for offering to God and to send around to members of the community, family and friends. On top of that, they're also delicious, so if you can get your hands on some mithai for Diwali it will really feel like a celebration.
Ambala on Drummond Street right near UCL is a mithai shop open for deliveries, and there are many other specialist Indian sweet shops around the capital – my family is ordering Indian sweets for the first time online this year and placed a bulk order of mithai and Indian snacks via the ShayonaFresh app. I even noticed that the big Sainsburys in Camden had a really great Diwali section and had some amazing Indian sweets such as gulab jamun and ras malai available to buy in-store.
Call home
Being away from family is truly one of the hardest things to reconcile with about this years Diwali – university can be isolating anyway but spending an important festival away from home can be even worst. One good thing to come out of lockdown 1.o was that everyone got proficient in using technology to keep in touch – Zoom, WhatsApp and all the other platforms that allow us to video call with friends and family. Scheduling a video call with your family so that you can share in your celebrations, even virtually, will make this year feel less alienating and more comfortable. Letting people know you're thinking about them in a time when you'd normally be celebrating together will make Diwali 2020 great. And if your 80 year old grandma hasn't quite worked out how Zoom works, a good old fashioned phone call to say 'Happy Diwali' can mean a lot.
Binge some Bollywood movies and blast some Indian songs
Whilst Bollywood isn't perhaps the most traditional of Diwali celebrations, watching your favourite Bollywood movies is a good way to feel connected to Indian culture and also to have a bit of fun. Some Bollywood classics like Om Shanti Om and Kabhi Khushi Kabhie Gham are now available on Netflix and you can have fun singing along to all the timeless Bollywood bops from the comfort of your home.
Spotify even has a section dedicated to Diwali themed playlists to check out and listen to!
Online prayer
As well as a huge cultural occasion, Diwali is at the end of the day a religious festival. If you normally go to the temple to celebrate and offer prayers, it can be easy to feel out of touch with faith at the moment with temples being shut for communal worship. Getting in touch with your faith during this holy time can feel hard, but a lot of centres of worship are offering online services and prayers – check what your local temple and community is offering.
For example, Diwali in London is offering an alternative online event schedule in place of the usual celebrations in Trafalgar Square spanning the whole Diwali week and BAPS Swaminarayan Mandir (Neasden Temple) are offering a range of Diwali prayers and services.
Diwali might look different this year, and spending it stuck in your student flat is probably not what anyone was expecting. But it's still an important festival to many people, including the students who have been advised not to go home this year. 2020 has been the year that we have all had to adapt and change the way we live day-to-day, and the way we celebrate Diwali will be very different to what we're used to. But despite the big Diwali events we're used to being cancelled, it can still be a fun and spiritual festival for Hindus, Sikhs, Jains, and whoever else wants to celebrate at home and bring light into this year, and into your student flat!