All the best student eats you need to discover in Liverpool
These are lifesavers now your freshers' food shop from mum has run out
Here's a snapshot of some of the best places to eat in Liverpool, with places to go if you're trying to live on £20 a week, or if you're in need of something a bit fancier to make you feel better about your impending deadlines.
Crust
Crust is definitely one of the great spots on Bold Street. If you want a pizza for under £10 then this is the place (if you stay away from the drinks menu, despite their tempting selection). They've got a huge variety of toppings, probably the best crust in Liverpool and their dough balls are even better than Pizza Express' – bet you never thought that was possible.
The Tavern Co
Your hungover self will thank you for this one. It's famous amongst students on Smithdown and has been given the Best Breakfast in the UK Award, so it must be half decent. With free tea and coffee refills and American pancakes, you can't really go wrong. It's normally packed at prime brunch time, so be prepared to queue, it's definitely worth it though.
The Blackburne Pub & Eatery
You'll find this one on Catharine Street, in the Georgian Quarter. You need to go here for a roast dinner with lashings of gravy and a sticky toffee pudding. This is highly recommended for the weekends when you realise you haven't had a home-cooked meal in months, and you start craving your mum's Sunday dinners. Beautiful.
Kowloon Chinese
This is the best kept secret on Smithdown. Students can get £4.80 boxes to takeaway. Two starters, a main, a side and a drink. Remember to bring your student card! You won't find better salt and pepper chicken wings anywhere else, a recommendation for your scran whilst watching Strictly on Saturday night.
Amalia
Chips on a pizza!? Sounds like something your drunk self invented at 4am, but it's on the menu here. It's a nice family run Italian hidden on Duke Street and is definitely worth a trip. You could also be in for getting a free meal if you manage to finish the 5lb calzone challenge. It's been voted the best pizza in England, so you'd be stupid not to go.
Revolución de Cuba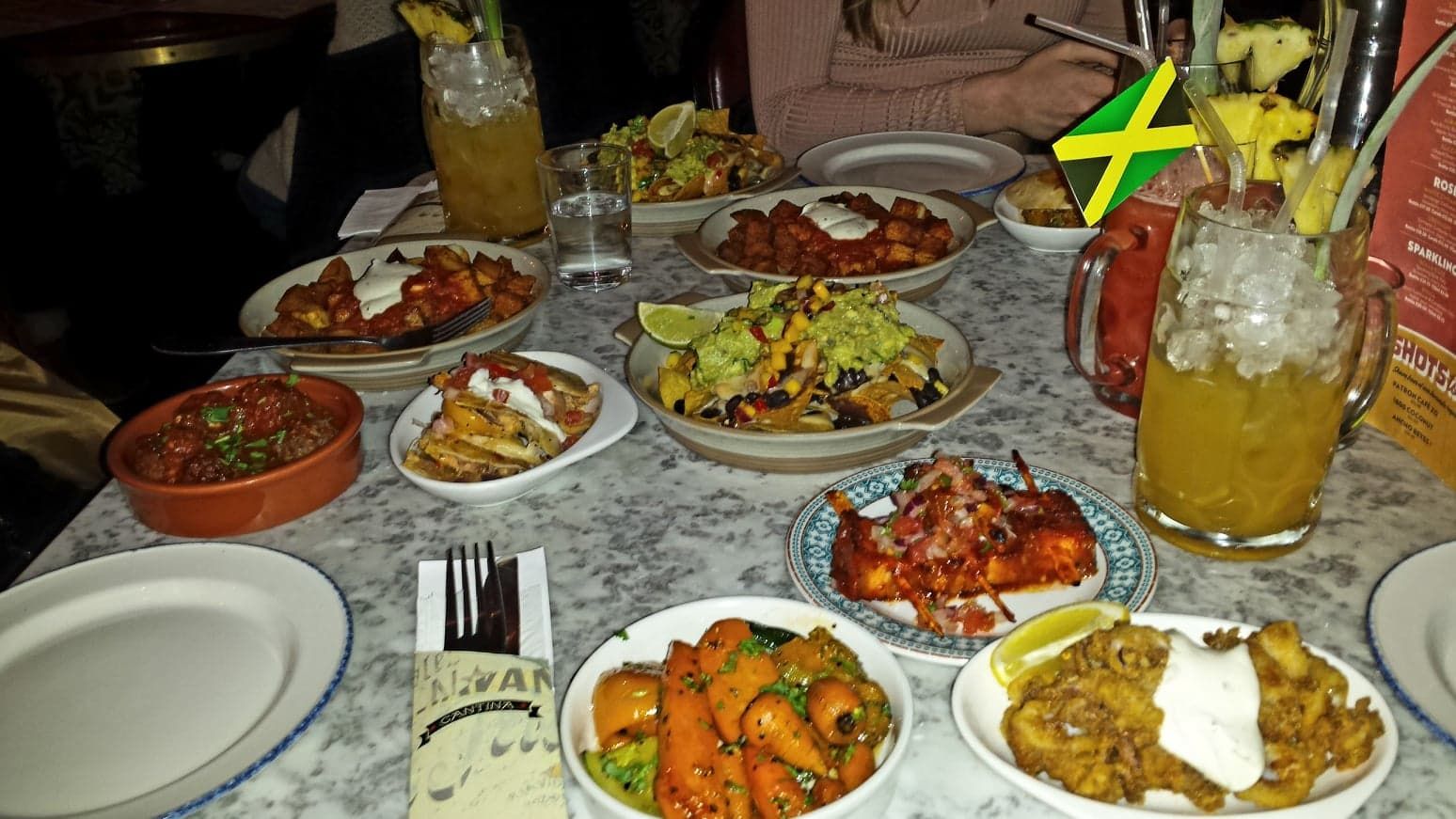 A top tapas spot on the Docks, especially if you're wanting something a bit fancier. You definitely won't feel like you're in dreary Liverpool anymore with live music and amazing Cuban cocktails, creating a chilled out Cuban atmosphere. It might set you back a bit, so you may wanna wait until the bank of mum and dad is present, or go on a 2-4-1 Monday.
Baltic Market
You knew it was coming, it would be a crime not to put it on here. With halloumi fries and fried chicken tater tots, it's the stuff of dreams. They've got it all – amazing street food, drinks and live music. Going here will definitely guarantee you a few likes on Instagram as well.
Mowgli
If you haven't heard of this before then you must live a very sheltered life. You won't have a clue what you're ordering on the menu, but you can't go wrong. Indian street food that's all about mix and matching the small plates. They've got something for everyone here and even have a separate vegan menu. The Indian chip butty is a game changer. There's one on both Bold Street and one on Water Street, so it would be rude not to give it a try.
Moose
If you're after a big American style breakfast then this is the place to go and leave your diet behind. Once you've had these pancakes, you'll never look back. There's one on Hope Street right near uni where they serve breakfast all day, so there's no excuse not to treat yourself in between lectures.
Little Furnace
Hands down the best pizza I've ever had (sorry Naples). Made in a wood-fired pizza oven, their pizzas are like no other. They have a stall at Baltic Market but they've just opened their own little restaurant on Smithdown. It is can only seat about two people at a push though, so we would definitely recommend taking away.
Smithdown Balti
If you're looking for an Indian takeaway that's not going to break the bank, this is the place. You can get a £7 meal deal with a main, a side and naan that's bigger than you. The owner is also probably the friendliest person in Liverpool, so you'll shamelessly be going back every weekend before you know it.