The Best Toilets on Campus
Finding a decent place to shit is a pain in the arse for every student, so we've scoured campus for the best toilets
Pressing deadlines, a lack of money and post-graduation debts are all pressing issues that students face on a daily basis. But there's a problem even more serious than these that plagues students across Liverpool – finding a decent toilet to take a poo in. 
Here at Liverpool Uni, we've got a huge and sprawling campus, and a pretty big student population. While this makes Uni an exciting and vibrant place to be, it also means it can be difficult to find a clean, quiet and secluded place to drop the kids off at the pool.
Fortunately for you, The Tab spent an afternoon wandering around campus finding some of the best toilets around, so you won't be caught short (literally) next time you need to go.
Sydney Jones Library Silent Study, First Floor
Ok, we're starting off easy. Let's call this the 'control toilet'. Possibly the most middle-of-the-ground toilet on campus. You've probably been in here, and you probably thought it was ok. If you like this toilet, you probably like vanilla ice cream and think The Beatles are pretty great.
You're not wrong, but you're not really impressing anyone either. There's a whole world of shitting delight beyond the SJ, but this one has its charms.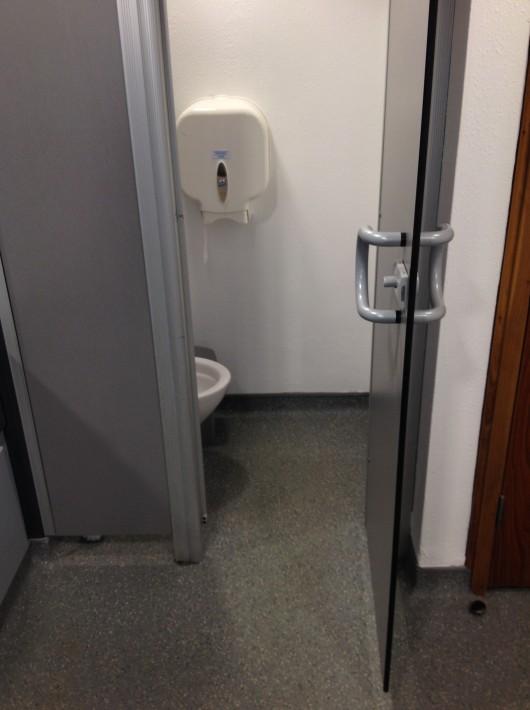 The cubicles are sunken into the walls either side of the sinks, giving them a nice secluded feel – important considering the small size of the toilet, and the high number of visitors it attracts.
The one thing this toilet has going for it is warmth – unlike some of the others on this list, the toilet is right in the heart of the building, so you won't have to suffer a cold seat when you're vacating your bowels in the dead of winter.
The location has other advantages – the wifi signal here was second to none, so you can read The Tab while you defecate.
Other than that, it's a bit cramped, busy and dirty. Swerve this place unless you're totally desperate.
3G/WiFi signal – 5/5
Privacy – 2/5
Proximity to the exits in case you need to make a quick escape after making a mess – 3/5
Overall score – 3/5 – "Mediocre"
19 Abercromby Square, Ground Floor
Home to the School of the Arts, this beautiful Georgian terrace is currently undergoing an extensive refurbishment to restore its former Neoclassical glory. It's also a great place to take a shit.
Tucked away down a couple of corridors, it's secluded, bright and airy. The light wood panelling on the walls gives it a lovely 'Country Club' feel, and it's always clean and fresh. They've even got a couple of Dyson Airblades on the wall. Your hands will never feel dryer, seriously.
3G/WiFi signal – couldn't get WiFi, but 3G was OK. 3/5
Privacy – 4/5
Chances you could put your willy in the airblade to see what happens without anyone catching you – 4/5
Overall Score – 4/5 – "Classy"
Brodie Tower, Ground Floor
Rumours of this toilet's quality came across on the grapevine, and honestly, I was a little disappointed. It's a fine toilet – nice layout, decent toilet paper, good hand dryers.
But it's nothing exceptional – this one's literally right by the entrance to the Brodie Tower, so the chances of you finishing your dump without some Computer Science student blundering in are slim to none.
However, if you like an element of danger when you take a shit, this is a good bet.
The insanely powerful hand dryers are called 'Air Fury' as well, which is a funny name for a hand dryer.
3G/WiFi signal –  Patchy at best. 2/5
Danger element – 4/5
Painfulness of the hand dryers – 5/5
Overall Score – 4/5 – "Risky"
Ashton Building, Second Floor
If you're going to the Ashton just to take a shit, expect to feel guilty at first. The ornately carved doorframes, inlaid flooring and polished brass banisters make it seem as though you're about to lay pipe in the Sistine Chapel.
But soldier on up the stairs, and you'll find one of the finest toilets in Uni.
Spacious, private, and beautifully designed – the entire facing wall has a wonderful Art Deco-style panelling.
There's even a handy shelf in the far cubicle – a perfect place to rest a cup of coffee, a copy of today's paper, or possibly some inspirational pictures – the famous image of the Marines raising the flag over Iwo Jima is good encouragement if you're mid-way through a tricky hangover turd.
It was a bit smelly when I was there, but I'm blaming that on the sheepish-looking guy who walked out just before I went in. I know what you did, bro.
3G/WiFi signal – 3/5
Privacy – 4/5
'It's like shitting in a stately home' rating – 5/5
Overall Rating – 4.5/5 – "Palatial"
Leverhulme Building, Basement
A real hidden gem, this. Hidden down a flight of stairs and through a number of corridors, the road to this bog makes you feel like you're in Hitler's bunker in the last days of WWII.
However, what you'll find at the end isn't a dead dictator, but probably the best toilet on South Campus.
Sure it's a bit rough around the edges, but it's cosy, simple, and absolutely huge. Seriously, you could play a game of five-a-side down here.
It's in the basement, so it's nice and secluded – but the long row of toilets gives it a great social aspect. If you want to shoot the shit with your mates while you shoot your shit, look no further.
The lovely big sinks (possibly original) are the icing on the cake. Architecture is a long, costly course, and it can be tricky to do well in the industry after you graduate. But when you've got toilets like these in your building, who cares?
3G/WiFi signal – unfortunately, the basement location was a negative here, there's none at all. 0/5
Privacy – 4/5
Chances of walking into an Architecture seminar after getting lost on your way out – 5/5 (that's what happened to me)
Overall score – 5/5 – "Perfection"
Have we missed anything? Know a great toilet that you just want to share with the world? Let us know in the comments, and we'll check it out for next week's instalment of 'The Best Toilets on Campus'.
Like The Tab on Facebook and follow us on Twitter