A breakdown of what RuPaul's Drag Race UK queens would be like as Lincoln students
The werkroom is open and RuPaul's Drag Race UK is back! I'm sure you are beyond excited, just as myself, for all the looks, gags and shade of season three. After the banger of a season last year and the sickening United Kingdolls reaching the UK charts, this one has big boots to fill and I don't think we will be disappointed. There are 12 queens to meet, one familiar to us RuPaul fans as Veronica Green from the iconic season two. This is a fierce group of queens and all I can think about is how it'd be if they were students at Lincoln uni. So here you go, welcome to the fantasy.
Victoria Scone
To start, we have to honour Victoria as she makes Drag Race herstory being the first cisgender female to compete on the show. We love to see drag represented as it truly is: fun and for everyone. Victoria Scone encapsulates this fun with her old-school vibes. As a Lincoln student, she'd be front and centre every week at Home's DIY Disco playing bops from iconic divas and golden oldies.
With her studded acting, singing and dancing background, she would be a proud member of the Musical Theatre society and she will most definitely out-sing you at karaoke at the Swan each week.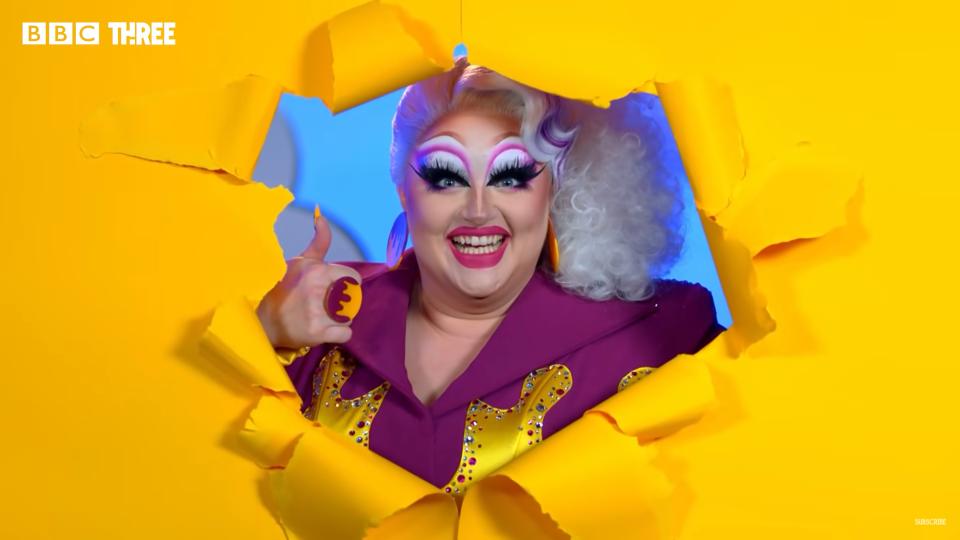 Kitty Scott-Claus
Kitty is the busty blonde of the party. You will most likely meet Kitty in the bathroom of a club and, after performing her "drag-race-winning" impression of a felt-tip pen, she'll become your new bestie for the rest of the night. She is the most fun on the dancefloor and is always an advocate for more shots.
Fun aside, Kitty will protect her friends at all costs. She's the one to make sure no one gets lost and, if she finds her new bathroom bestie in trouble, she's not afraid to get her claws out or, in this case, her sharpened acrylic nails. After a night of dancing, Kitty is the Lincoln student who will keep dancing through to the early morning at The Scene. Blondes do have more fun.
Vanity Milan
If at first, you didn't notice Vanity in Freshers, by the end of the first year all eyes will be on her. Vanity is serving "unapologetic blackness" and prides herself on her realness. I'm already in awe of her and it's only episode one. She'll be one of the prettiest girls on your course and she does it so easily. Girl, show us your ways.
You can rely on her to give you the real tea and I feel like at uni she will always have the best seminar notes. She will let you borrow them but if you mess her around, don't think you'll get away easy.
Choriza May
Spanish by origin and her drag born in the UK, Choriza represents the UK's European immigrants proudly declaring herself "drag queen of the immigrants!" At Lincoln, she'll study politics and will never back down from any debate between flatmates.
Not forgetting her Newcastle slang, she'll be hitting Lincoln's toon and will always bring snacks to pres. Most likely a spicy Spanish sausage, or two.
Krystal Versace
Krystal really is that girl. She is just so stunning. I imagine at Lincoln she'd be the envy of the uni and instead of paying attention in online lectures, everyone would sit in awe of her webcam. She's the student who doesn't need to pay attention anyway, her career as an influencer is already well underway. Krystal is glamorous and spends her time in her uni accommodation watching makeup tutorials.
If she's feeling charitable, she'll do your hair and makeup and you'll both serve goddess energy at the Superbull bar. No doubt she'll be getting rounds of free drinks just by her existence.
Scarlett Harlett
From the council estates of East London, Scarlett can handle herself no matter the situation. If your uni house has a bedroom on the ground floor, this is the girl to snatch that room – it's the biggest room and she's not scared of anything. She is 100 per cent a member of the Drama society. While a great actress on stage, Scarlett is no fake friend and you can trust her to tell you how it is, she's honest and ruthless and funny as hell.
She prides herself as "EastEnders personified", so if she's in your flat you can expect your life to be a bit like a soap opera, only with better acting.
Charity Kase
She is an art/fashion student through and through. Every time you see her, even if you just bump into her in Tesco on a random Thursday, Charity will be rocking a new gag-worthy look. Although her perfectly spooky fashion sense may be a little intimidating to the average student, she is a sweetheart and if you're lucky enough to live with her, she will without a doubt be your favourite flatmate. She will humbly give the best fashion advice while always looking on point herself and, on every night out, Lincoln's high street will be her runway.
Charity will be a fashionista all Freshers' Week but, sorry, Halloween is HERS. She owns it. She will win best costume at a Lincoln Halloween party because, c'mon, with her in the room there's no competition.
Anubis
Her name, a reference to the ancient Egyptian god of the Afterlife, pays homage to her Egyptian heritage and her late father. This heritage is her drag inspiration and, with its glamour, firmly places Anubis in your history seminars at uni. She might also join the Music and Jamming society to show off her jazz-scatting skills on the side. If you shared a flat with her, my bets are you'll be laughing so much your chest will hurt by the end of the first week.
Don't worry though, she's described herself as an "old lady trapped inside a teenager's body", so I'm guessing there'll be plenty of chill time too for cups of tea and maybe a bit of knitting.
Ella Vaday
Ella, the drag beast, would join Victoria Scone in Lincoln's Musical Theatre society to flex her wide catalogue of West End experience. I'm betting they will either be best friends or worst enemies depending on their willingness to share the theatre spotlight.
Among all the queens of Drag Race, Ella is a great role model for the LGBT+ community and her pride progress flag look from the first episode is nothing short of beautiful. She would join Lincoln's Pride society in a heartbeat and invite everyone to join with her. Everybody say love!
Elektra Fence
This is a strong queen right here. Her drag inspiration being "northern warrior-women", Elektra would be the best mate to have by your side if things go tits up at uni. Only 5ft2 (and a bit), she'll still do what it takes to be the centre of attention at a flat party. She will wear some kind of leopard print on every night out and will show you up with her professionally trained dance moves. Even if that means jumping from a really high place into the splits.
She's electric, she's ENERGY.
River Medway
If you haven't seen the first episode yet, look away now. Okay, that Thomas Waghorn statue look, are you kidding! On the runway, she had Mother Ru in stitches and that's exactly what she'll do to us at uni. She gives me class clown vibes, still while being glamorous as hell. Her drag inspiration is Hannah Montana and I'm obsessed. In and out of drag, she really does get the best of both worlds.
At Lincoln, River will be the nicest person on your course and will always be down for a noughties night at the Engine Shed. She'll finish the night watching noughties Disney shows on repeat.
Veronica Green
Invited again by Mother Ru, Veronica is back after unfortunately testing positive for Covid last year. Let's be real, we were all a bit heartbroken when she left. The pig nose was everything. If she were a Lincoln student, I imagine this season of Drag Race is her returning from a gap year. This time around she's older, wiser and has her eye on the prize. No tea no shade, but maybe she's even a bit boring because now all she wants to do is study.
She's a proud teacher's pet, talks a bit too much in seminars and spends most of her time in the library. Some might call her a sweat, but the grind never stops and, you know what, we have to respect it.
Related stories recommended by this writer:
• The last academic year was rubbish, here is how to make this one the best yet
• The 2021 Great British Bake Off contestants as Lincoln students
• UoL advises students to have their first Covid vaccination before travelling to Lincoln