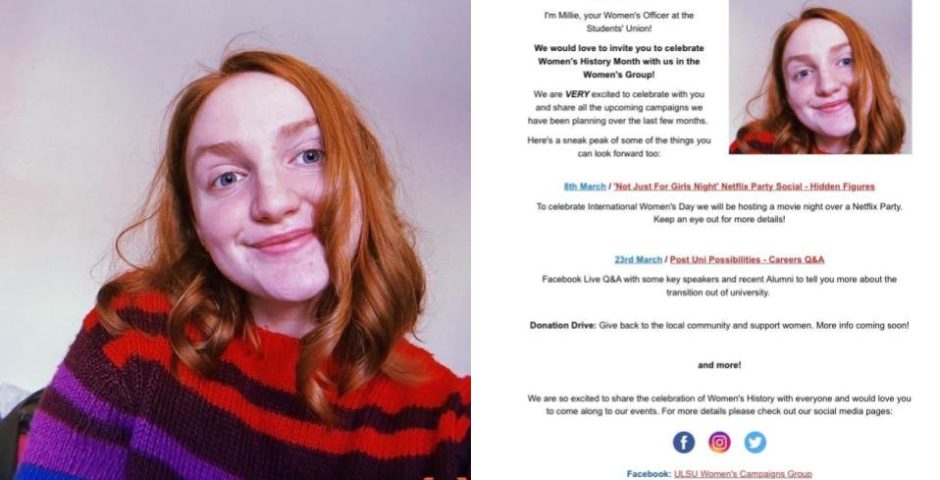 Here all of the events happening in Lincoln this Women's History Month
Netflix socials and Q and As? I'll be seeing you there
In celebration of Women's History month, Lincoln SU's Women's Officer is hosting two virtual events for Lincoln students. The events include 'Not Just For Girl's Netflix Party' social on March 8th, which is on International Women's Day. On March 23rd, there will be a careers question and answers Facebook live where key speakers talk about post university possibilities. A donation drive is also in the making but more information on that is to be coming soon.
Women's History Month is an annual month that celebrates the impact that historical female figures have had on society today. This includes, but isn't limited to, celebrating the works of Elizabeth Stanton, the head of the women's liberation movement in the US during the 19th century, Katherin Johnson, a NASA mathamtician,who was on of three women working to get the first American, John Glenn ,into space and female scientists such as Rosalind Franlklin who's research and work with X rays which was pivotal to the discovery of DNA.
It is celebrated in March in the United Kingdom, Australia, and the USA and is celebrated in October in Canada. The month is devoted to celebrating women's histroy and is highlighted on March 8th, International women's day which you can read more about here.
The Lincoln Tab spoke to the University of Lincoln's Students' Union Women's Officer, Millie Burrows, and asked her why these events were important to female students in Lincoln.
The film voted most popular by the women's comimittee which is being shown at the Netflix Party is Anne Fletcher's Dumplin which stars Danielle MacDonald and Jennifer Aniston.
Millie said: "It's an empowering film as it teaches an audience that you can be beautiful no matter your size, which is still an important message especially as  a consequence of  the corona virus many people feel the pressure to lose weight in prepartion to have that perfect  summer body."
The film's storyline echoes the women's liberation movement, the restrictive nature of beauty pagents, and the Miss World protest in 1970 in which feminists flour bombed the contestants. Millie said: "Fletcher uses a traditonally controlled enviroment of the pageant stage and uses it to celebrate body divesity and self acceptance. It's quite a fun film especially with the Dolly Parton soundtrack and as it will be International Women's Day, we thought we should celebrate."
The second event, taking place on March 23rd at 8 pm on Facebook Live is a Question and Answers session with female alumni and career advisors who are talking about life after university.
Millie said: "It will be an opportunity for students, especially those who identify as female, to ask how to negotiate a salary or how to you keep your spirits up whilst job searching, which after the previous year with many students facing job insecurity and ill access to work experience as a consequence of coronavirus are important questions."
Millie hopes the Q&A session will alleviate pressure off female and marginalised students who may feel low self esteem due to work place discrimination and gender biases. As well as this, the SU women's office will be posting supportive content on their Instagram story @womens-ulsu about women inclusive sex education and information about historical female figures.
The Q & A aims to teach those who attend how to "learn vital career skills, search for suitable careers, and how to prepare for jobs". Millie explained this was important as "when it comes to job hunting it's vital that female students are built up and empowered to go for the jobs that they may otherwise not have felt ready or good enough for.
"Sessions such as these aim to loosen the expectation on students that they must be in graduate level jobs or at least a graduate training scheme, thriving in their environment straight after University as this expectation introduces an unfair amount of pressure on students."
Although the session is aimed at final year students who are  preparing to leave University and enter the career sector, Millie believes "introducing training and career prospect workshops earlier on in a student's university career would be useful as students should learn how to feel confident in a biased job market in order to be ready when they do leave university".
Millie said: "In order for students to feel capable of success in their careers everyone involved in the University should help them  gain career skills whether this be from tutors, advisors or even course mates; it is so important that we build one another up".
If you have more questions about the upcoming events, you can contact the SU on their email, Twitter, and Instagram.
Related stories recommended by this writer:
• We spoke to six Lincoln students on what International Women's Day means to them
• 'I would like to wait until there isn't any other option': These Lincoln students don't want the Covid vaccine
• Dr Alex is taking part in the Uni of Lincoln's Live Lounge