How Glasgow Uni students felt about COP26
85 percent of students felt that the conference brought more disruptions to students than benefits
The climate crisis has had a looming and increasingly worrying presence in the lives of students across the UK. As a generation who grew up through years of nightmares of rising sea levels and burning forests, climate change has had a huge impact on modern young people, whether they choose to take action or ignore it. However, these past few weeks, the climate crisis has been hard to ignore, particularly in Glasgow, where the UN has met for the 26th time to discuss the climate crisis. But has COP26 forced Glasgow's students to confront climate change or alienated them from both world leaders and economic protest groups?
COP26 has consumed almost all aspects of life as a student of Glasgow. With changes to courses, road and public transport closures, and fleets of Tesla's escorted by howling police motorcyclists, the conference has certainly made a big impact on the residents of Glasgow, whether they like it or not.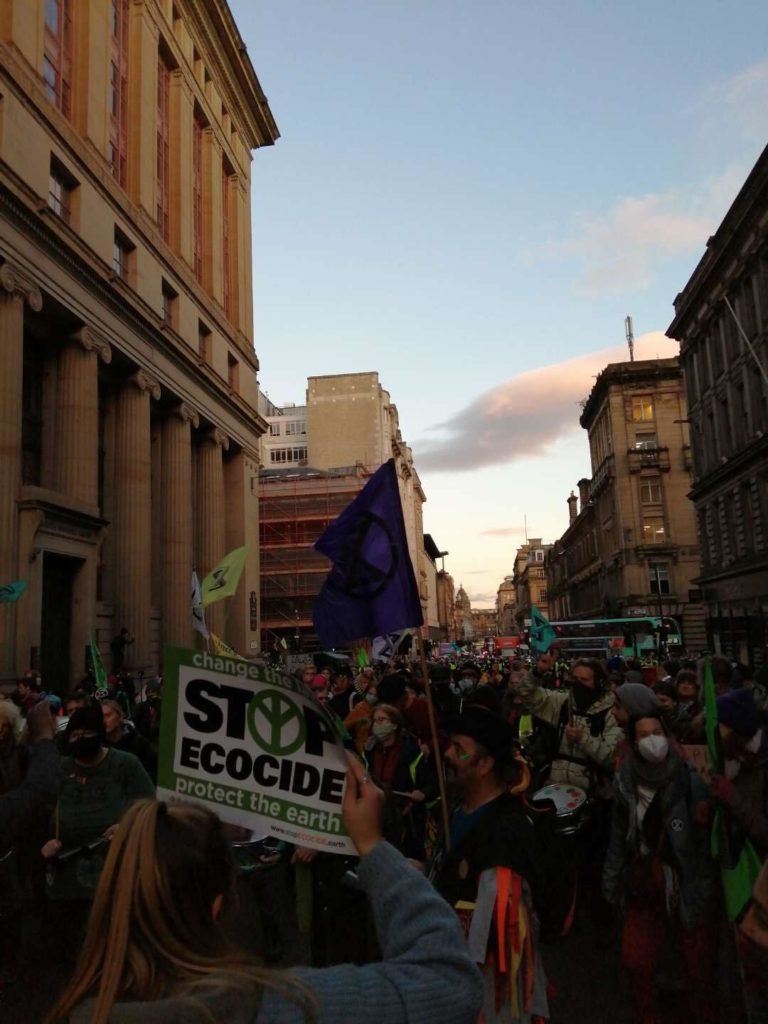 The Tab Glasgow spoke to 70 students on their feelings of COP. 75 percent of these students felt COP26 had been badly organised and 85 percent felt that the conference has brought more disruptions to students than benefits. With lectures moving online once again post-Covid for COP, road closures in student areas and building closures on campus, one student claimed that Glasgow Uni students have been "horrifically overlooked".
Margaux, a third year student said: "It has disrupted my studies in that my in person classes were cancelled but what an amazing thing to be part of – especially as a Geography student – I think it's really brought people together. At least those that care about the cause."
Another student, Christian, agreed with Margaux, saying: "Missed out on tutorials cos of it, but it's important."
One student, Joery, was critical of COP26, saying, "Seriously disrupted student life, particularly for those in the Finnieston area".
Jess was in agreement with Joery, saying, "I can't get a coffee round Finnieston in peace."
Not only COP26 has been a point of controversy in the student body. Extinction Rebellion, who have had a presence directly on campus, chaining themselves to the main gate and announcing climate statistics on a megaphone. Insulate Britain has also made their presence known with civil disobedience protests such as gluing themselves to roads in Glasgow. Both groups have been figures in the marches that have ensued in the city during the conference. Sixty percent of students I spoke to said they had negative views on these groups describing them as 'counterproductive', 'annoying' and claiming that their methods alienate the general public from the climate movement.
Contrastingly, those who got involved in the marches and events over the course of the week seem to have a positive feeling towards the protest groups, but a similar contempt for COP itself.
Molly, third year, spoke of the jubilant and determined crowds that made up the Saturday march. She described a real sense of unity amongst the protestors, who joint in their passion for climate justice strung together, waving flags, painting signs, chanting "We will stand together" in scenes that felt like a marking point in Glasgow's history. Whilst samba played in the background, a group of protesters served plates of food to hungry activists, and XR reps weaved through the heaving crowds checking up on peoples' wellbeing. Local residents cheered on from outside of the march, seemingly in support.
Molly continued, however, to tell me of the increasingly aggressive police presence as the day went on. Both Molly and Marged were caught in a group of 500 protesters who found themselves "contained" by the police. This meaning the police formed a large, unpassable line around the protesters. Marged, finding herself trapped in the protest, missed a shift at her job. Many protesters were trapped by the police for several hours. The heightened police presence in Glasgow is very noticeable for locals, as they line every major road, road-junction and building, having been imported from all over England and Scotland.
Students involved in XR are seeming to be motivated, if not by COP26, but by the events surrounding the conference. Marged however, finished our interview with a grim sentiment. As exciting and united the marches felt, the magnitude of the march was a 'terrifying' and sobering reminder of how abysmal the climate crisis has become. Speaking to XR representatives and listening to the speeches of leaders of the movement, such as Greta Thunberg and Roger Hallam, students present listened to the frightening statistics that are appearing during COP26 discussion. It has become apparent that scientists worldwide have concluded a three to four year time limit to cut down on emissions and save the earth. The prospect of the earth going from one percent to 20 percent desert by the end of the decade, worldwide starvation, and cities such as London being underwater by 2030 are amongst the statistics circulating through these groups. Marged concluded by claiming: "I have never been so terrified in my life".
Annoyed, and angry at COP's poor organisation, or excited and terrified by the message of Extinction Rebellion, students across Glasgow seem to be shaken, in the least, by the world's largest climate conference taking place in our hometown. The word "hope" rings around the campus, as does the buzz of COP-26 and the passion of the protesters in the city. Divided between a contempt for disruptive protest, irritation about the neglect of young people and students, inspired about changing the world for the better, or angry about a seemingly hopeless future: emotions are running high in the city of Glasgow. But as I speak to my last interviewee,  Luke, I ask him: how does this all make you feel? He turns to me and says:
"Scared, scared and scared again."
A COP26 spokesperson said:
"We are pleased that we were able to deliver a smooth and successful event that brought almost 200 countries and wider society together in an inclusive, safe way. This was down to a lot of careful planning and close collaboration with all our partners. We are grateful to all of the people of Glasgow for their support as the city made history as the birthplace of the Glasgow Climate Pact.
"The Glasgow Climate Pact acknowledged the vital role that young climate leaders are playing in driving climate action and urges countries to actively involve young people in all levels of decision making when designing and implementing climate action. The agreement also creates a permanent international youth forum on climate change for the first time."
A Police Scotland spokesperson said:
"Police Scotland is a rights-based organisation that puts our values of integrity, fairness, respect and a commitment to upholding human rights at the heart of everything we do. This means that we protected the rights of people who peacefully protested or counter-protested at COP26, balanced against the rights of the wider community. Our approach during COP26 was proportionate and responsive to support the delivery of a safe and secure event.
"In order to maintain public safety and minimise disruption during an ongoing protest, Police Scotland officers may use a containment, which is a permitted policing tactic where a breach of the peace is taking place or reasonably thought to be imminent.
"During any public order containment, Containment Liaison Officers will identify those with vulnerabilities or anyone not involved in the protest, and will remove them from any group to ensure their own safety and the safety of others.
"Containment as a tactic is used only if necessary by highly trained officers. While we are aware of the term 'kettling', it does not accurately reflect the tactic of containment."