In Pictures: Glasgow students who attended the Black Lives Matter Protest
'I'm hopeful that events like these will continue to spark people's attention on these issues.'
On Sunday, it was estimated that thousands of people flocked to Glasgow Green to protest for Black Lives Matter, joining the worldwide wave of international support for the movement.
This protest was prompted after the death of George Floyd in America, when a police officer knelt on his neck for over 8 minutes. This horrific tragedy has sparked mass demonstration both in the states and other countries, triggering discussion on wider systemic racism and how to combat it.
From #blackouttuesday, to petitions, donations, and ultimately protest, this movement is a ray of hope, encouraging people to educate themselves, for everyone to speak up and unite as one.
The rally came after activists changed the street sign names of places in Glasgow linked to the slave trade, renaming them after civil rights activists or victims of police brutality, with a petition to officially change the names passing 22,000 signatures. There have also been calls for Glasgow to acknowledge its ties to the slave trade and for there to be a change in school curriculum to include black history, increased literature by black authors, and more in-depth teaching on Glasgow's imperialist past.
The protests began midday yesterday at Glasgow Green. It was initially supposed to start at George Square but apparently it was moved to allow for better social distancing.
Nicola Sturgeon and Police Scotland issued warnings against the protest for fear of another surge of coronavirus, but organisers still decided to hold it. Social distancing was largely maintained, and most people wore masks. Two people were arrested for alleged offences that have not yet been revealed, but overall it was a very peaceful and positive affair.
The crowds listened to a number of speakers, followed with numerous chants such as "black lives matter" and "no justice no peace", whilst holding their signs. There was also a minute of silence for Sheku Bayoh, who died in police custody in 2015 in Kirkcaldy, Fife.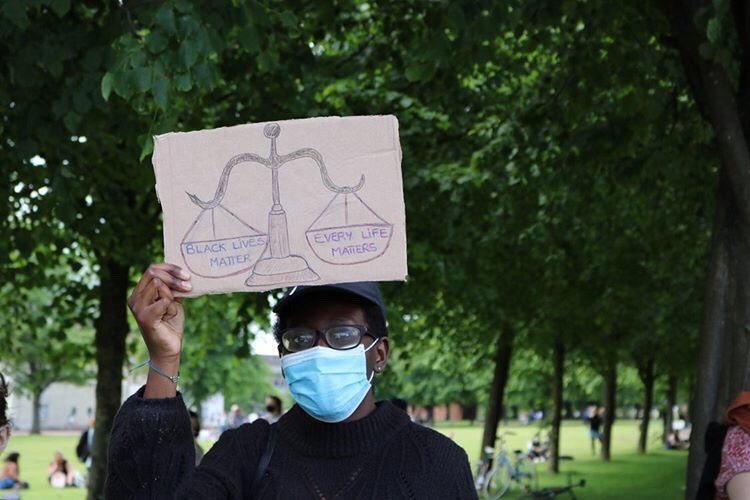 A Glasgow University student who attended the protest is a US citizen and shared their experience:
"I'd have to say that not being able to be home in the US has been extremely difficult during this time especially watching it from so far away but I was very proud to stand beside so many people in Glasgow today who stood up to protest against the racial injustices that are not only happening in the US, but also in the U.K. and other parts of the the world. I'm hopeful that events like these will continue to spark people's attention on these issues, inspire people to reflect & educate themselves, and lead towards positive change."
Overall, yesterday's event was organised well, people protested peacefully and there were no major problems, and no fines were issued to anyone.
•Justice for George Floyd – sign
here
•Justice for Breonna Taylor – sign
here
•Petition calling for changes in the education of British children about the realities of British imperliasm and colonialism – sign
here
And some places to donate:
•Donate to Stop Hate UK here
•Donate to Movement for Black Lives here
•Donate to African American Policy forum here
Related stories recommended by this writer:
•Activists attempt to rename Glasgow streets named after slave owners
•Queen Margaret Union sacks 31 staff members instead of furloughing them
•Glasgow University are about to release branded masks and they don't cost a penny!