Here are 11 things from IKEA that every Edi student needs
From a bath rack to a pepper plant, you need it all
While it may be exams and deadlines season, what that actually means is hours of procrastination in the library, most likely doing some online shopping.
However, spending hours browsing the IKEA website isn't wasting time at all. In fact, buying essential items for your flat is a matter of urgency, and takes precedent over revision.
There are so many things that every Edinburgh flat needs, and anyone who tries to tell you that a Djungelskog is not a flat necessity obviously doesn't understand the importance of looking after your well-being.
The IKEA website can be a confusing and overwhelming place, so to make your lives easier we've come up with 11 IKEA essentials that every Edinburgh student needs.
From the Upplyst to the Middagssol, you'll definitely be adding these to your shopping list:
1. The mushroom lamp
For a while this lamp was all over TikTok, and for good reason.
It's cute, cheap and will make the perfect bedside table lamp for any Edinburgh room.
The lamp is actually called the Tokabo and will only set you back £8. That's truly truffle quality at chestnut mushroom price.
2. The cloud lamp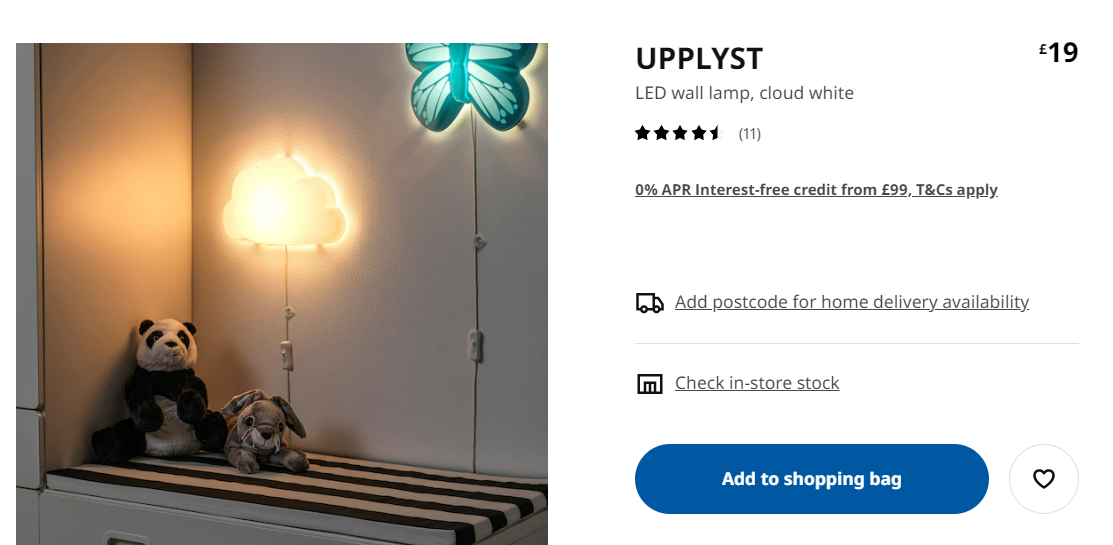 Another viral TikTok lamp is the Upplyst.
This lamp is actually meant for children, but its aesthetic cloud shape has made it very popular with uni students too.
Compared to the mushroom lamp it's much more of an investment at £19, but it makes a nice change from the standard colour changing LED lights that everyone else has.
3. Plant pot hangers
Is it even an Edinburgh flat if you don't have a jungle of houseplants?
Alongside the usual plant pots, IKEA now sells a macramé style plant pot hanger for only £4.50.
Get yourself a Middagssol and give your plant babies the experience of hanging in the air. They'll never be-leaf it.
4. A bath rack
If you happen to be one of those lucky people who actually have a bathtub in your flat, it's only right that you get yourself a bath rack.
These are perfect for providing extra shelf space in tiny Edinburgh bathrooms, as well as giving you somewhere to keep your candles and a glass of wine when you feel like pampering yourself.
The Havern costs £10 and honestly, it was one of the best things I bought in second year.
5. A pepper plant
It doesn't get more Edinburgh than being able to say "I picked these peppers from my pepper plant".
The Capsicum Annuum plant cost £7.50 and grows sweet peppers, which are safe to eat.
For those of you who like to show off your amazing cooking skills, growing your own peppers is guaranteed to impress. You'll be getting hundreds of Hinge likes daily.
And if peppers aren't your thing, there's also a tomato plant available too.
6. Pretty pastel candles
I genuinely think it's impossible to go to IKEA and not come home with a candle.
IKEA sells so many different types, from scented jar candles to brightly coloured stick candles.
Taking inspiration from Zara and H&M Home, you can find really cute and pretty pastel candles at a fraction of the price.
My personal favourite is the Lugga set, which comes with three pink scented candles for £5. What a flaming deal.
7. Emergency tea lights
Following on from aesthetic candles, sometimes you need candles for practical reasons too.
Edinburgh is known to have the occasional power outage every once in a while, and if it happens during nightfall, you can be left in complete darkness. Seeing as in the winter it's dark from 4pm onwards, this can be an issue.
Therefore, it's wise to stock up on a pack of IKEA's tealights.
They actually come in all different scents, colours and pack sizes, but the cheapest option is 100 unscented tealights for £4.75.
8. The bathroom shelf unit
For only £8, the Vesken is an IKEA essential.
This plastic shelf unit fits perfectly in the corner of any bathroom, and provides you and your flatmates with somewhere to keep your many shower gels, shampoos, conditioners, bath bombs, bubble bars and rubber ducks.
It comes in black or white, and will transform your tiny bathroom space.
9. Storage boxes for your drawers
Another IKEA essential is the Skubb, a set of six storage boxes.
Say hello to neatly organised socks and underwear.
For £6 you get six boxes in varying sizes, perfect for organising your wardrobe and drawers.
Your mum would definitely approve of this purchase.
10. Frozen meatballs
One of the main reasons people venture to IKEA is to have the meatballs.
While nothing beats eating them on site, you can also buy a bag of frozen meatballs to take home with you.
The Huvudroll is a 1kg bag of meatballs for £5.95, and is the perfect solution for when you can't be bothered to cook.
They also sell bags of their veggie balls too.
11. A Djungelskog
No introduction needed, everyone knows who the Djungelskog is.
However, at £25 he's not the cheapest IKEA cuddly toy out there.
Even if you don't fancy splashing out on a big brown teddy bear, definitely check out the other cuddly friends that they have on offer as they're some of IKEA's best products.
I got the Snuttig polar bear, and he's genuinely one of the best things that's ever happened to me.
Recommended related articles by this writer:
• The University of Edinburgh is now officially selling its own bucket hat
• We tested out the Wagamama study benches to see what the deal is