RPDR UK's Cherry Valentine on performing again, being a role model & getting in your head
We chatted to the series two queen ahead of her upcoming tour
It's been less than a year since we saw Cherry Valentine pack her bags and leave Season Two of Drag Race UK. Who could forget that iconic Freddie Mercury runway, her heartfelt monologue about growing up Traveller and queer, or the fascinator in her entry look that would make Princesses Beatrice and Eugenie green with envy.
But, since she lost the closely fought lip-sync to Memories, Cherry has been a busy queen indeed. After going back to her old day job in mental health nursing during the pandemic, she is back touring and performing – with a production company she set up herself. On top of this, she starred in Charli XCX's music video for Good Ones and has been working with the NHS on LGBTQ+ inclusion.
We caught up with her before the The Tales of The Condemned tour's final date in Edinburgh – being held at student fave Atik in Tollcross on 4th December.
Are you excited to be coming up to Edinburgh?
"I am, I absolutely can't wait i'm so excited, yes. We had to reschedule obviously because there was [the Girls' Night In boycott on the original date]. But yeah I'm excited I've never actually been properly."
And will she be taking a trip to the Pink Triangle to see what the Scottish drag scene has to offer?
"I actually don't know that many people from Scotland queen-wise. I've met a few of them and actually the other day I worked with CJ Banks who is really cool. And then we've got RuJazzle so who's joining us on the tour as well. And all those people like Alice Rabbit who is quite fabulous and obviously Ellie and Lawrence who were local queens before Drag Race. But yeah it's not huge is it in Scotland?"
She's not wrong, especially in Edinburgh. But there are some fabulous people working to change that and an increasing number of drag and LGBTQ+ nights being held in straight venues – including her own show in Atik.
"It's a really interesting thing performing in straight venues. It's just such a completely different vibe but it's nice that the staff who don't normally see stuff like that get to experience it and talk about it and spread the word. That's the thing it's just people being visible. The more people that are visible, the more people want to do it."
What has the return to live performance been like?
"It has it's been madness, absolute madness. I can't complain, though. It's just nice it's nice to be getting back to some form of normality after the past year and a bit – it's just been a bit mad."
Cherry definitely did not have the typical Drag Race experience with a global pandemic halting production midway through, causing her to go back to nursing.
"I mean Drag Race is a different world. It's nothing like I expected it to be, to be honest and then obviously we had to stop filming and there was a whole pandemic and I had to go back to being a nurse for a bit… And then went back to Drag Race and and went back nursing again and now I'm just doing drag and it's just been a bit wild. I'm just trying to keep up."
It is clear to see that performing is what makes Cherry happiest. When I ask her about the return of live drag she beams: "My heart is just so full from it – I just love meeting everyone. That's the whole reason why I started a touring company and visit more places with people and just show everyone a different side of drag."
But Cherry's touring company is about more than this, Throne Events was set up to combat bad practices in LGBTQ+ events and ensure fairness for performers. Despite it being "honestly terrifying" and "one of the most difficult things to ever organise", Cherry is immensely proud of Throne's ethos that "people who put on shows should have experience with doing the shows".
Who do you want to win Drag Race UK season three?
"I think they are all absolutely incredible and I've actually gotten quite gotten quite close with a lot of them now. Because we're seeing each other a lot more, but I mean I've toured with Vanity not so long ago. Vanity is incredible. I love Ella, Ella is incredible. Kitty! Hilarious! And Krystal is absolutely stunning – I've followed her on Instagram for a very long time. They're all incredible so they all deserve to win to be honest."
When pressed for an answer, a silence follows that is longer than when a tutor calls on you in a Zoom tutorial. Eventually, she says: "Kitty. I think.".
The conversation then turns to how her background in mental health nursing influenced her time on Drag Race. She said the production team were "really really supportive" and all queens had access to teams of psychiatrists, psychologists, and counsellors. But "it was really interesting coming from perspective of where I work in mental health and I've delivered therapy to people and then to be flipped, on the other side, it was just very, very surreal.".
The emotional toll of Drag Race is often hidden behind 'how's your head' gags – and for many queens, the real answer isn't 'I've had no complaints'. I asked Cherry why she thought this was: "I think it's because it's there's a lot of pressure with the show and sometimes you don't even realise that but I was in my head when filming the first few episodes of Drag Race.
"You sort of like build yourself up to what it's going to be like, and then you don't actually realise until you get there and it's completely different. And the way everything works and you feel like you're constantly being watched and you're scared about how you're going to come across to the general public.
"Because people are going to take what you said seriously or negatively, and that comes with a lot of things as well, like social media – It can be detrimental place at times. It's just you constantly thinking what people are going to think about you and I don't think that's healthy for anyone so I do understand why a lot of people do get in their heads."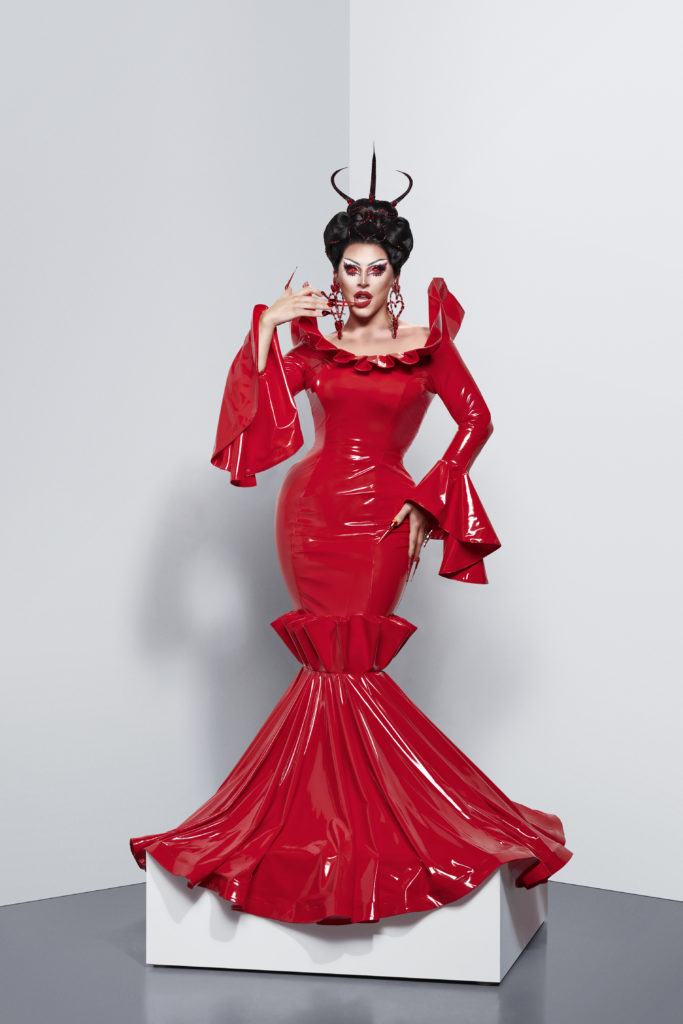 But there's seemingly no cure for getting out of your head on Drag Race. Laughing, Cherry told me: "I got out of that space after I'd been eliminated! I was just like "well I can't change anything now, so it is what it is". But it's just like being in a competitive environment – it's it really does play with your head."
And those DMCs in the Werk Room? "To be honest with you they were quite natural, they did happen quite naturally… And sometimes it doesn't come across that way on TV, in other seasons or other shows, but the conversations that I had in the Werk Room or that I've witnessed were very organic".
Speaking of DMCs, what was it like talking so publicly about being LGBTQ+ and being from a Traveller background?
"That was actually the first time I spoke about it to anyone, and it was on TV – how silly! But I just felt in that moment, because everyone was so out and proud and were really themselves, if there's going to be a time to talk about it it should be now. Then maybe someone can watch it and get something from it because if I would've had that when I was younger it would've made me feel different.
"It was absolutely terrifying I still think back now and I'm like "ooh it makes me cringe", but I'm glad I did it and a lot of things have come from that and a lot of conversations have happened because of it. People reach out to this day and say "thank you for  talking about it" and I'm like "you're welcome", but you'd do the same, you would."
Cherry hopes the conversation has helped tackle some of the more negative stereotyping about Travellers that have previously been pushed on TV with shows like My Big Fat Gypsy Wedding. "It was nice to come from a different angle, especially with being LGBT – something I don't think had been talked about in that community before. So it was good to be able to to show a different light, to show that you can exist in these spaces authentically."
On a personal level, the show helped build bridges with her mum: "We never used to talk about much about stuff like this, like being queer or doing drag and we do a lot more now and it just takes time because it's such a new idea for a lot of people". She hopes: "it's opened a lot of conversations, which is of course I think are conversations that need to happen and but there's obviously so lots of work to be done – there's always work to be done."
And Cherry's advice for young people growing up Traveller and LGBTQ+: "You're never alone, because a lot of times people feel like they're the only person going through a certain situation in the world. And I thought that I was the only queer person in the [Travelling] community and I was the only person like this ever to exists at one point. It's really not the case, there's people out there you just need to find your people."
What was it like going from Drag Race and going back to mental health nursing?
"It was very taxing I'll be honest, because no one planned for it and I thought once I go on Drag Race, I was going to drop all my shifts down and do one shift every once in a while like I do now. But I didn't expect it to be literally no drag work whatsoever. I was at home after we got back from filming the first few episodes and I was like "I can't just stay home and do nothing – I'm literally a qualified nurse why would I not be working during a pandemic" and so there wasn't really any question about it."
Despite masks and PPE, Cherry does get recognised during her day job "but it's good, it's nice, it's a conversation starter". She's aware her public profile makes her a role model – a status she initially shied away from: "I never in my wildest dreams expected anyone to refer to me as a role model I was like "I don't want that pressure"."
But it's a role she's embraced over time: "I've worked closely with the NHS recently and I've been doing other bits and bobs with healthcare trusts about LGBT inclusivity so that's been really, really good from that sense." She adds: "I think again, it goes back to just being visible, so the more visible people are out and proud it allows people to feel like they can be more visible as well".
This goes to the heart of who Cherry Valentine is: always thinking how she can use her platform to change the conversation and blaze a trail. She might not have always realised it but her drag is about much more than performance – it's about being visible to that one person who might need it.
Catch Cherry Valentine, Joe Black, Charity Kase, and many more at The Tales of the Condemned on 4th December at Atik in Tollcross – tickets available here. 
Related recommended articles by this writer
• Interview: Nayna Florence on how she's turned the Edinburgh aesthetic into a YouTube career
• Girls Night In making exception to boycott for queer women's club night at Sneaky Pete's