EUSA calls for a 30 per cent tuition fee cut due to Covid-19 pandemic disruption to teaching
'Students should not bear the burden for the financial impact of the pandemic'
EUSA have signed an open letter asking the government for a £2,700 tuition fee reduction for students due to the pandemic.
It is addressed to Gavin Williamson (the UK government's Education Secretary) and Michelle Donelan (Universities Minister in Westminster) and asks for the disruption to teaching to be taken into account when setting fees.
EUSA Sabbatical Officers told The Edinburgh Tab: "Students should not bear the burden for the financial impact of the pandemic, and financial recompense for the 2020/2021 academic year is crucial in protecting the wellbeing of our students, and making sure their voices are heard."
The proposal is being led by the University of Sheffield and LSE and 16 other SU's have also signed the petition.
The open letter says: "We are asking for immediate financial justice for Covid-affected cohorts of university students. In an ideal world, education should be free; however, in a year when students are calling for compensation on their fees, we have created a fiscally neutral solution to adjust tuition fees, supporting students with a one-off payment."
It suggests increasing the annual interest rate on student loans from 3 per cent to 6 per cent to ensure the proposal wouldn't cost the government more money. It also means graduates earning the highest salaries would pay back more in the long term.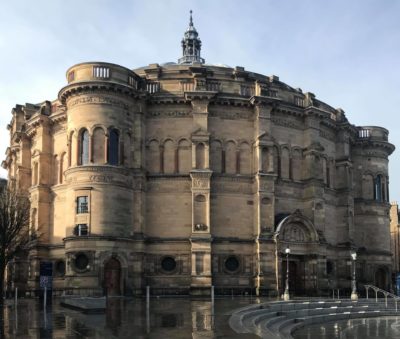 A spokesperson for EUSA told The Edinburgh Tab: "The Students' Association is aware of the significant financial challenges facing students over the next few years, and share their concern regarding the impact of Covid-19 in these circumstances.
We know students are upset with their student experience this year. The pandemic has meant that students have missed out on in-person teaching, access to facilities such as libraries, laboratories and art studios as well as social and extracurricular activities. Moreover, international students have been faced with tuition fee increases this academic year, despite the pandemic.
We want students to want to come to study in Edinburgh, rather than the University needing them to plug a deficit. Whilst acknowledging the complexity of University finances, given the financial impact of the pandemic on the economy and students, we believe that all fee-paying students should be entitled to a reduction.
There has been some interesting work done by student leaders in England, who have called for a 30% reduction on English tuition fees. This figure is based on modelling from the London Economics consultancy and suggests that increasing the interest rate on student loans would mean that the cost of the 30% rebate would be paid for by high-earning graduates, because loans are written off after 30 years, rather than the taxpayer or graduates on low incomes.
At a time where students are calling for a reduction on their fees, we are asking for financial compensation for Covid-affected cohorts of university students. As part of our ongoing work around fee reductions, we continue to urge the University to consider offering a partial reduction of fees to students whose programmes, research activities, and/or courses have been impacted by the effects of the pandemic.
Our recent Student Council motion about Fee Reductions passed in February with 94% votes in favour. We've also held at task force meeting discussing the case for tuition fee refunds are now working on a follow up report."
Before the last academic year, Edinburgh students were promised hybrid teaching: a mixture of in-person and online classes. However, the January lockdown suspended all but essential in-person teaching.
Furthermore, some students were only offered online options before the winter lockdown and this mixture of hybrid is set to continue into teaching for next year.
As the Edinburgh Tab reported earlier this month, Professor Colm Harmon told students, "There will be a mix of in-person and digital teaching, but we expect there will be more in-person teaching for students than in this current academic year… the amount will vary from programme to programme."
A Department for Education spokesperson said: "Universities have a strong track record in delivering excellent blended tuition, and we have been clear from the start of the pandemic that the quality and quantity should not drop."
Related articles recommended by this writer:
• PSA: Edinburgh Uni is reviewing its decision to cancel in-person graduations
• Edinburgh University lectures expected to still be online next year
• Next year we won't be allowed to go to lectures but can go clubbing – make it make sense