Prince Charles is coming to Durham next week
And he is going to meet 'members of the public'
Prince Charles will visit Durham next Thursday, 15 February 2018, according to an email sent to all Durham Uni students from Vice-Chancellor Stuart Corbridge.
His Royal Highness the Prince of Wales will be unveiling a plaque at St. John's College, in honour of his ancestor Dame Elizabeth Bowes.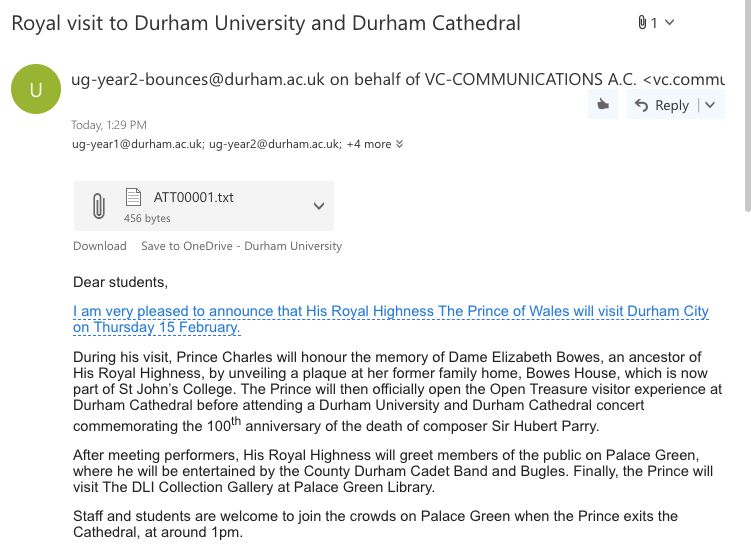 He will also attend a concert at Durham Cathedral performed by students at the uni, some of whom he will meet, before going on to "greet members of the public on Palace Green" at 1 p.m.
However, the Prince's visit means that the entire Bailey peninsula will be closed to traffic from 9 a.m. to 2:30 p.m.
One Durham student told The Tab: "I would have preferred another visit from the royalty of Asgard aka Chris Hemsworth".
Meanwhile Stuart Corbridge, Durham's Vice Chancellor, said: "We are very excited to be welcoming Prince Charles to Durham University, and hope that this visit will further strengthen his long-standing connections withe the University, County Durham, and the North East".
His Royal Highness has attracted much media attention over the course of his life, mostly surrounding his marriage to Diana, Princess of Wales.
But it has also arisen for more quirky reasons. According to one website, the Royal is a picky eater, requiring his eggs to be boiled for exactly seven minutes, and he sleeps in the nude.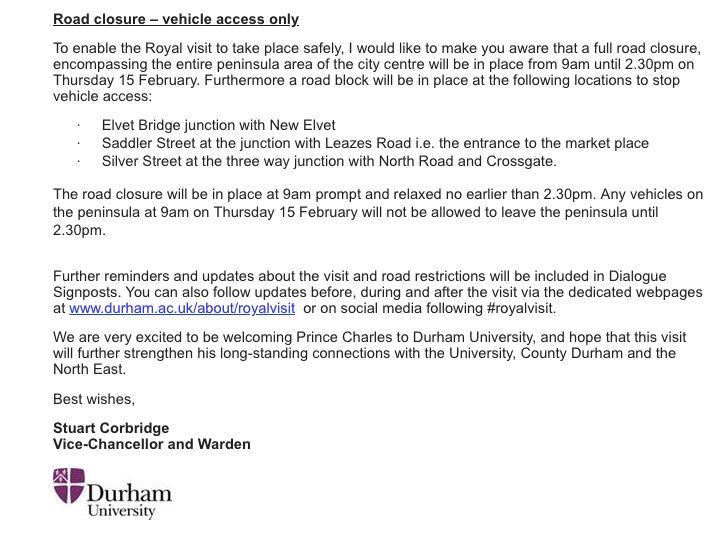 Yet perhaps the renewed attention will be good for His Royal Highness, in the wake of more recent adulation for a younger member of the family.
The Reverend Professor David Wilkinson, Principal of St. John's College, said: "It will be a great pleasure to welcome Prince Charles to St John's College.
"We are privileged that he is taking the time to honour the life and work of his ancestor Dame Elizabeth Bowes. His visit will be a proud day in the history of St John's College."