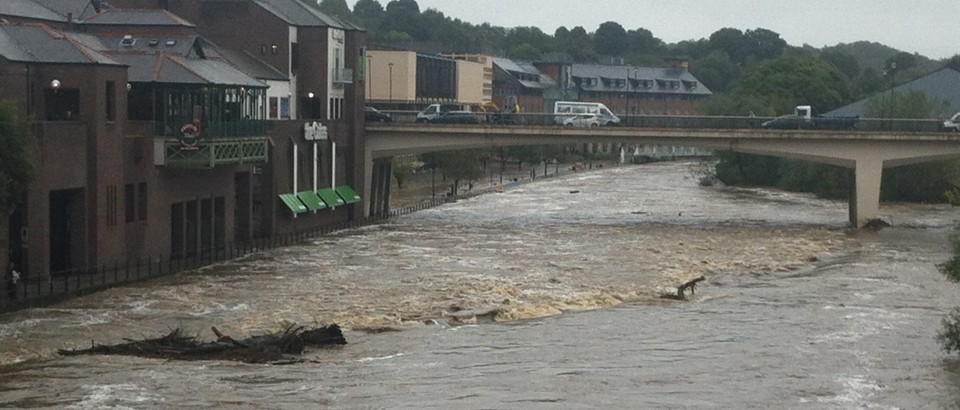 Floody Hell
Students report cars underwater and eels in boathouses amid huge flooding…but is Klute safe?
Clubs and university buildings have been hit by flooding after six weeks' worth of rain fell on Durham in one day.
College rowing clubs reported finding eels in their boathouses, and riverside bar The Boathouse was forced to close as the Wear burst its banks.
Fun-loving students had feared for the safety of Klute, which re-opened on Tuesday.
But the club escaped any damage, and even had time to joke about the flood, tweeting about a new swimming pool.
However, according to Klute's manager John Gray, the nearby Boathouse was less fortunate. He said: "Klute really wasn't affected. The joys of being slightly above the water levels. The most damage we had was a bit of flooding at the back doors!
"Boathouse had to close in the afternoon as the river surrounded the front steps of the building".
"We stood on what we think is an eel in the UCBC boathouse"
Students reported seeing cars underwater and fish inside buildings.
Mike Yorke, a Castle second year said: "I've never seen the river a high as it was, and all the paths and the fields at Maiden Castle were covered in water.
"We went to the UCBC boathouse and stood on what we think is an eel, so there's one trapped in there now we think! There was a car underwater and the Prince Bishop boat was beached outside the Swan!"
Amy Simpkins, a second year at St Mary's said: "The water's so high I don't know whether boathouse is in the river or if the rivers in boathouse".
Elvet Riverside car park was completed submerged, and the university said it would be closed for some time.