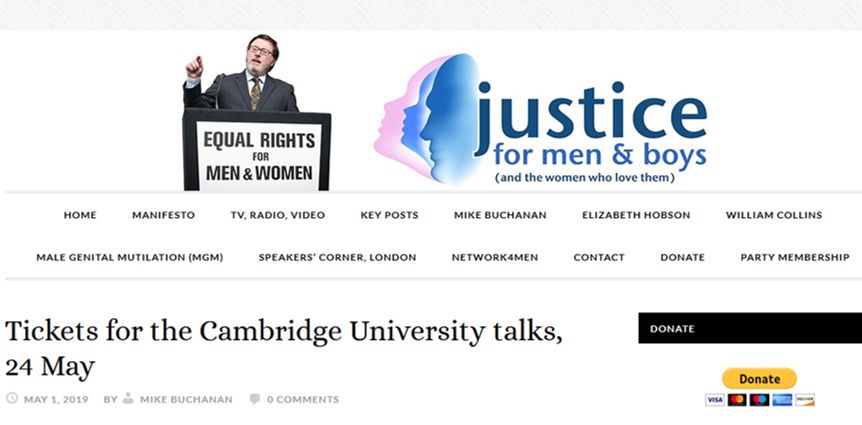 Backlash against Cambridge's refusal to bar anti-feminist group 'Justice for Men and Boys'
Open letter calls for the event to be scrapped
| UPDATED
#Alison Richard building Cambridge
#freedom of speech at cambridge
#j4mb
#justice for men and boys
freedom of speech
Mike Buchanan, director of the self-proclaimed anti-feminist group, is set to speak about 'equal rights for men and women' at the Alison Richard building in three weeks time.
Over 300 staff, students and alumni have endorsed an open letter calling for the event to be cancelled on the grounds that it is fundamentally in conflict with Cambridge's "values and mission… especially our state core value of 'freedom from discrimination.'"
Yet Cambridge has refused to consider barring the group, in line with their commitment to free speech. A spokesperson has said that the lawful expression of "controversial or unpopular views" is not grounds for stopping the event, according to the university's roombooking policy.
But the letter insists that this is not a matter of free speech. It states that the group has harrassed female academics and makes people feel unsafe, saying that "there is a credible threat that members of the university will be subject to further harassment."
It also mentions an article on their website titled '13 reasons why women lie about being raped' and emphasises that J4MB does not "comport with the values behind your laudable campaign to combat sexual harassment and misconduct."
The framers of the open letter suggest that the event could at least be moved to a non-departmental university venue; but Cambridge's Vice-Chancellor, Stephen Toope, will not budge on the matter.
Buchanan has countered the criticism by claiming "it's just a tactic to deny us freedom of speech at the university." He says no one has come forward with evidence of harassment and that the group "don't go for harassing anyone."
Especially following the revocation of Jordan Peterson's visiting fellowship in March, J4MB's planned attendance at the Alison Richard building has seen the University's 'freedom of speech' policy subject to criticism from all angles in recent months.
Cover image source: screenshot from Justice for Men and Boys.
Related articles recommended by this author: