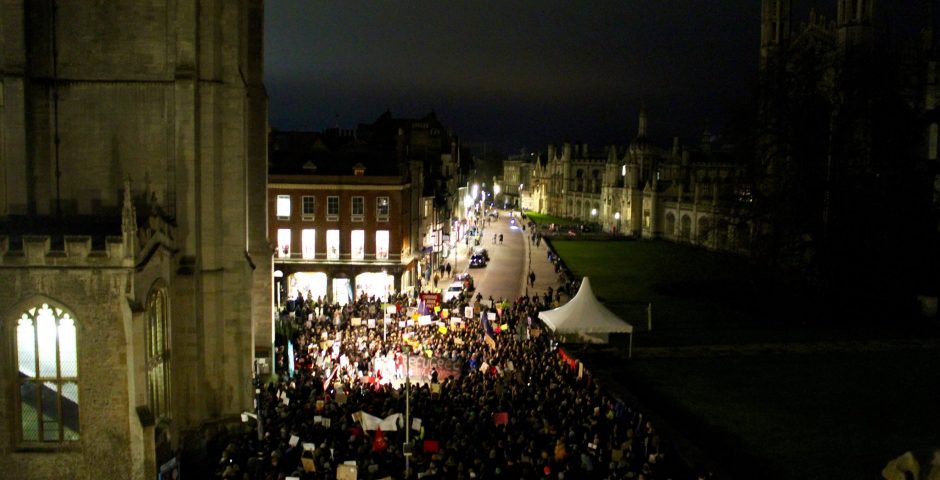 Cambridge protests Trump
'Our protest brings all the girls to the square and they're like, he's got shit hair'
Cambridge
Donald Trump
protest
Student
student politics
university
Cambridge took to Kings Parade this evening to protest the Muslim Ban imposed by President Trump, as well as Prime Minister Theresa May's complicity in refusing to condemn the ban. 
The Tab went to the protest, to bring you the pictures and musings  of outraged Cantabs on the issue.
The protest, organised by Francesca Ebel and Audrey Sebantindira, had over 1000 people 'going' on the Facebook event and protesters filled the space between Senate House and Great St Marys.
The speeches included deeply personal experiences of the hatred Trump has invoked, with similar chants to those used in JFK Airport on Friday present here: 'No Hate, No Fear, Refugees are welcome here', perhaps the most repeated.
The Tab spoke to several students asking why they came out to the protest. One man told us that he just came to "Finally see Cambridge coming together over an issue, and to tell Therasa May that the complacency in dealing with this matter is utterly disgusting and bringing shame onto our country."
Other popular chants which rallied the extensive crowd were 'You're orange, you're gross, you lost the popular vote' and
'Our protest brings all the girls to the square and they're like, he's got shit hair'
Another girl, who had been moved to tears by a touching speech about someone who directly experienced refugee camps by working as a translator there told us "It is the duty of those who are in positions of privilege to fight this cause. If you do not protest this action, if you do not fight, you are directly responsible for exacerbating this hatred."
The Cambridge protest was briefly featured on BBC News and is only one of many protests taking place across the country today.
University Vice-Chancellor Sir Leszek Borysiewicz issued the following statement "The recent executive order issued by the United States government, imposing a ban on nationals of seven Muslim-majority nations, is an affront to one of the most fundamental human freedoms."
"As the head of a university whose staff is actively engaged in research collaborations around the world, I cannot accept a policy that undermines academic freedom, disrupts partnerships, and blocks the pathways to understanding between peoples, faiths and nations.
As the son of a family of refugees welcomed by Britain after the Second World War, I abhor a discriminatory policy that further endangers the lives of people who have fled conflict and sought sanctuary elsewhere…. Although we are not yet aware of any specific cases, the University of Cambridge will provide guidance and support to any of its students or members of staff affected by the travel ban."
The Tab can also report that the Van of Death drove by during the protest. Because, you know, symbolism.