Alan Sugar ain't so sweet, but I still have huge respect for the man.
Politicians, anti-semitism, and British theme parks. Oh and that bloke from the Apprentice.
alan sugar
antisemitism
apprentice
British politics
Cambridge
Cambridge Union
Cambridge University
Chessington zoo
Ed miliband
holocaust
house of lords
jeremy corbyn
Ken Livingstone
labour
London Mayor
Lord Levy
Lord Sugar
Naz Shah
politics
Sadiq Khan
The Cambridge Union Society
tony blair
union society
Lord Sugar does not mince his words.
Speaking at the Union, the former Labour Peer – who resigned from the party following its 'shift to the left' – was extremely critical of London's new Mayor, Sadiq Khan.
He was adamant that Mr Khan's departure from Corbyn was nothing more than a "pathetic" political manoeuvre. He went as far as saying that Mr Khan's visit to a Holocaust memorial in his first act as Mayor, "showed his true colours as a typical politician". In a shocking admission of his opinions, Lord Sugar said "to make a point, he went to the Holocaust Centre, I bet he made sure he had the cameras there".
A staunch anti-Corbynite, Lord Sugar has also been vocal in recent weeks following accusations of anti-Semitism in the Labour Party.
Joining the Labour Party under Blair, Lord Sugar agreed with the business policies of New Labour. Policies, which he says, disappeared under Ed Miliband and Ed Balls. Characteristic of a boardroom showdown, he dismissed Balls, commenting that "Balls is an interesting word, mainly because that is what he spoke most of the time".
He describes the dilemma he faced: as a Labour Peer in the run-up to the 2015 election, he could not place his trust in the party leaders or their policies. Yet he felt it would be wrong to go against the party so close to the polls.
With this context, it was therefore of little surprise when he decided to resign from the party shortly after their defeat last year. Lord Sugar resigned without knowing that Corbyn would be elected as Labour's new leader. For Lord Sugar, in "true entrepreneurial style" he took a risk by resigning, but one which he is now confident paid off. Especially with as he puts it, "lunatics back in charge".
Since leaving the party, Labour has been faced by a torrent of accusations over perceived anti-semitism within the party ranks. However, despite the controversy that has surrounded comments made by Naz Shah and Ken Livingstone, Lord Sugar speaking as a past member of the party dismissed the idea that there was a current of anti-semitism running through Labour. "I think at the moment there are a few stupid people in the Labour Party making a few stupid comments".
Singling out Livingstone though, Lord Sugar said he "just lost it". Happily speaking on the record, Lord Sugar was not afraid to call him out for being an anti-semite. The solution? "We just need to put him away somewhere, maybe in Chessington Zoo, and sell tickets as an attraction".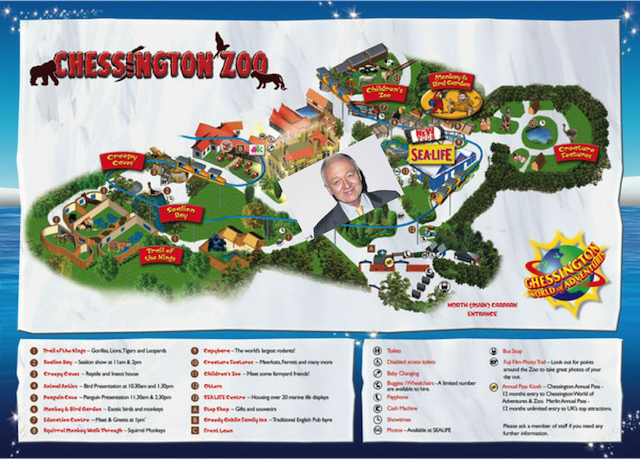 As far as others are concerned, Lord Sugar says he never saw anti-semitism in the House of Lords or in the Labour benches. Fellow Jewish peer and fan of all things Blair, Lord Levy tells a very different story. He revealed that he had been the target of anti-semitic abuse while in the House of Lords. "I was told when I was taking someone into the Lords that someone on the other benches made comments, saying: 'Who is the Jew boy bringing into the House now?'".
Whilst Lord Levy did not mention from which party these comments came, it paints a worrying picture for Britain's Jewish community.