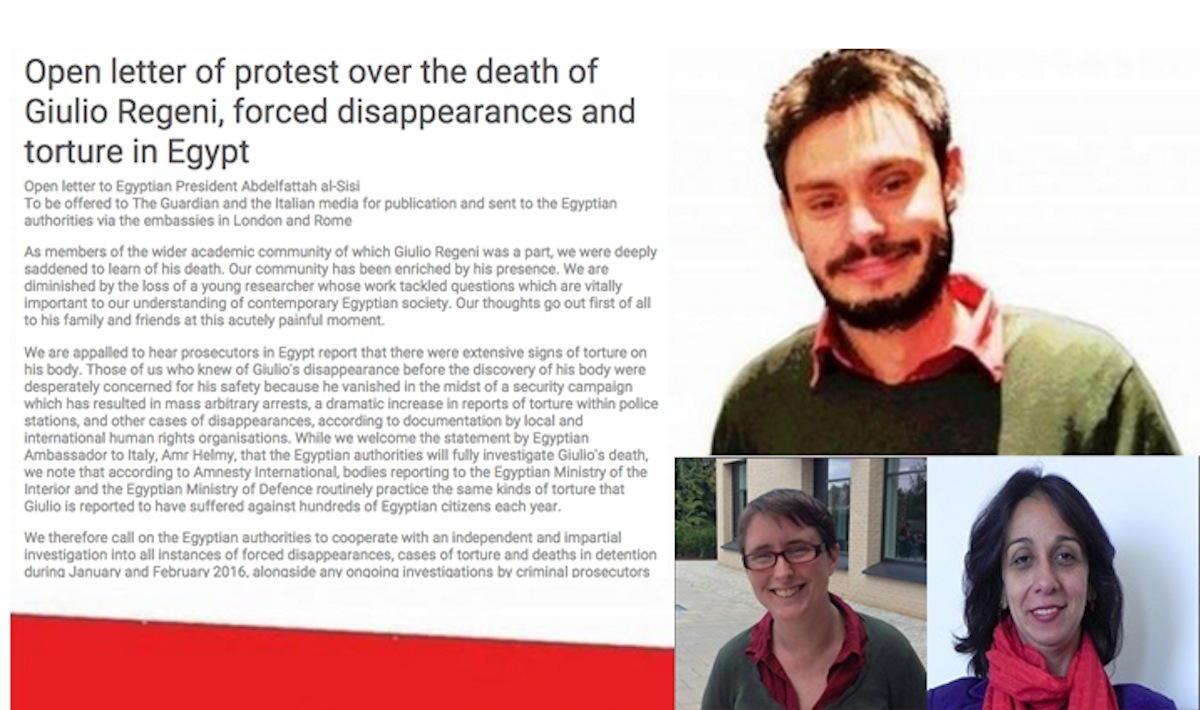 BREAKING: Arrests made regarding the recent murder of Giulio Regeni
37 arrests have been made by the Egyptian police force in connection with the killing of Giulio Regeni
arrests
egypt
Giulio
murder
petition
police
According to reports given by an Egyptian newspaper Al-Masry Al-Youm ("The Egyptian Today"), the police traced Giulio's phone signal to an apartment where they are suggesting he was murdered.
However, the Egyptian authorities have since denied the arrests, leaving the report open to speculation.
The arrests come as pressure builds for the Egyptian government to make public, or uncover, the details behind Regeni's death.
Yesterday a petition was launched by a group of friends and former colleagues of the recently deceased Giulio Regeni demanding that the UK Government takes steps to "ensure a full investigation" is launched into his death.
Regeni, a post-graduate from Girton college, was recently murdered in both brutal and suspicious circumstances.
After disappearing in Cairo on the 25th of January, his body was discovered on the side of a road outside of the city and showed clear signs of torture, marked with cigarette burns and stab wounds.
Angelina Alfano, the Italian interior minister, stated that Regeni had been subjected to "inhumane, animal-like torture".
Regeni had been researching labour unrest and independent trade unions in Cairo – a topic that has been described repeatedly as a "sensitive" issue in Egypt.
He disappeared on the 5th anniversary the of start of Egypt's 2011 revolution, amidst an "unprecedented security crackdown".
The nature of Regeni's death, and the apparent opacity of the Egyptian government's investigation has subsequently raised a number of concerns regarding the quality (and legitimacy) of the Egyptian government's investigation.
As a result of this, more that 5000 academics from over 90 countries have signed an open letter to the Egyptian government protesting the murder.
The letter cites Amnesty International's claim that "Bodies reporting to the Egyptian interior and defence ministries routinely practise the same kind of torture that Giulio suffered against hundreds of Egyptian citizens each year."
One Italian newspaper put it bluntly: "The Italian media pointed fingers at the Egyptian security forces."
Italian investigators have repeatedly stated that they will not "settle for alleged truths", and that "We want those really responsible identified and punished on the basis of law."
An Egyptian ambassador in Rome recently defended the Egyptian security forces, claiming that "We are not so 'naive' to kill a young Italian and throw away his body on the day of Minister [Federica] Guidi's visit to Cairo."
Giulio has spent 10 years living, working and studying in the UK.
Yesterday's petition states that "The UK government has a duty to ensure that a credible investigation of this extrajudicial killing is carried out."
Giulio's funeral is scheduled for this Friday.
His friends and colleagues have asked that you help support their cause by signing the petition here.