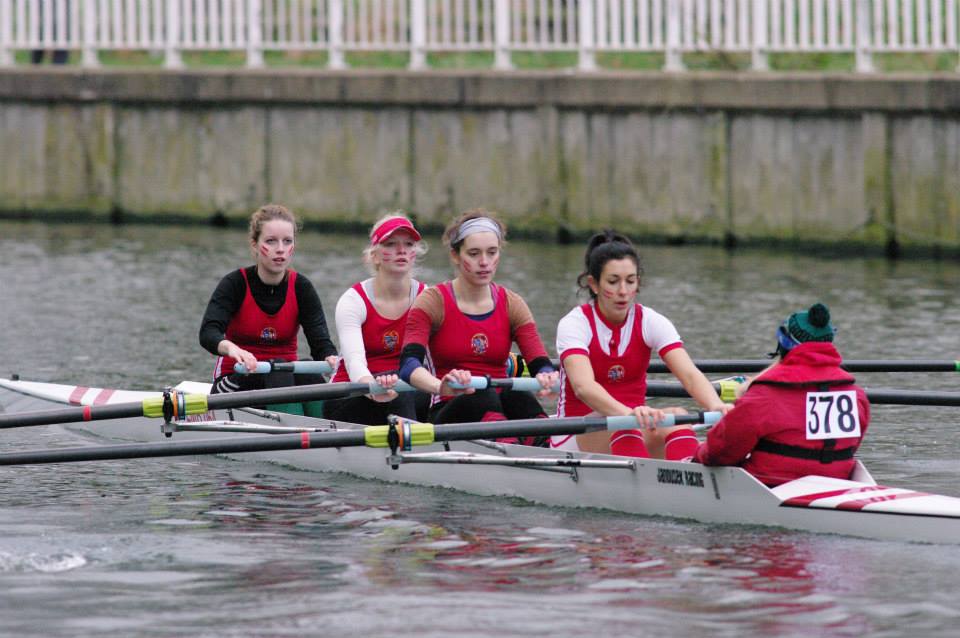 The Fairburn Cup 2013
Joe Wallace reports on the highlight of the Michaelmas rowing programme
Boaties
colleges
cubc
fairburns
Joe Wallace
Rowing
The Cam
Michaelmas's rowing competition came to a climax in the last week of term with the Fairbairn Cup, a head race organised annually by Jesus. Novices raced on Thursday before the old-hands took to the river on Friday. Everything went ahead smoothly despite freezing temperatures and fierce winds.
Conditions were particularly brutal on Thursday, but the novices dealt with them admirably. On the men's side, Caius overturned last week's loss to Jesus to win by a comfortable ten seconds, the first time they have won the NM1 category. "Really proud of all the work the crew have put in", enthused six-seat Chris Jammer when the results became clear. Jesus's NM2 made up for that defeat, beating First and Third Trinity into second place. On the women's side, Lady Margaret (St John's) continued their good form, pipping Christ's to the line by six seconds. Like Jesus's men, Christs's NW2 avenged their first boat's loss, with Churchill NW2 coming in second.
Downing's boat club dinner will have been a particularly raucous affair as they dominated the senior eights. M1 capped off an unbeaten term with a huge, nineteen-second victory over Jesus; they lost to the top university lightweight crew by a mere second. King's, last year's winners, came third. Downing's race ended in a dramatic dash for the line alongside their deadly rivals, Caius, who crashed late on but were already far out of the running. Downing's odds at snatching the Lent Bumps headship have shortened considerably, but Caius will be eager to restore their hegemony of recent years. Downing's W1 have given an object lesson in how to do so, winning on Friday despite having surrendered their May Bumps' headship last summer. First and Third W1 came second, their title credentials partly scuppered by an early crab. Caius M2's twenty-second victory over Queens' provided their senior men some solace, while Newnham W2 beat Murray Edwards.
Along with Downing M1, the most impressive crew of Michaelmas 2013 has been the women's four from Lady Margaret. Unbeaten in all races this term, there seemed little doubt that they would complete the set here. Opponents perhaps smelled blood when they entered an eight as well as the four, but any queries were dispelled when they smashed Jesus by twenty-seven seconds. "Hugely proud of our work this year", declared an exhausted Imogen Wallace (three-seat) at the presentation ceremony. Caius were third, having surged up the rankings impressively this term. Fitzwilliam prevailed over St Edmund's in the men's fours.
As always, this was a very entertaining two days. An equally exciting Lent Bumps – which The Tab will be live blogging – beckons: novices who have caught the rowing bug will take their place as seniors for the first time, and, on the men's side at least, a change at the top of the pile seems a real possibility for the first time in three years.