Churchill Spring Ball
TOMMY SHANE finds love in a hopeful place at this year's Churchill Spring Ball.
actaeon
brass funkeys
ents
fitz barbershop
holly and the sorchestraa
Lemar
After yet another Valentineless February, I was given the double sting of not having a girl to offer my plus-one ticket to for Churchill Spring Ball. So I had to bring a man date. And then when he showed no signs of wanting to get with me, it became abundantly apparent that I was in for an epic odyssey of solo-drinking, dark introspection, and comfort eating.
There's actually a word in German called 'kummerspeck' that roughly translates as 'grief bacon', meaning the weight you put on when you go on an emotional eating binge. I'm pretty sure I can identify a decent amount of kummerspeck from Friday night – though granted this was partly due to those staggeringly moreish falafel and fajitas. I wobbled across from tent to tent for most of the night like a toddler on go-go juice, only interrupted by occasional laughter at all the goobers who opted for the horse burgers.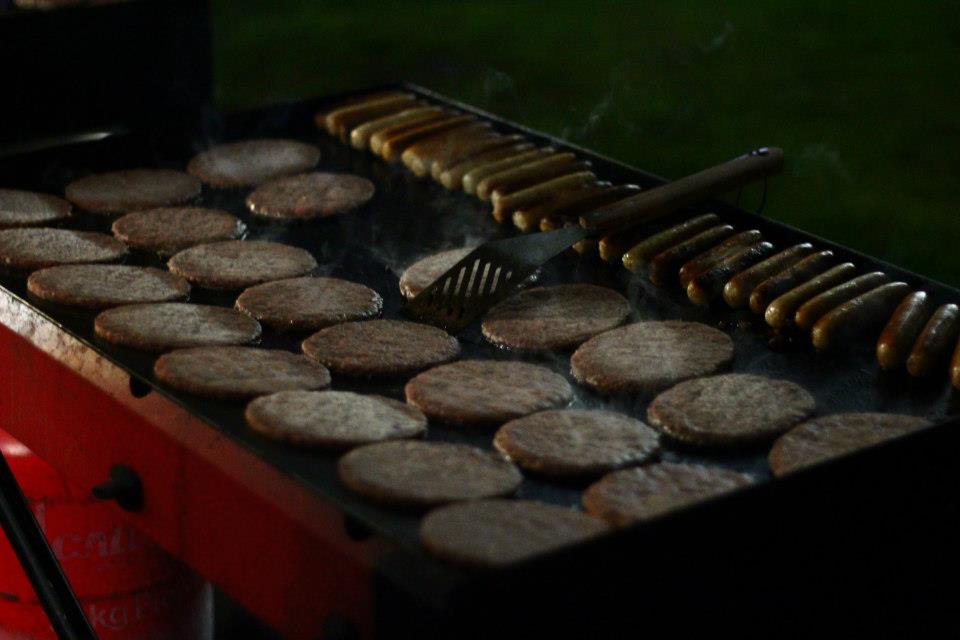 After working off some calories in the ball-pen, I visited the marquee in which Holly and the Sorchestra kept singing about love shacks and sex bombs, swoozing about romance and the like. So I went to see the The Brass Funkys, who were playing in the 'Queen of Hearts' Castle' (something approximating Abbotts Leigh Village Hall). Despite the dodgy venue, they did manage to bleep and blurt me out of my vicious cycle. Headed up by Dave Robinson, they broke down some crazy brass remix of Seven Nation Army and my teenage days of monogamous bliss came swooping back to me.
So as you can imagine the last thing I needed at this point was a bedraggled Lemar ruminating about romantic justice to send me into a hypnagogic swoon, and leave me meditating about my singledom for the whole of his set. It especially didn't help when we all had to wait 40 minutes for the tardy Lemar to even present himself. Though, admittedly, when he did arrive his easy eyes and honey-drip tones were quite loveable.
At this point I skirted out back to the falafel tent, and then waddled across to see Actaeon. But that's when things went from bad to worse, with the beautiful Caius fresher singing covers of R&B songs to a drooling crowd of previous girlfriend potentials. It was positively ruinous for any romantic prospects, especially when he dipped his toes into some Frank Ocean.
Next thing I knew I was bleeding red chips in the casino. Luckily there was a whole lot of booze about – a beautiful rainbow of cocktails, wines, jagerbombs and plain old shots. And thankfully it didn't run out. As me and my friend discovered, when the committee's yellow-sashed bureaucrats weren't about, you could negotiate any drink you wanted with the waiting staff.
The decor was pleasantly thievable, and in the style of what one person described to me as 'refreshingly shanty'. The only problem was that there was a room that was playing Alice in Wonderland all night which was a serious hotbed for dark, twisted, Dali-esque introspection – which was the last thing I needed. But the committee didn't fall into the trap, like most smaller Balls do, of trying to dress up the night in pretentious flash and splash. They just nailed their ents, food and drink. And that's what most of us are there for, really.
Except for me. I was searching for a lover. And at 1:00 am, Laurie Lewis and the Fat Cats stepped up to the stage to perform some reggae, I found her: Jessica O'Driscoll-Breen. And luckily, I'd had enough yellow-flavoured cocktails to muster the chutzpah to kiss her mid song. I think I love her, actually. And if you can't say it at Christmas Valentines, when can you, eh?