We rated UoB students' festive activities
As Taylor Swift once said, 'tis the damn season
Christmas is literally only next week. And with the first semester drawing to an end (minus all our January deadlines), one of the highlights in the student calendar is the annual Christmas roast and getting our somewhat questionable selly houses decorated with festive cheer.
Last year, UoB students pulled it out the bag with their Christmas roasts and put on a very impressive display. I believe that this year has been on-par with some UoB students going one step further than just a bog standard roast.
Below we have rated the highs and lows of Brum students' festivities.
Flatmas 2021 – 10/10
Okay but we absolutely have to start on a strong note. This house have put all the stops out and have made an iconic Flatmas menu. They really have it all and performed it to military precision. From gluten free to vegan options, this really is the dream. Additional points for the variety of the menu, which makes this entry a clear stand-out. The real question is how do they have so many dishes left at this point in the year?
Prosecc-ho-ho-ho – 7.5/10
This roast really gives off sophisticated queen vibes. The crackers, the prosecco, the tinsel… immaculate. Extra points have been given to their inclusion of broccoli, which if you ask me is an unsung hero at Christmas time and a top tier vegetable. My only critique is the consistency of gravy is far too watery – unfortunately I am given horrible flashbacks to my year one kitchen uni sink.
Oh Snap! – 9/10
The thought is always more important than the execution which is clearly the case for this artistic masterpiece. These gingerbread figures have an intense likeability. From Old Joe to Santa these cookies bring everything to the table. The modern take to Santa is just iconic, and I'm totally taking note for new outfit ideas from these gingerbread looks!
Merry Crispness – 7.5/10
This whole plate is giving me school dinner vibes; the cutlery and the peas dying from a lack of gravy pretty much sums it up. However, let's not take away from this roast that this is still a strong effort. The roasties are cooked to perfection, the cauliflower cheese looks dreamy and the decent sized portion is something I can certainly get behind. All in all, not a bad show.
Spudtacular? – 7/10
Seasoning anyone? This roast has the potential to be pure perfection. For a first go it isn't bad, it is the only roast that truly appreciates the importance of pigs in blankets as there is a generous portion here but to call the potatoes roasties would be unfair. There is little-to-no seasoning and no crispiness, it feels like they skipped the 'roast' part. Whilst I appreciate that this is personal preference, just a few minutes longer in the oven could have really gone a long way.
Yoda cutest – 11/10
A sensational tree paying tribute to our king – Baby Yoda! This house have remembered the small details making this night a personal favourite of mine. Name tags, secret Santa, and a Christmas tree. This effort shows that when we put our minds to something we can really make something special and get into the spirit.
A gravy train? 6/10
One question, why are we normalising peas with a roast dinner? This is the third entry to have peas with the dinner, and whilst this isn't outrageous, it just feels wrong. And I'm all for a generous portion of gravy, the Brussel sprouts are quite literally swimming. Excessive…maybe?
Originality is rare – 9/10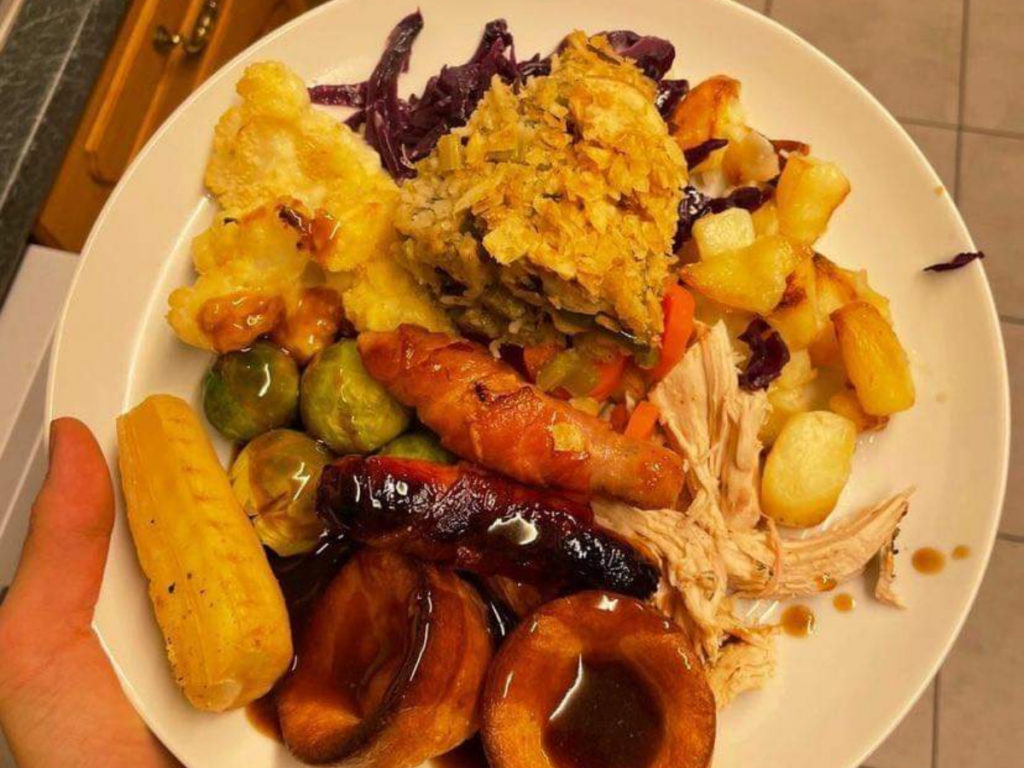 Whilst this wouldn't be my idea of a go-to roast, I have to recognised individuality. The inclusion of pickled cabbage and other trimmings does make this roast not like other roasts. I may have drizzled some more gravy over this, but this plate does make me smile as it does have a festive flare that I can get behind. Defo the Chamberlain of christmas dinners, and it looks like someone did their festive shop at M&S instead of Aldi.
A loaded plate – 9/10
The gravy to food ratio is outstanding on this plate. Again, the influx of peas on this plate is slightly overbearing but the pigs in blankets and stuffing look cooked to perfection. The best yorkshire pudding in this roundup though.
Well there you have it, the efforts of some UoB students to create some Selly festive fun is simply outstanding and surprisingly there haven't been any shockers this year making me seriously impressed.
Everyone at The Birmingham Tab wishes you a Happy Holiday and let's make 2022 our best year yet!
Related Stories recommended by this writer:
• The best Birmingham themed Christmas gifts on a student-friendly budget
• Birmingham's sports team 'bare all' for blood cancer calendar
• All the best reactions from Birmingham's second appearance on University Challenge