We rated the best and worst roasts of Selly
Some people are gifted, some need to take a long hard look at themselves
Picture this, you're preparing to go home for Xmas. You and your housemates decide to be classy adults for once, and celebrate the occasion. You pour the Baileys (Aldi own brand more like, what student has that budget?), stick the roasties in the oven and read tragic Brumfesses that make you feel better about your life.
The only thing that can make this even better is the annual jolly Christmas dinner, where everyone reminisces about their memories together and excitedly plan Summer 2021.
I'm all about spreading some festive-cheer, so let's rate the people of Selly's roast dinners and see if there are any chefs among us.
Enough to make Jamie Oliver proud – 9/10
Let's start this off with a bang. The elegance, the effort, the creativity… simply sensational. And bonus points for the classic Dark Fruits !
A student-friendly roast – 6.5/10

I am concerned for the pigs that created those pigs in blankets, what is going on there? And whilst the plate does look like it's been painted by a child in nursery, I do love the way the chicken has been shredded, and the crispiness of the roasties is just dreamy.
Veggie diversity – 6.5/10
There's something about this roast, that I really do like. Maybe it's the veg, maybe it's the generous portion of gravy. But one thing it lacks is vision. There are so many great veggie alternatives to Turkey and Chicken, yet this person has decided to go for what looks like an unseasoned piece of Tofu. Whatever floats your boat, I guess…
Stuffed turkey AND Red cabbage?! – 7.5/10
Definitely a 'marmite' one, as it is not your typical roast. Although, I love people who do it differently, therefore I can't help but praise this as it still looks aesthetically pleasing.
Gluten free babes – 9/10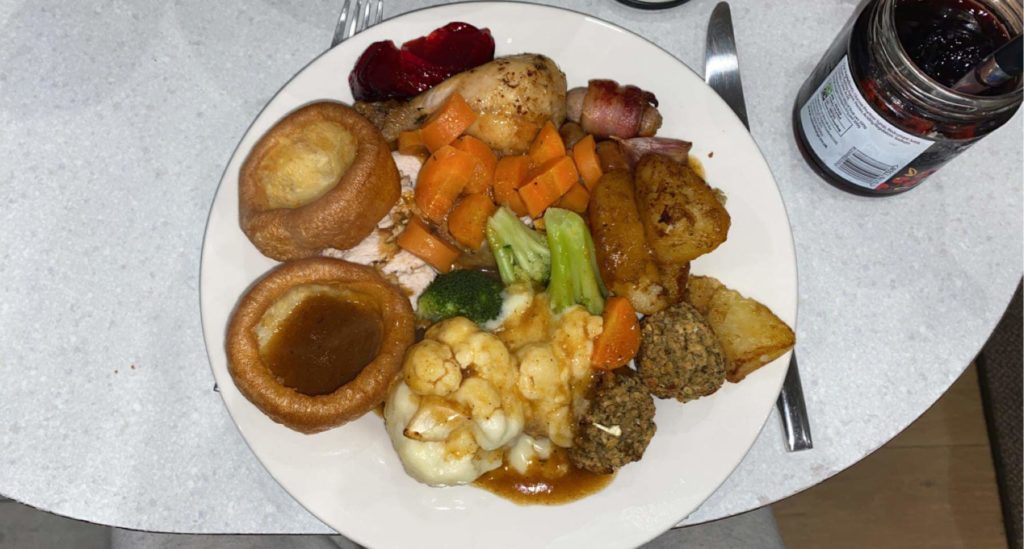 An allergen friendly addition, showing us all how it's done. The only roast that respects the mighty cauliflower cheese and cranberry sauce combo. Flawless.
Noticeable seasoning –  8.5/10
A roast enough to make salt bae proud. Exquisite seasoning on the potatoes, and a fabulous portion of gravy.
And our winner…the range, the presentation, the festivity – 10/10
Take a second to admire, as no words can explain the excellence of this roast dinner. What is there not to love? This person has even managed to take it one level higher and get the Crimbo crackers out.
Credit where credit is due, UoB students do know how to make a good roast and that deserves to be recognised.
Related stories recommended by this writer:
• We went to Brum Primark at 3am the night lockdown ended and it was better than clubbing
• We spoke to UoB's KINVIG Society about their Trussell Trust Christmas Food Collection
• These UoB students' Tinder horror stories will put you off online dating for life