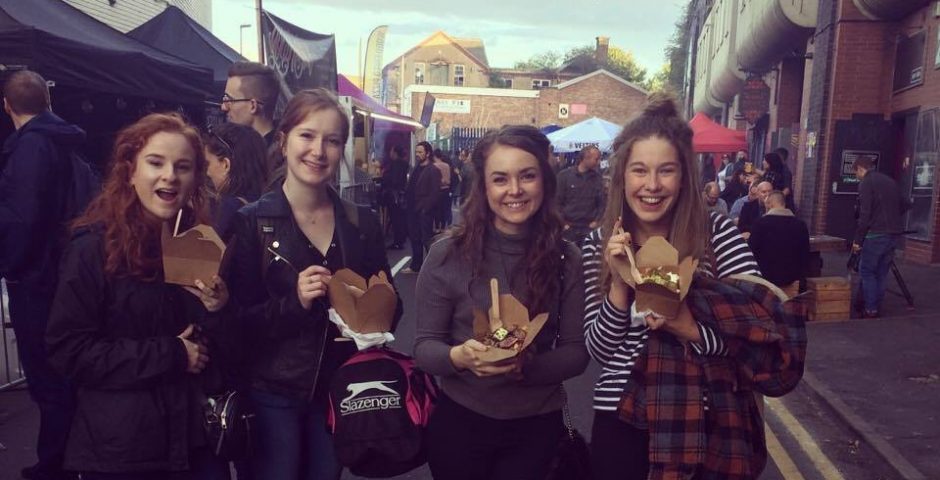 You can't deny it, Digbeth Dining Club has the best food in Brum
Is there a better way to spend your Friday night?
digbeth
tab
uni
If you've got a free Friday and are looking for a touch of something different, Digbeth Dining Club is the place to go. It's a pop-up phenomena that has swept through the streets of Birmingham over the past few years. The Friday night treat which occurs once a week is definitely a must for all those living in Brum, and here's why:
There's literally everything on offer
From wood baked pizza to gourmet hot dogs, there really is something for everyone. The main strip features cuisine from across the globe and with outside seating or inside cosy bars, so it's not even weather dependent. Each stall promises Instagram worthy delicacies and with a varying menu each week. It is a foodie's dream. Vegan and vegetarian stalls are also available, just be sure to check the website for what treats are on offer each week.
And the cocktails are unreal
Whilst food is the main attraction of the night, another great aspect of the event is the drinks and cocktails stands. Head into Mama Roux's for a 1920's New Orleans vibe with it's absinthe bar and bubbly cocktails, overlooking the stage below in a dimly lit cove on the top floor; a great setting for a date. Or even the outside stalls also provide great selection.
There is so much gin
The gin stand offering everything from your classic G&T to more eclectic tastes like rhubarb and elderflower, there is really any drink to go with your food on the go. The two aspects go hand in hand, drinks can be bought anywhere around the event and you can try a variety of tasters across the street. Start with a good old pint of beer, then move on Pizza and wine, finish your meal with G&T with dessert and then move upstairs to watch the absinthe show.
It's so worth the £1.50
Most weeks the event is relatively small with only a couple of stands, and free entry, however on the last Friday of each month the event explodes. The whole area is shut down and the road is really taken over. On these days entry is £1.50 but the atmosphere of the whole event is incredible! You can mosey down through the culinary global journey and take the whole night to enjoy every aspect the event has to offer.