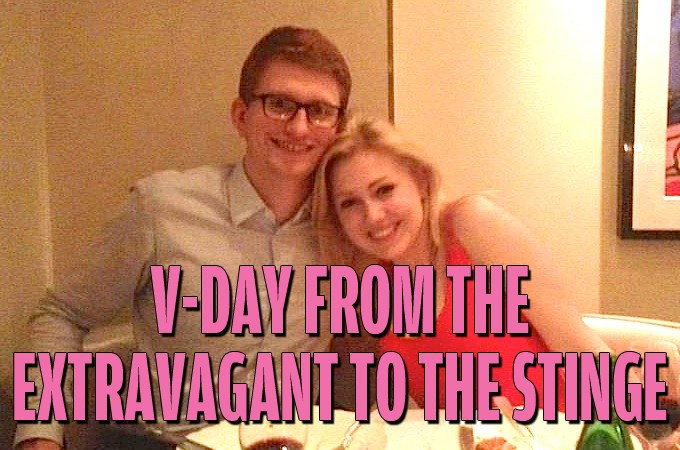 V-Day from the Extravagant to the Stinge
More alternative ideas on how to spoil that special someone this V-day, ranging from the extravagant to the darn right stingey.
The classic option… Yet one that never seems to fail to provide a cute evening out. If you fancy splashing the cash slightly, then where more V- Day appropriate to go in Brum than Brindley Place! Options range from Carluccio's to Pizza Express and Handmade Burger co, all with gorgeous night-time views out onto the lit up canal.
Finish off the evening in style with a romantic stroll down the canal and a glass of champagne at Bar Epernay. Ooh fancy!
If your budget is falling a little short, Birmingham just happens to have some rather exciting options on the cards for a fun day out and for a decent price.
Treat yourselves to some online tickets to Sealife from a tenner.
Head to Cadbury World for a special Valentine's Weekend- you can lather each other up in delicious Cadbury chocolate. Well you might have to wait until you get home, it's a family place. And don't worry to all you stinges out there: YOU CAN GET STUDENT DISCOUNT AT CADBURY WORLD! Win.
February: Vday Picnic Special!
If the weather manages to hold up, why not go on a picnic in the delightful Selly Oak Park? Wrap up warm, and stock up on supplies from Aldi and embrace the nature that Selly has to offer. If it snows, all the more for a romantic setting! Just watch out for the dog shit…
The cheap and cheerful option! The only downside is that you may have to hibernate in your bedrooms to avoid rowdy single housemates intruding on your romantic evening in!
Grab a Rooster's/Pizza Land takeout for two.
Hit Aldi's alcohol and confectionary sections and get your hands on some cheap champagne, and the large 99p bars of chocolate. (An absolute treat melted with marshmallows to dip in, mmm.) But steer clear of the mince meat if you were planning to cook a romantic spag bol…
Whack on a classic romantic movie, and you are set for the night!
Fancy celebrating by doing something a bit different this year? Here are a couple of alternative ideas that may or may not float your boat.
The JML Snuggie: adorable, or just plain embarrassing?
For all you ladies wanting to surprise your fella with something a bit sparkly, how about a special Valentine's Vajazzle?