Ranked: The best Netflix Originals series, according to Rotten Tomatoes
Finding new things to watch on Netflix can be a tough task. No matter how many new shows are added, you still sit and stare at your screen proclaiming there is absolutely nothing to watch. Rotten Tomatoes has released a ranking of the best Netflix Originals, which may just be the answer to all your troubles.
So if you're stuck trying to find something to watch here are the top 20 from the ranking, of the series which score the highest on the reviews site. Read this, then add every single one to your watch list.
20. Russian Doll
2019 Netflix Original series, Russian Doll, has a rating of 97 per cent on Rotten Tomatoes. The Netflix synopsis reads: "Nadia keeps dying and reliving her 36th birthday party. She's trapped in a surreal time loop – and staring down the barrel of her own mortality."
19. Mindhunter
2017 series Mindhunter is a chilling, crime mystery drama. It is based on the 1996 book Mind Hunter: Inside the FBI's Elite Serial Crime Unit, by former special agent John Douglas and Mark Olshaker. It has a ranking of 97 per cent on Rotten Tomatoes.
It follows two FBI agents who expand criminal science by looking into the psychology of murder. The agents are tasked with interviewing serial killers to solve other open cases after a new type of killer emerges – one with no specific motive. This leaves a huge gap in investigations. In order to expand their knowledge of why killers do what they do, they have to speak to those who commit these crimes themselves.
18. Lovesick
Lovesick is a comedy released in 2015. The Netflix synopsis reads: "In his quest for true love, Dylan found chlamydia. Joined by friends Evie and Luke, he relives past encounters as he notifies all his former partners."
17. Tuca and Bertie
This 2019 series is a cartoon about two birds, Tuca and Bertie, who are best friends navigating their way through life. This may sound a bit random and weird, but it's got 98 per cent on Rotten Tomatoes – and the people are never wrong.
16. Wild Wild Country
Wild Wild Country is one of the best Netflix Originals true crime documentaries, with a rating on Rotten Tomatoes of 98 per cent.
It is a six-part docuseries about the controversial Indian guru, Bhagwan Shree Rajneesh. He bought a plot of land in the Oregon desert and attempted to build a utopian society in 1981. He had built brand new homes that could house over 7,000 residents and the plan was to develop a food supply, police and fire stations, restaurants and a small airport.
However, tension was created just a year into the build. According to Netflix: "This conflict would become one of the wildest episodes in American history and feature heated debates over land use, electoral mayhem, voter suppression, biological warfare, assassination attempts, deportations, drugs, sex and more."
15. Happy Valley
British crime series, Happy Valley, has a Rotten Tomatoes ranking of 98 per cent. The show also won five BAFTAs. The Netflix synopsis says: "Yorkshire police sergeant Catherine Cawood pursues the man who assaulted her late daughter, unaware he is now part of a secret kidnapping plot."
14. Unbelievable
Unbelievable is another of the best true crime series on Netflix. It is a dramatised series, based on the true story of 18-year-old Marie Adler. Marie said she had been sexually assaulted at knife point in her apartment. Then she told police she had made the entire story up and was charged with a gross misdemeanour. She faced up to one year in jail.
Marie is played by Katilyn Dever in Netflix's eight-episode series Unbelievable. In the show she is asked to repeat the chilling story over and over again to police. Those closest to her and the police constantly doubted her story. The 2019 series has a score of 98 per cent on Rotten Tomatoes.
13. American Vandal
2017 series, American Vandal, is a true crime comedy satire. The synopsis reads: "In the wake of their first documentary's success, Peter and Sam seek a new case and settle on a stomach-churning mystery at a Washington high school." It ranks at 98 per cent.
12. Alias Grace
Alias Grace just missed top rankings, scoring 99 per cent on Rotten Tomatoes. The crime drama's synopsis says: "In 19th-century Canada, a psychiatrist weighs whether a murderess should be pardoned due to insanity. Based on Margaret Atwood's award winning novel."
11. One Day At A Time
One Day At A Time is a comedy-drama is inspired by Norman Lear's 1975 series of the same name. It follows the life of a newly single Army veteran and her Cuban-American family. The synopsis says: "In a reimagining of the TV classic, a newly single Latina mother raises her teen daughter and tween son with the 'help' of her old-school mum." It has a rating of 99 per cent.
10. Crazyhead
Just coming in the top 10 of the best Netflix Originals is Crazyhead, scoring the full score of 100 per cent. The British dark comedy is about an unlikely duo of demon hunters. It follows two women in their early 20s who defeat literal demons, as well as their inner demons too. It comes from the creator of Misfits.
9. The Confession Killer
2019 true crime series The Confession Killer also scores 100 per cent. The five-part series tells the story of Henry Lee Lucas. He was first put into prison for murdering his mother, and then for the murders of his girlfriend and landlord. However when he was in prison he started confessing to more and more killings. The number got up to 100, then 150, then 300 and it wasn't long before Lucas said he was responsible for over 600 deaths all over America.
In the documentary, the local police force seem overjoyed – they've solved hundreds of cases they never thought they would. It must have been Henry Lee Lucas – he could take police to crime scenes, give details of evidence and in some cases even draw the victims.
But it wasn't all it seemed. It soon unravelled that him being responsible for all these crimes just wasn't possible. Aside from it being physically impossible for him to travel to all the different locations crimes took place in over the time they happened, evidence began to stack up that made his confessions clearly false.
8. Dirty Money
Dirty Money is a Netflix Original series which tells stories of corporate corruption, securities fraud and creative accounting. Rotten Tomatoes describes it as "a thrilling investigative series from Oscar Award-winning director Alex Gibney, which provides an up-close and personal view into untold stories of scandal and corruption in the world of business" and it has a score of 100 per cent.
7. Giri/Haji
Giri/Haji is a soulful thriller set in Tokyo and London, exploring the butterfly effect of a single murder across two cities. It is described as a dark, witty and daring examination of morality and redemption. It has a top class rating of 100 per cent.
6. Ugly Delicious
Ugly Delicious is a cooking show lover's dream. Award winning Chef, David Chang, travels the world to visit culinary hotspots. Each episodes focuses on a different dish or food concept, and focuses completely on flavour – not always looks. It's like if The Voice was about food. It has a Rotten Tomatoes score of 100 per cent.
5. Chewing Gum
Chewing Gum is a comedy series about Tracey Gordon, who is a religious, Beyoncé-obsessed twenty-something who is fast finding out that the more she learns about the world, the less she understands. It's got a top score on Rotten Tomatoes.
4. Feel Good
Feel Good is a six-part semi-autobiographical sitcom by Canadian comedian Mae Martin. It centres around Mae and her relationship with new girlfriend George. It starts off with them in new relationship bliss before the realities of life start to kick in. George has never dated a woman before, and they actually know very little about each other. Because of George's situation, she's frightened to introduce Mae to her family – which causes even more rifts. We also learn that Mae is a recovering addict attending narcotics anonymous meetings.
It is available on 4OD in the UK and Netflix in the rest of the world.
3. Mystery Science Theatre 3000: The Return
This sci-fi comedy was first released on Netflix in 2018 and has a score of 100 per cent. The synopsis reads: "The cult hit returns! Captured by mad scientists, new host Jonah survives a blitz of cheesy B movies by riffing on them with his funny robot pals."
2. Big Mouth
Big Mouth is all about American teenagers going through puberty with a hormone monster. Which sounds weird, but it's like a cartoon version of Sex Education on steroids. The series, which is rated at 100 percent, has a synopsis which says: "Teenage friends find their lives upended by the wonders and horrors of puberty in this edgy comedy from real-life pals Nick Kroll and Andrew Goldberg."
1. Master of None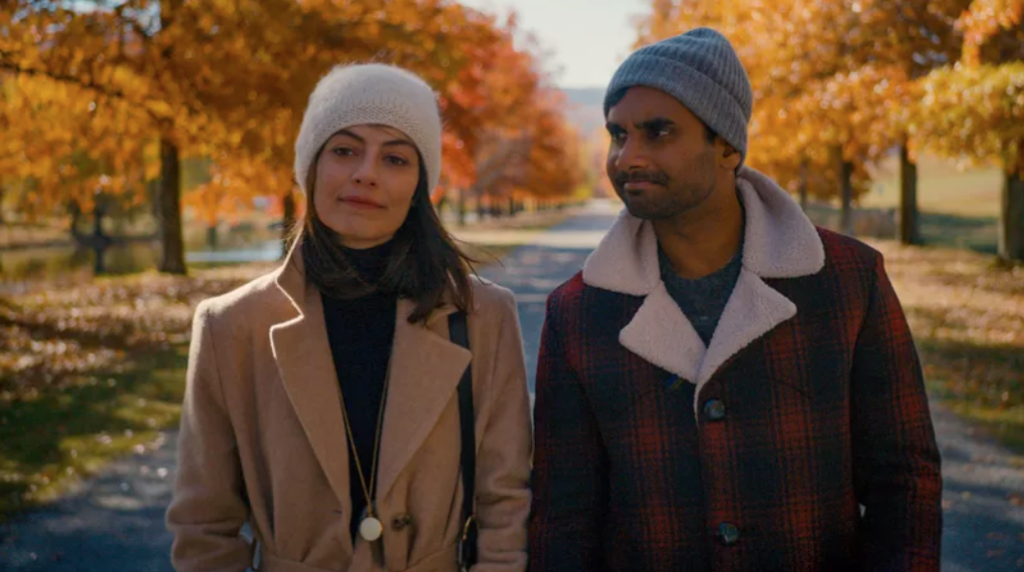 The top rated, and therefore best, of all the Netflix Originals according to Rotten Tomatoes' ratings is Master of None. This comedy features Aziz Ansari and was first released in 2015. It follows the personal and professional challenges that face a 30-year-old New York actor, whose trials range from the immigrant experience to what pasta he should eat for dinner.
See the full ranking of the best Netflix Originals according to Rotten Tomatoes here. 
For all the latest Netflix news, drops and memes like The Holy Church of Netflix on Facebook. 
Related stories recommended by this writer:
• You can only call yourself a real Netflix addict if you get 10/13 on this quiz
• These 15 Netflix shows are perfect to watch whilst mostly looking at your phone
• These 15 Netflix horror films are not for the faint hearted