'Feel Good' is the 'beautiful' and 'truly funny' romcom we all need right now
'This is the greatest thing I have watched in a very long time'
Right now a lot of us are stuck at home with not much better to do than binge-watch TV shows and eat all of our quarantine snacks. The global mood is at an all time low. So to lighten the mood, there's a brand new sitcom called Feel Good – which promises to make you do just that.
It's the kind of happy and easy viewing we all need right now, and the reviews are impressive too. Here's everything you need to know about your latest binge-worthy show.
Feel Good is a sitcom all about love, addiction and sexuality
Feel Good is a six-part semi-autobiographical sitcom by Canadian comedian Mae Martin. It centres around Mae and her relationship with new girlfriend George. It starts off with them in new relationship bliss before the realities of life start to kick in. George has never dated a woman before, and they actually know very little about each other. Because of George's situation, she's frightened to introduce Mae to her family – which causes even more rifts. We also learn that Mae is a recovering addict attending narcotics anonymous meetings.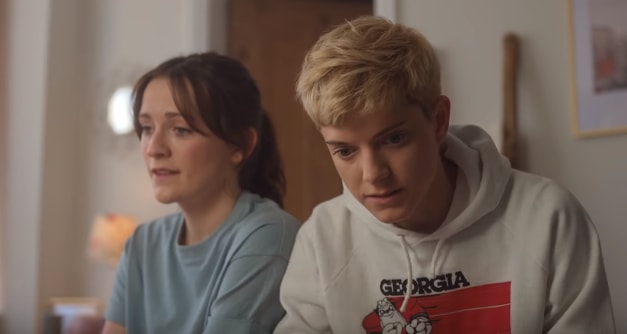 The official synopsis for Feel Good says: "Feel Good stars Mae Martin as Mae, a rising talent on the stand-up circuit and recovering addict whose addictive behaviours and intense romanticism dominate every single part of her life. When she meets pragmatic – but so far heterosexual – George (Charlotte Ritchie) she's smitten, and much to her surprise George feels the same.
"They embark on an intoxicating romance as Mae juggles relationships with her parents, fellow addicts in a drugs support group, her colleagues at the local stand up club, and most importantly tries to transform her relationship with George from an addictive one to a healthy one. But the real question is can Mae replace a toxic addiction to love with love itself.
"Feel Good is a deeply personal, dark but hilarious story about two young people navigating the modern-day landscape of love, addiction, and sexuality – and trying to form a meaningful and lasting connection."
The show features a lot of familiar faces too. The cast includes Mae Martin (Comedians of the World on Netflix), Charlotte Richie (Fresh Meat), Lisa Kudrow (Friends, obvs) and Sophie Thompson (Harry Potter).
It's being called 'glorious', 'class' and 'truly funny'
In reviews, Feel Good is getting amazing feedback. The Guardian rated the series five stars and said it is "beautiful" and "truly funny". The review went on to say "it's a glorious, shining jewel in the middle of what I think we can safely call the greatest global shitstorm since the second world war."
The review concluded with: "Feel Good should make you feel good. It's not only an immaculately written and paced piece of work and a properly funny comedy, it is also has created a delicately and intricately constructed, deeply humane world where people make mistakes but are not damned, and have flaws that are not fatal, and – despite all the obstacles – connect across and despite their divides. It is good for almost everything that ails us."
And Twitter has given the show the seal of approval too. One comment said the series is "bloody class" and another added that it was one of the greatest things they've watched in a very long time.
You can watch all episodes of Feel Good right now
The first episode aired on Channel 4 in the UK last night (Wednesday 18th March) and each episode will be aired on Wednesday evenings at 10pm. Alternatively, every episode has dropped on 4OD if you want to binge watch them all at once.
All episodes are available on Netflix in the rest of the world from March 19th.
Watch the trailer for Feel Good here:
Feel Good is available on Channel 4 in the UK and Netflix in the rest of the world now. For all the latest Netflix news, drops and memes like The Holy Church of Netflix on Facebook.
Related stories recommended by this writer:
• Dark comedy about rich girls who plot a murder has just landed on Netflix
• There's a quarantine version of Love Is Blind happening on Instagram right now
• Netflix Party lets you watch and chat about shows with friends, even when isolating