These 15 Netflix horror films are not for the faint hearted
There's an art to the perfect horror film. It needs to be the right balance of scary and able to keep you on your toes, but not just gore and thrills with no real substance behind it. There are so many Netflix horror films to chose from, but which ones are actually worth your precious time?
Here are the best Netflix horror films for you to enjoy this spooky season, in no particular order. But beware, these are pretty scary.
Gerald's Game
Gerald's Game was released in 2017. It's all about a woman who accidentally kills her husband during a kinky game. She's then left handcuffed to her bed with no hope of rescue. She begins hearing voices and seeing strange visions and it gets very messed up, very quickly.
Creep
Creep is a thriller and mystery style horror. It's about a girl who falls asleep at a London tube station and wakes up to find it locked up and abandoned for the night. She has no choice but to stay there until the morning, but then ends up getting followed around a mystery of underground tunnels by a creepy attacker.
If you like it, there's a Creep 2 as well.
The Cabin in the Woods
The Cabin in the Woods is literally about a cabin in some woods. Five college friends arrive at a remote forest cabin for some time away but then one by one they fall victim to zombies. But that's not all, it turns out it's scientists manipulating everything that's happening. 
Which may sound weird, but Chris Hemsworth is in so it's definitely worth a watch.
Veronica
Horror film Veronica is inspired by a true story and has been called the scariest film on Netflix, ever. Apparently it's so scary, people had to turn it off midway through.
Set in 1991, the film tells the story of a teenage girl who uses a Ouija board during a solar eclipse to contact a dead loved one. Then when she's babysitting her younger siblings, Veronica begins to feel the presence of evil forces inside the house. Then there's moving objects, freaky sound effects and a creepy blind nun.
Hush
Hush is all about a deaf writer who lives in a creepy cabin thing in the woods. A masked killer appears in her window, and of course, she can't hear where he goes.
Psycho
1960's Psycho is a timeless horror film. It's all about a secretary who pulls up to the Bates Motel and meets Norman Bates. It's an Alfred Hitchcock classic. It would be rude to not call it one of the best Netflix horror films.
Happy Death Day
Happy Death Day is about a college student who wakes up with the eerie feeling she's experienced the events of this day before. A masked killer comes and attacks her, but then she wakes up unharmed again. She wakes up on her death day over and over again until she can work out who the killer is.
He's Out There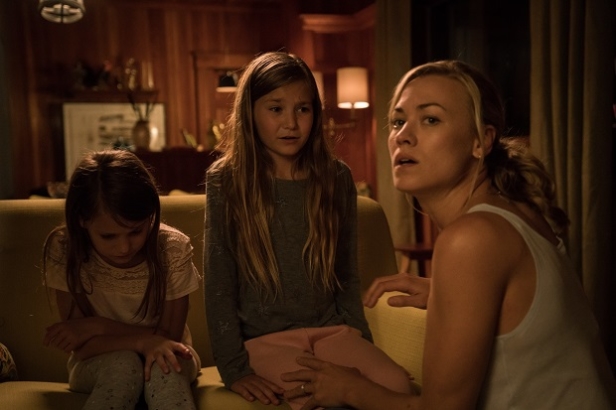 He's Out There was released last year and is about a woman and her two young daughters who are staying in a remote lake house. They are forced to fight to survive after falling into a terrifying and bizarre nightmare conceived by a psychopath.
Calibre
Calibre is a thriller-horror that was released in 2018. The Netflix synopsis for the film says: "A shocking deed turned their weekend trip into a nightmare. Now their only hope is to swallow their paranoia and act normal."
Little Evil
If you're not the best with horror films but want to embrace spooky season – Little Evil is for you. It's a comedy-horror about a newly married man who starts to believe his five-year-old stepson is the spawn of Satan. Still creepy af though.
Eerie
Eerie is a supernatural horror. The Netflix synopsis for the film says: "When a student's suicide rattles an all-girls Catholic school, a clairvoyant guidance counsellor leans on a ghost to uncover the convent's abusive past." Apparently after watching this, viewers were "sleeping with the lights on".
In the Tall Grass
Netflix's latest what-on-earth-did-I-just-watch film comes in the form of In the Tall Grass. A thriller-horror which will leave you questioning how you just spent the last hour and 40 minutes of your life. And you will definitely need the In the Tall Grass ending explained to you, it's a lot.
The film is about brother and sister Becky and Cal, who are on a road trip when they pull over near some very long grass. They hear a boy in the field crying out for help so decide to go in and save him. By doing so they then enter the weird and wonderful world of the Tall Grass, which is one big time loop with no concept of time and space.
In The Shadow of the Moon
In The Shadow of the Moon is a mystery with a hint of horror. The Netflix synopsis says: "He's tracked her for decades. Every nine years, she kills again. His obsession could destroy him — and everything he loves." It's basically about a police officer who is hungry to become a detective so he begins tracking a serial killer who resurfaces every nine years.
The Exorcism of Emily Rose
The Exorcism of Emily Rose is about The Rev. Moore, who is prosecuted for the wrongful death of a girl thought to be demonically possessed, because he administered the church-sanctioned exorcism that ultimately killed her. The movie is inspired by the case of Anneliese Michel which occurred several decades earlier. Anneliese Michel was born in Bavaria, West Germany on September 21, 1952.
This film is creepy af, you won't sleep for a few days after this one.
The Ritual
2017's The Ritual is a mystery thriller. It's about four college friends who reunite after the tragic death of their friend and set out to hike through the Scandinavian wilderness. A wrong turn leads them into the mysterious forests of Norse legend, where an ancient evil exists and stalks them at every turn.
For all the latest Netflix news, drops and memes like The Holy Church of Netflix on Facebook.
Related stories recommended by this writer:
• The 16 best Netflix Originals to watch right now
• The 13 best true crime series on Netflix right now for real addicts
• These are the 27 best films on Netflix for when you're horrifically hungover