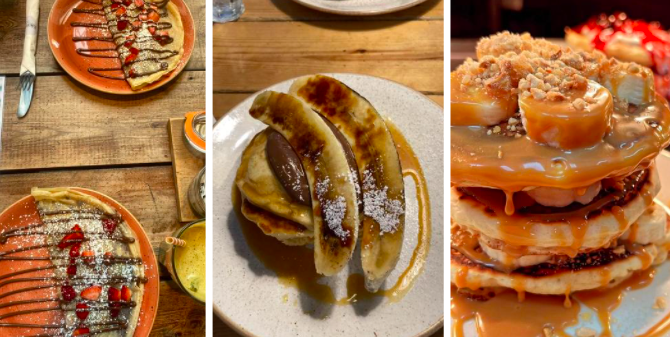 The six best places in York to get your Pancake Day fix
These pancakes look flipping delicious
It's time for the most important day of the year: Pancake Day.
And whilst making pancakes from scratch in your hall's kitchen can be fun and gives you an opportunity to get creative with toppings, if you're anything like me, your pancakes can end up a soggy scrambled mess that you wouldn't even feed your dog.
If that's the case, here's a list of six cafés in York that serve delicious pancakes. Your kitchen AND insides will thank you later.
Brew and Brownie
Brew and Brownie is a York student classic and it is elite in the pancake department. Located opposite the Museum Gardens, it is the perfect café for your pancake day fix.
Brew and Brownie have lots of pancakes on their menu all year round including maple syrup, bacon and blueberries, and banana and salted caramel which are delicious but they will also be serving exclusive Pancake Day specials. These include banana biscoff cheesecake, lemon meringue, and rhubarb crumble and mascarpone. My mouth is watering already.
Drift-In
Drift-In is a lovely café right in the centre of town and another student cult classic with the price to match.  It has such a large and tasty menu with pancakes, sweet and savoury, being no exception to this.
The pancakes range from a humble sugar and lemon crepe at £2.96 to extravagant concoctions at £6.50 meaning you can literally have lunch out at a lovely café for less than the price of a Tesco meal deal. Beautiful scenes.
Double Dutch Pancake House
Where better to head on the big day than a place that solely prides itself on its pancakes? With over 59 topping combinations to choose from (yes, I counted) as well as a build your own pancake option and a full vegan menu, you really are spoilt for choice at Double Dutch.
This pancake house also has such a cosy feel to it and is family-owned, run by husband and wife, Sheri and Dave. What better way to show pancake love than supporting a local business this P day x
Krep
A food truck based in the Shambles Market, Krep is another place that specialises just in pancakes. What a dream.
But what makes Krep special is that they also sell galettes. A galette is similar to a pancake but is made using buckwheat flour, giving it a nutty flavour and usually has a savoury filling. Some of their galletes include the Chevre: goats cheese, spiced pumpkin, toasted seeds and maple vinaigrette and the Complet: York ham, cheddar, free-range egg, black pepper and Dijon mayo.
Their traditional french, sweet crêpes are also to die for,
Spring Espresso
Spring Espresso's pancakes are also to die for. With two locations in York: Fossgate and Lendal, Spring Espresso is another perfect café for a Pancake Day trip.
They have three different choices of pancake stacks to choose from which include bacon and maple syrup, banana and Nutella, or greek yoghurt and fruit compote if you're looking for a slightly healthier option. I have to say, all of them sound delicious.
Want your pancakes in bed procrastinating uni? Spring Espresso can also be ordered on Deliveroo meaning you don't even have to get dressed. Perfect.
Robinsons
Last but by no means least is Robinsons York. Located on the lovely Bishopthorpe Road, Robinsons is a beautiful café with an even more beautiful menu. I'm sorry but HOW GOOD do the pancakes in this picture look, I need them in my life right now.
With the staple American style stacks on the menu including berry compote, maple syrup and cremé fraiche, bananas, caramel sauce and candied hazelnuts and streaky bacon, salted butter and maple syrup on offer all year round, Robinsons will also be offering a specials menu just for the big day. The specials menu will include wonders such as a rhubarb crumble and custard number. Get in my belly x
So if you're opting to eat out this Pancake Day, these places are highly recommended. But if you're opting to chef it up and make your own, make sure to send in your best (and worst) pancake attempts to our Instagram @theyorktab and we'll let you know what we think. 
Related stories recommended by this writer:
• New £65 million student centre and nightclub will be built on campus at York
• Calling all single York students: It's time for York Goes Dating
• Here is which York college all the Euphoria characters would be in