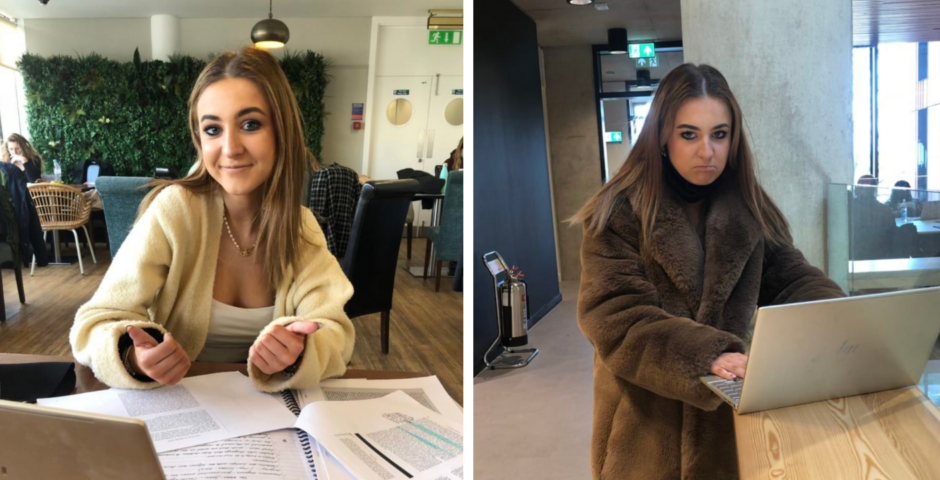 A definitive guide to the best places to study on Warwick's campus
Get in loser, we're going studying
Are you bored of studying in the library? Trekking up each flight of stairs in the hope of finding one measly seat that's most likely between a flirting couple and an obnoxiously loud crisp-eater? Staring at the grey walls as you sink into a deep depression or, if you're lucky enough to get a window seat, staring at the ugliest building on campus, the old Humanities building? Sitting in those plastic wheely chairs that make your bum numb and aren't quite high enough to make typing comfortable but of course aren't adjustable so you're forced to sit on your coat to raise you up?
Come on, it can't just be me? Okay maybe the last one is, but let's be honest, we're all sick of that place!
With exam season approaching and the looming deadlines that haunt us all, the library can get a bit, well, repetitive. So, I spent a week testing out different spaces across campus to see which spaces offered the best study experience. Whilst the study spaces on campus are as inclusive as possible, regardless of your degree and style of learning, this is what I discovered about each location. I'll be judging each spot based on location, comfort and how busy it was, giving it a rating out of ten. 
The Faculty of Arts Building, 4/10
Ugh. I don't know what to think of this place. There's no denying the beauty of the building – it's stunning. But don't let this distract you; this building is now my worst nightmare.
If you can find space, you might be promised a half-hearted study session, but it all depends on the time of day. Despite its size, finding room to study in FAB is nearly impossible, unless you have access to the department-based spaces such as Languages, History and the Creative Arts.
Walking around the different floors does feel like you're playing a very strange mission in Portal, and when studying, it's pretty hard not to be distracted by the swarms of people walking around. However, if you're a social learner, and enjoy studying somewhere close to your seminars, this place might work for you.
It's also worth noting that some of the seats are incredibly uncomfortable, so you might leave here with just as much work to do and severe back problems.
The Ramphal Building, 9/10
Ramphal can easily be recognised by its open-space interior and crazy cosmic wallpaper. I spent an hour here getting through some last-minute reading before my seminar began and I was amazed by the silence. I wasn't even distracted by people coming in and out of the building as the balcony-esque set up for the desks meant distractions were mostly out of sight. And to top it all off, the Library café is only a few minutes away if you get peckish.
Because the majority of the building is classrooms, the space is suited to those who need an academic environment in order to concentrate. This does however mean, as Ramphal is very, very small, there is limited study space and I'm ready to fight anyone to gain one of those precious balcony spots again.
The Oculus, 8/10
Sells waffles. Review over. Ten out of ten. 
Okay, but on a serious note, the Oculus has a lot to offer in the way of inclusivity. The seats are incredibly comfortable, making it so easy to take a cheeky power nap, and the half-walls surrounding the seats downstairs make for great privacy, too.
The building's late closing hours means you can push on throughout the evening, and its only a quick walk from many of the accommodations (RIP Westwood-ers). As tempting as it is to head to the library at three am and have your main character moment, it's not for everyone, so I'd recommend the Oculus if you enjoy a late-night study sesh. This place gets an eight out of ten from me – it would be higher, but generally, the tables are very small, with only a few larger sofa areas. 
The Arts Centre, 8.5/10
Not to be mistaken with the FAB, the Arts Centre is open to the public as, well, an Arts Centre. Whilst it is a public space, its social environment is perfect if you prefer your study time to be more leisurely and less of a nagging task.
I wouldn't recommend it for those who have online seminars or lectures as it is very quiet, but whether you're doing a spot of reading or finishing up some notes, the Arts Centre is the perfect place to cross off those little tasks from your academic to-do list.
Its downside? The ongoing renovations. I have no doubt when all the building work is complete, this place will be a great hide-away for those of you who enjoy some peace and quiet.
Curiositea, 6/10
This is a bit of a bonus one.  Whilst not technically a study space, Curiositea is very study-friendly. It's the perfect location to go with a friend or two, and crack on that work you've been putting off.
But I admit, the tables are small and they're often too close together, and sometimes you have no chance of finding one, which is why I'd suggest avoiding spending large amounts of time here as it can get rather claustrophobic. The plus side is that the food and drinks are delicious, and it's very pretty inside- though this again can get very distracting. I found I spent more time reading the menu and checking out their cake selection than actually doing my own reading.
Rootes Learning Grid, 1/10
Nope nope nopety nope. I don't like this place one bit- it kinda sucked the life out of me. Whilst the pod-like sofas are pretty cool, and play into that privacy aspect of studying, it is loud. And I mean loud.
Anything with Rootes in the title is just a bit of a scam (Rootes Grocery Store included). It's busiest between midday and 2pm, where groups go to eat lunch or prepare for seminars. I wouldn't recommend this place to anyone who gets distracted easily, as I did spend my time here listening into different conversations and staring into space. Note to self: bring headphones if I ever dare to venture here again.
The Green Room, 10/10.
If I could gatekeep anything, it would be this place. Formally known as the restaurant Canopy, the Green Room is without a doubt Warwick's best kept secret- or maybe I just don't get out enough.
Located above Rootes Grocery Store, it is a beautiful study/café with this chic vibe that's so aesthetically-pleasing. Comfort can sometimes be compromised for beauty, but that is so not the case here.
The vast space means you can come to work here alone, with a friend, or in a group. The natural lighting woke me up from a rather long day of seminars, and the amount of light meant that my ability to focus improved massively. Without a doubt, I've found my new favourite study location – comfortable, bright and quiet. What more could you ask for?
I rate it the perfect ten.
Related stories recommended by this writer:
• The nine stages of navigating your way around the new Faculty of Arts Building
• I visited the new Faculty of Arts building, and I have some thoughts
• You voted for the ugliest buildings on campus – here are the results