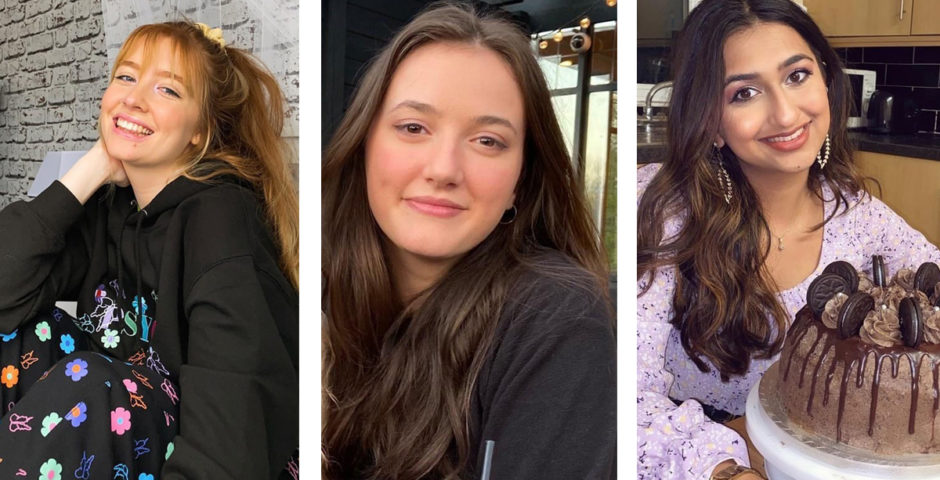 These Warwick students are all about the side-hustle
From bakers to music mixers, journalists to artists – Warwick's got it all
We already knew Warwick was full of talented and intelligent individuals, with interests ranging far beyond the degree catalogue. From creative businesses to bakers, we can proudly say we have it all.
So we decided to spotlight some of our community's most hardworking hustlers, to gain some insight into what they do and how they do it.
Whether you're in the market for a new product, or you want to support these home-grown talents, take a look below – you might just love what you find.
Penny Lowe, Lovve Designs
Penny, a finalist studying MORSE, started her body candle business 'Lovve Designs' in the summer of 2020.
"My business is all about feminism and body positivity," she explained. "I wanted to create a dedicated shop for positive and empowering art, for women to keep in their homes and safe spaces, as a daily reminder to counteract the negativity surrounding women's bodies in the press."
After starting her business on Etsy, Penny's success led to the receipt of a grant from Hull City Council's micro business scheme, which aided her business understanding.
Penny stated, "the best thing is hearing my customers' stories as to why they've bought from me, particularly my candles, as so many are bought for friends, girlfriends, and wives!"
The future? "It's very much a long term plan for me to take this business full time," she said. "But I'm waiting to see how it goes once my exams are over!"
Find Lovve Designs' products on Etsy, and on Instagram.
Darcey Edkins, Freelance Journalist
Darcey, a finalist studying English and History, has been a student journalist at The Boar since starting her degree, but became a freelance journalist in January 2021.
After making a Twitter account last year, Darcey discovered freelancing. "Many of the people I followed had these amazing by-lines in national newspapers and digital news platforms," she explained. "I learned they had been doing freelance work alongside their studies at university."
"I realised freelancing would give me the best opportunity to gain work experience in the industry and that it would largely be on my own terms," she added.
Although Darcey is in the early stages of her freelancing career, she has by-lines in national newspapers and platforms such as The Telegraph, The Independent and The Big Issue.
For more of Darcey's writing, you can follow her on Instagram, and on Twitter.
Mani Bhutta, Munch with Mani
Mani, a second year Biochemistry student, started her bespoke dessert service, 'Munch with Mani', after baking consistently during the first lockdown last year.
She started her small business after support from friends, explaining, "[My friends] were always messaging about how I should actually start up a cake business, as my cakes looked professional."
Pricing was challenging for Mani, who explained she would sometimes be questioned regarding her costs. "It's important that I can cater for everyone," she said. "Students are my target audience, and I know they love a good deal, but it's important to know your worth."
Regarding the business/ uni balance, she stated her difficulty at times. "It helps to split the day into hours where you can allocate different tasks," she said. "It also helps that I don't see baking as a chore – it's fun, so thankfully I'm never dreading it."
Browse Mani's creations on Facebook, and on Instagram.
Gaby Carruthers, Psych Apparel
Gaby is a third year Philosophy student who founded her own clothing brand 'Psych Apparel'. "I pretty much based it on my own personal style," she said. "I knew I wanted everything to be super colourful; hence the name – which is short for psychedelic."
Starting up required extensive research into the apparel business. "I had to make a techpack – a very detailed instruction manual for making the product," she explained. "I had to find a manufacturer, work out measurements, colours, fabrics, trims, etc."
Supplier mistakes are often Gaby's biggest challenge, as she stated, "some of my first joggers came with misprints, so I created a 'misprint marketplace' on my website where I sold them at a reduced price."
"I've also had a hoodie arrive the day before a drop with the most popular size missing, but I solved it by adding in a mini-drop for that size a few weeks later," she added.
Gaby plans to do an MA in Fashion Business Creation in the future. "So, I'll carry on juggling Psych with uni for another year," she said. "Then after I'll either give it a go full-time, or keep running it part-time while working in other areas of the fashion industry."
Find Psych Apparel's collection online, and on Instagram.
Mara Dumitrache, Music Tale
Mara is a finalist studying Digital Innovation and Entrepreneurship, who started her side-hustle 'Music Tale' in July 2020.
The idea came from her desire to create something personal for loved ones. "I thought having a personalised song for yourself or for someone to convey your feelings would be quite cool," she said. "I wanted to give my boyfriend a special present for his 21st birthday."
To start up, Mara invested in some music production software, and used her laptop to create. The challenge, however, was doing everything alone. "I was covering marketing, financing, legal, basically all the aspects of a company by myself, as well as creating the music, editing the pictures, and writing lyrics," she expressed.
In the future, Mara wants to start her own business, stating, "I definitely want to see this one flourish and get more people onboard. I also want to do a music production degree online."
Find Mara's creations on YouTube, and on Instagram.
Sophie Barlow, Sophie Barlow Art
Sophie, a finalist studying Maths, began 'Sophie Barlow Art' last year, after drawing a car as a gift. She explained that the idea came from a love of MotoGP and motorcycles, stating, "I began drawing my favourite racers and it evolved from there."
"I already had a lot of art materials, so all I had to do to start was to invest in some good quality paper and postage materials, and set up social media accounts," she explained.
Regarding her side-hustle/ uni balance, Sophie is meticulous with her time management, saying, "I do a set amount of revision before drawing, and I give customers realistic deadlines so I don't add to uni stress."
View Sophie's drawings on Facebook, and on Instagram.
Marie Justina Eugene, MJE Sewing
Marie is third year Philosophy student, who started 'MJE Sewing' in March 2021. Her upbringing had always been rooted in fashion, due to her family's careers. "My grandfather worked as a tailor, and my grandmother a seamstress," she said.
A huge benefit of Marie's side hustle is her own development, she explained, "I've really been able to get to know myself better, identify my strengths, talents, interests, all of which have contributed to my personal growth."
For the future, Marie said, "I'm still very focused on entering the Technology sector after uni, however I'm more inclined to seek out a role that enables me to use my creative and design skills."
You can find MJE Sewing's garments on Instagram.
Related stories recommended by this writer:
• 'This is Warwick': we interviewed the founders behind Warwick's new streetwear brand Unifit
• Someone's created a Warwick Uni inspired streetwear brand and we're living for it
• UPDATE: ProtectWarwickWomen in talks to escalate protests following meetings with the uni