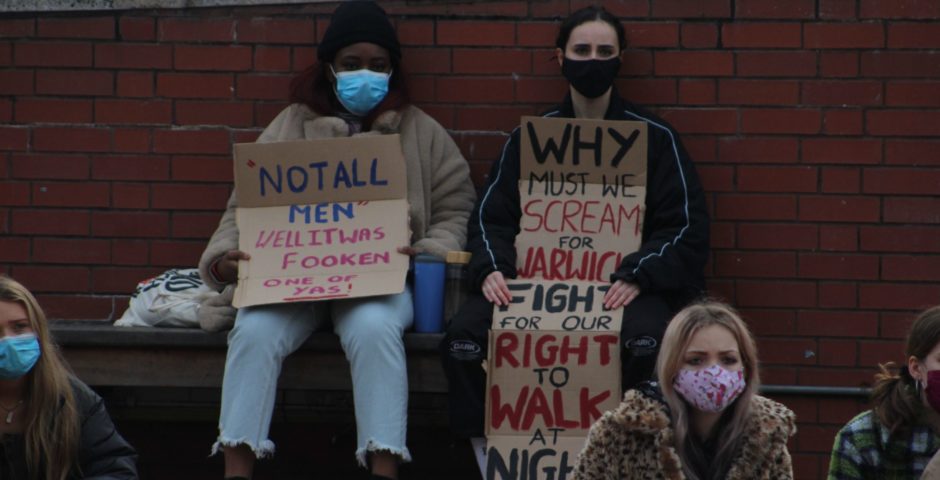 'We wanted to do something they couldn't ignore': Protesters occupy Piazza for over 27 hours
'Our voices are important, our stories are important and they need to be heard'
Warwick students launched a sit-in on Warwick Piazza to protest sexual assault and harassment on campus.
The sit-in, formed by the group ProtectWarwickWomen, began at 4pm yesterday (18th March) and has now surpassed the 27 hour mark, with the students refusing to leave until the university and SU agree to meet their demands. The Warwick Tab spoke with the organisers of the event today to hear their experience.
The students behind the sit-in are three first year undergraduates, Cai Kennedy, Theo Heley and Alisha Osinowo, studying Theatre and Performance, Computer Science and Psychology respectively, who launched the event initially via Snapchat before creating an Instagram page and Twitter profile to broaden their reach.
'We wanted to do something that they couldn't ignore'
"What first made us want to act and do something like this is because we were growing incredibly tired of hearing about all these new stories of women who had been assaulted on campus and finding out about new male students every day to be cautious of," said Cai, spokesperson for the ProtectWarwickWomen team.
"We were also very aware of the fact that not only were women too scared to come forward to the uni because of the uni's past history of dealing with sexual assault and sexual violence, but also that the uni is awful at dealing with things like this.
"Not only that but the uni has seemed to ignore people in the past and protesters in the past and just tried to sweep everything under the rug, so we wanted to do something that they couldn't ignore."
ProtectWarwickWomen launched five days ago. The team have been quick in reaching out to BBC Midlands and CoventryLive to extend their reach, but said that their use of Snapchat was the catalyst in getting their movement known and their protest publicised.
'We have around 50 anonymous stories of sexual assault'
At the peak of the sit-in around 5pm yesterday, there were 350 people present, Cai told The Tab Warwick.
"I'd say that we've had more people come and go, so maybe over 400 people at least.
"And so, so many people had stories to tell. We have a Google Doc form where people can send in anonymous stories [of their experiences] and we have around 50 just from that, and 10 to 20 different women who decided to come forward on the open mic during the sit-in.
"I think people are starting to care more, definitely paying more attention. I think from what we've done women on campus are realising that everybody else on campus really does care."
The team spoke of the community spirit from the event, that has continued into its second day, with students walking past the tents offering to buy food and drinks, or donate money so that the sit-in can continue.
'There has been an overwhelming amount of support and it's so incredible'
"This is what we wanted," said the team, speaking from the Piazza as the sit-in continued. "As well as the university to listen to us and meet our demands, our main priority is letting the women on Warwick campus know that we do hear them, we do see them and we believe them.
"Not only that but all sexual assault survivors. There were a few men that came forward yesterday and it was so beautiful to see them tell their story and feel confident enough in telling their story and feeling comfortable in the energy that we'd created."
ProtectWarwickWomen haven't had any interaction with security or the police. They say students had informed them that campus security were taking the longer route around to accommodations so they wouldn't have to cross through the Piazza.
The group told The Tab that Warwick had messaged them prior to the event requesting they share the Report and Support link, but had read and not responded to team's messages about the sit-in during the event.
After protesting for 24 hours, the university reached out to say they would email to arrange a meeting, but three hours on they have not yet contacted the group again.
'The hardest thing has been hearing about all these women's stories, it's been heart-breaking and gut-wrenching'
When asked about the difficulties of the sit-in, Cai spoke of the struggle to remain occupied, describing remaining on the Piazza as "extremely mentally draining". Continuing the sit-in throughout the night, in the cold and rain, the team told us that none of them had any prior experience of doing a sit-in.
"Because we wanted to follow Covid restrictions we didn't actually choose to occupy a building which is why we stayed outside instead, so that's been much much harder than it would be to sit-in at a building.
"We certainly weren't expecting to be here this long, we thought the university or security would've intervened at some point but they haven't.
"Honestly, I think the hardest thing having nothing to do with sitting here for this long and being outside in the cold for this long. It's been hearing about all these women's stories and how the uni has dealt with it horrifically.
"It has been utterly heart-breaking and gut-wrenching, it was very, very, very emotional. And I'm so immensely happy that we've given women the platform to speak about their experiences and to feel comfortable speaking about their experiences. But also it's really just made us realise how many women on campus have been violated."
'We end up questioning whether what actually happened to us actually happened'
Explaining why ProtestWarwickWomen felt this sit-in was so important, Cai told The Warwick Tab: "People feel that they can't speak up and a lot of sexual assault survivors do feel that way because society convinces us that we should keep quiet, we end up questioning whether what actually happened to us actually happened.
"There's also a lot of personal risks with doing something like a sit-in, especially for this long. We're showing the institution that this cause is so important to us that we're willing to risk our own wellbeing.
"I think protesting and doing sit-ins also has such a rich history and it's important to carry it on, it's important to let people know that it is our right to protest and we can do it and we will do it and it does make change."
'It's disgusting the way the police have treated the vigils for Sarah Everard'
Discussing the recent conversation about women's safety and Sarah Everard's case, ProtectWarwickWomen told The Warwick Tab that the vigils shone a light on the issue of sexual assault, which was one of the drives for this event.
Explaining they were "sick of seeing so many posts on social media" about women's sexual assault stories, they wanted to help give women a voice.
"We here at ProtectWarwickWomen think it's disgusting the way the police have treated the vigils for Sarah Everard and the physical abuse that women have faced from going to these vigils. We're also incredibly enraged at the bill trying to stop protests. We think that protesting is a basic human right and to take that away from us is absurd."
'We want to let other protesters know, and we want to let the Warwick community know that even if this bill is passed we will still be protesting'
Speaking on her personal opinion regarding the proposed bill to restrict protesting, Cai told The Warwick Tab: "I personally will still be exercising my right to protest, whether that is against the law or not. This is a really important cause to my heart and to many other people of all genders. Some things are more important than the law. Exercising our right to protest, to protect ourselves and our women and sexual assault survivors is more important than the law, if you ask me.
"This isn't me encouraging people to break the law at all, but I will personally carry on protesting even if this bill is passed."
'Our stories are important and they need to be heard'
"We just really want to let not only women who are survivors of sexual assault but people of all genders who have experienced sexual assault that we are here for them, that we hear them, even if they don't go to Warwick University that they can get in touch with us, if they want to open up, we are a completely non-judgemental space, safe space," the team told The Tab.
"We want to encourage people to speak out, whether that be about sexual assault, about violence, about any abuse they've ever faced in their life because our voices are important, our stories are important and they need to be heard."
The University gave the following statement to The Warwick Tab in response:
"Our policy on sexual misconduct is clear – it will not be tolerated. Individuals who are found to have broken our values, either by the police or by our own comprehensive disciplinary processes, will face sanctions – which include expulsion or withdrawal from the university.
"Everyone has the right to feel safe and supported at Warwick. We believe the most effective way to tackle this issue is by working in close partnership with the Student Advisory Group on Sexual Misconduct, which includes the University, the Students' Union as well as members of our student community to discuss student feedback and to identify and implement improvements.
"Prevention and awareness raising are critical to our approach. We are working with all academic departments to incorporate active bystander support training for all new students from the next academic year, as well as with the Students' Union, societies, and sports clubs on their own awareness campaigns and disclosure referral training. Staff are attending training sessions on the impact of sexual misconduct on individuals, as well as how to respond to disclosures.
"We strongly encourage anyone who has experienced sexual misconduct to contact Report and Support (available here) so that we can take action and support victims. They can report anonymously if they prefer. Individuals can access Report and Support through the website, and can be signposted via contacting their personal tutors, wellbeing support service staff, resident tutors, campus security staff or SU staff. A trained Student Liaison Officer will get in touch to provide support within 48 hours.
"We are also currently running regular weekly sessions with the student liaison officer team for staff and students to find out more about Report and Support and we are committed to making it more visible online and on campus. Suggestions about how we can further promote and accelerate this are welcomed by the University.
"We recognise that there is always more we can do. We wish to thank all those who are working with us to help prevent sexual misconduct and how we deal with those who do not behave appropriately."
Featured image credited to @_letty.m_.
Related stories recommended by this writer:
• Lawyer for rape group chat victims says Warwick 'hasn't learned' from its mistakes
• Warwick Uni allows student who admitted to sexual misconduct to stay on campus
• Dear Stuart Croft: Yes the rape chat was two years ago, but the culture still exists