Petition for Warwick Uni to take action on sexual assault cases passes 10k signatures
The petition was created by a first year student who feels unsafe on campus
A petition calling for the University of Warwick to acknowledge and take action against the number of sexual assault cases on campus has passed 10,000 signatures this morning.
The petition, which was started by first year student Laila Ahmed, comments on the alarming amount of sexual assault and rape cases that students feel are occurring on campus.
This follows an open letter from a student who was raped on campus being published in The Boar, which has reignited conversations around rape culture and the prevalence of sexual assault at Warwick University, almost two years since the Warwick rape group chat scandal.
The first paragraph of the letter reads: "Dear Vice-Chancellor Stuart Croft, I started at Warwick in 2019, only a year after the infamous group chat scandal. I remember it being discussed in my student kitchen, over Echo Falls and Heineken, and I listened, reassured, as my male flatmates denounced the despicable behaviour of those involved. I felt safe, trusting that these were boys I could rely on to be "some of the good ones." One of those same flatmates would end up raping me, less than six months later."
The petition, which was started last week and reached 2,000 signatures in days, calls for the University of Warwick to make "proactive decisions" and be clearer about what support is available to them following a sexual assault.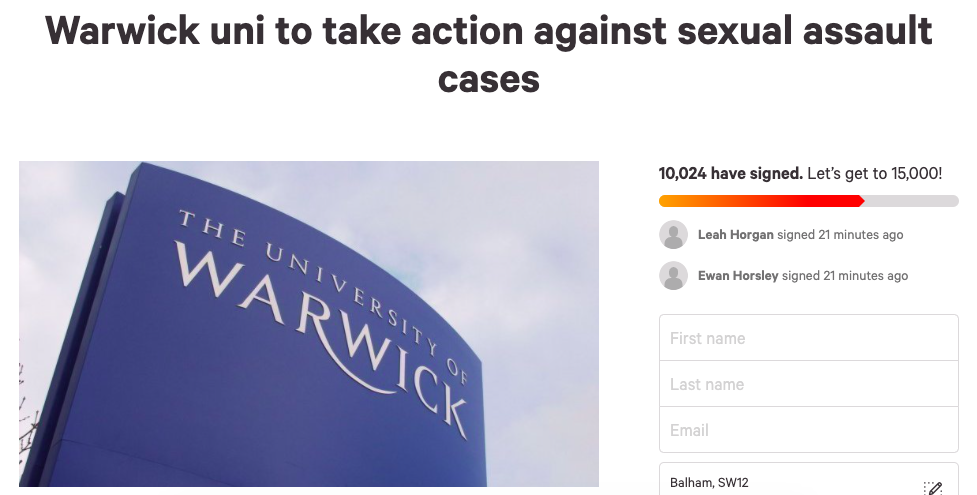 "Higher sanctions need to be in place for perpetrators who are found guilty of any sexual misconduct and the law around this needs to be amplified to students," the petition states.
It continues: "Warwick is not doing enough for its students' wellbeing and many students feel lost and isolated with no information on how to get support or reporting and action must be taken!"
Laila never expected the petition to reach 10,000 signatures. In fact, she was hoping for a hundred. "Just to show to the uni that there was a decent amount of people that backed my letter and aims," she told The Warwick Tab.
"So to find it get 10,000 is phenomenal and I am overjoyed that it has got this reaction, which is something that the university will be unable to ignore."
Laila has plans to arrange more protests and recently had a meeting with the Students' Union to discuss the points in her petition.
"The SU said they would definitely take up putting posters around campus and in our kitchens about [sexual assault] helplines and support, they are implementing the Ask for Angela scheme with more posters in toilets in the SU.
"They also agreed to consent workshops for students and other events throughout the year so that students are reminded and can take part. Currently we only have a Warwick values course before you begin university which simply isn't enough.
"Education is the key to preventing future cases so this is all fantastic news! Also, the Report and Support system will be amplified in advertising as many students have no clue what it is so students need to be informed of how to access it and what the support system consists of."