200 Sussex students are stuck in hotels. We paid them a visit
Students are paying up to £130 a week for shared rooms that only have 2* on Trip Advisor
Last year, we revealed that almost 70% of visiting exchange students to Sussex University were stuck in hotels scattered all throughout Brighton.
Out of the 351 visiting students, around 220 were stuck in hotels rooms and if you were put in the Lewes Study Lodge (it's actually called White Hart Hotel) then you'd be sharing your room with another student for £114 a week.
We wanted to see first hand if these hotels were up to scratch and if the students living there enjoyed their experiences. So we paid them a little visit.
Imperial Hotel – Hove
Imperial was the first stop on our list. We hesitantly approached the receptionist who greeted us immediately as we walked through the front doors. Turns out we had nothing to worry about, as we were ushered straight through to the "social space" of the students living here. There were only three students sat at one of the relatively small eating tables in the confined room.
When we sat down and asked the students how they felt living there, one's immediate response was "it's pretty whack". Although they generally seemed pretty content with their living situation, they said that opinions were varied, and sharing a room with someone who is completely incompatible with you is one of the downsides of their situation.
They did say that being so close to Brighton's nightlife was a bonus, so evidently, they were trying their best to look on the bright side.
The main thing we noticed was their small space for cooking and food storage, which one girl highlighted as an issue, saying that "to actually cook your food you have to be in the kitchen either before 5 or after 9pm" which is understandable, since the student told us "there are over 80 students sharing four ovens, two sinks and six microwaves" between them.
They added that "there are times where there is physically no space and people are so hungry they are forced to eat out at local restaurants" which every student can understand is certainly not ideal on an average student budget.
Imperial Hotel were approached by The Tab Sussex for comment, but did not give one.
Featured image courtesy of Allaf via TripAdvisor
Langfords – Hove
Next, we headed to the Langfords, which students staying at the Imperial told us, was the "nicer of the two hotels in Hove". Again, all the students living here were international third year students of Sussex and all had to share their room with a roommate.
They were allegedly given a choice before coming to Sussex, between living in a hotel or home-stay, but even those who had opted for a home-stay were placed here because there were not enough families willing to meet the demand.
The students we spoke to seemed to prefer living in Brighton than the idea of being on campus as they said "living in town is far more convenient for us and we get to see more of Brighton than we would if we were confined to living on campus which so much further away".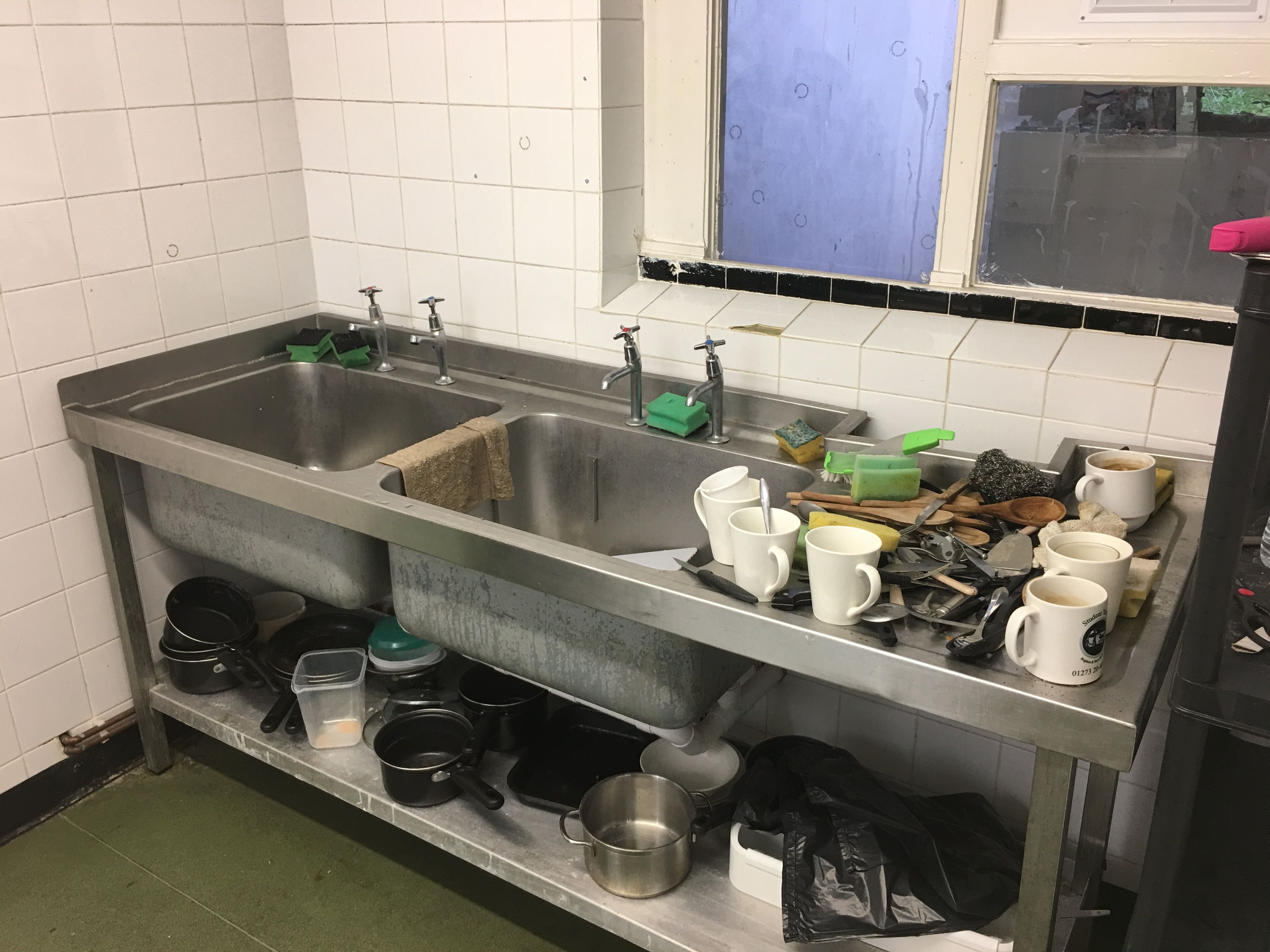 The conditions were seemingly as bad as the first – overcrowded kitchen and tiny storage space. But these students are paying prices that meet some of Sussex's most expensive on-campus accommodation like Brighthelm and Lewes Court.
Despite the freedom of living in town they are still met by the restraints of living with up to 60 other students, in a cramped kitchen and social space in the basement of the hotel. One student we spoke to said "everything just disappears, not food, but everything else. I don't own a single plate or knife and fork anymore".
These students are living with half a shelf of the fridge and a shoebox-sized drawer for all their food, and the rest gets dumped on the counters at the side.
Langfords were approached for comment by The Tab Sussex, but did not give one.
White Hart Hotel – Lewes
Lastly, there's the White Hart Hotel, located in our nearby town of Lewes. The town itself is packed full of the best local pubs you could imagine and has a great "old town" vibe to it. The hotel however, does not.
The students living in the White Hart are completely separate to the main hotel, meaning we had to walk past the hotel's bins and food waste out the back before we even reached the main door of the students accommodation.
The faulty, unlocked main door allowed us to walk straight in, and we got easily lost through the dark and damp smelling corridors. Once we reached the kitchen, we were pleasantly surprised though. It felt spacious, (potentially) clean and relatively modern.
The students we spoke to living here were actually all first year Sussex students who missed the grades for their firm choice and had come to Sussex as their insurance offer and therefore did not meet the criteria to live on-campus.
It was no surprise that they weren't overly enthusiastic about their situation. They commented on the fact that they feel very separate from life on campus, and regularly miss their lectures because it's too far away.
With only 35 of them, cooking is slightly less of a struggle, plus the stacks of empty Domino's takeaway boxes on the table showed they were making the best out of their situation.
The Tab Sussex approached the White Hart Hotel for comment. They promised to investigate any issues the students have, and said: "We allow the students in the hotel to use the leisure club and bar and other areas of the hotel. The swimming pool is free to the students to use at certain times of the day and we always keep them up to date with what's going on in the area. Such as bonfire night.
"I had a meeting with the student union a few months ago to get the students involved in activities on campus, with also having the local student paper delivered to the study lodge. We have also put a notice board up in the common room for them to use yet no posters or adverts have been put up yet, and I will chase this with the union.
"We always ask our students if they are ok and have any problems in the study lodge, and if they do we try to help them as much as we can."
The university commented that the hotels are offered to students who do not meet the criteria to live in on-campus university accommodation.
With Sussex already being oversubscribed, putting a strain on teaching and the local infrastructure – including buses – why is it that the University insists on bringing in more and more students?