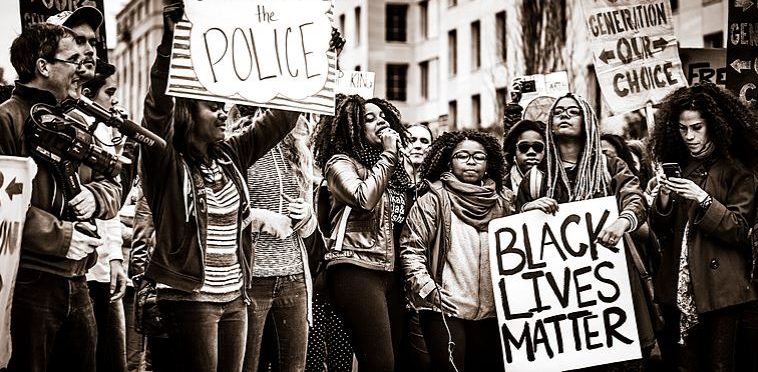 Dear Sheffield students, this is how you can support Black Lives Matter
Black people cannot carry the weight of injustice on their shoulders, whilst the institutionalised systems still prevail
We've all been watching what's been going on in the news lately. And let's be honest, from Australian wildfires to a global pandemic, 2020 has not been the best year so far. AT ALL.
The recent murder of George Floyd by an American policeman, who knelt on his neck for over eight minutes despite pleas from bypassers, is the latest tragedy. 
It has sparked nationwide outrage with protests throughout the world and the UK this week. For some, a trip to space was the ultimate escape from a world on fire.
In the middle of a global pandemic, racism has always been the primary virus that we haven't yet eradicated. I was just 13 years old when Eric Garner said the same words as George Floyd – "I can't breathe."
There are so many murders, incidents, and injustices that are not filmed or not picked up by the media. The black lives matter movement needs to be addressed every single day, not just when a major event is trending. As students, we need to take action and stand up for what is right. We need to let our voices be heard.
Sheffield is not free from racism by any means – students comparing BLM to the Planet of Apes and the banana throwing at Varsity incident led to the University of Sheffield implementing classes to address racism and a Race Equality Strategy and Action plan, with an Equality Objectives plan for Hallam students. 
Now, we need to speed up the slow progress and move forward even further. Right now, in 2020 we need the visible white majority to be part of black people's fight for freedom, peace, and justice.
Black people cannot carry the weight of injustice on their shoulders, whilst the institutionalised systems still prevail. To be an ally, you need to do more than simply retweet or like a post. Educate yourself. Many of you are getting involved, we see you and we appreciate the effort. 
This is how you can get involved: 
1. How to use your white privilege –
Sofia Usan, UoS first year:
"When I think about the recent events I feel saddened and disgusted – all people deserve is to live without having to worry they might die just because of their skin colour. 
"First, we need to educate ourselves by reading books and watching documentaries but, most importantly, by listening to black people and not questioning them on everything, by invalidating and dismissing their experiences.
"Then, we should educate others who are being racist and ignorant, especially family and friends. Thinking that it should be up to just black people to fight and solve racism is unreasonable in a world where white supremacists are allowed to exist without consequences.
"Everybody should speak up, and white people in particular should use their white privilege in the right way to help." 
2. Educate yourself, read books, and learn more about black struggles in the UK and abroad. Don't make a Pretty Little Thing mistake. 
A couple of tweets to get you started:
3. Be mindful of social distancing when you join protests in Sheffield –
Ohiz Ojo,
Sheffield University ACS President:
''There will be a protest in Sheffield in Devonshire Green on the 6th of June at 1PM. There is indeed a global pandemic facing us right now, but as long as you're healthy and sure that you can keep yourself safe, I encourage people to attend.''
4. Use your social media platforms-
Ohiz Ojo, Sheffield University ACS President:
"Black people have been subject to outright racism and inequality for decades, however, we've never had a bigger say on platforms as we do now in our generation, therefore it is important to have our voices heard.
"If you can't attend protests, please understand that there's only so much that can be done from Instagram posts. Try your best to do something practical whether it be through donations or signing petitions. Just make sure your voice is heard and you are an active member of the community, regardless of where you are at this moment."
5. DONATE! DONATE! Sign PETITIONS! Some to start off with:
Belly Mujinga, George Floyd, BLM petitions.
7. TEXT! CALL! EMAIL!
To report racism on campus visit here for UoS and here for Hallam. To report hate crime in Sheffield visit here. 
Featured image credit Johnny Silvercloud labelled for reuse under the Creative Commons License.