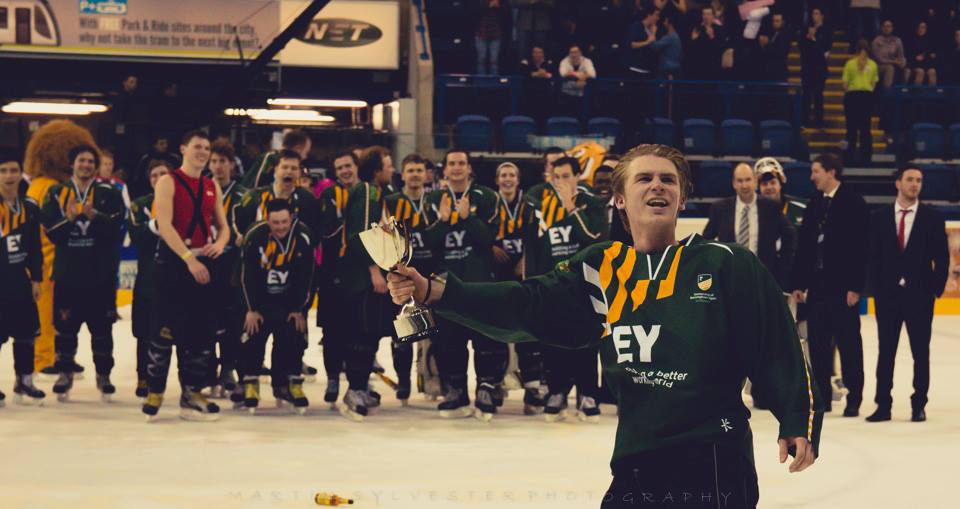 UoN Skate Past Trent in Thriller on Ice
Late goal for pucky Uni provides icing on the cake
University of Nottingham mounted a legendary comeback at the Varsity ice hockey last night, somehow recovering from a 3-0 deficit to run out 4-3 winners.
James Francis-Barrie was the hero of the night, scoring the dramatic power play goal deep into the third and final period at a sold-out Capital FM Arena.
The teams came out prior to the match into a delirious explosion of stars projected from the ceiling, stirring both crowds into a frenzy.
[youtube]http://www.youtube.com/watch?v=oCJFcC0Q6XA[/youtube]
Let's be honest. It's ice hockey. I didn't know what was going on. You didn't know what was going on.
But it was impossible to not jump off your seat with the other 3,999 UoN supporters and greet each individual Trent player's name as it was announced with the chorus of 'SHIT'.
[youtube]http://www.youtube.com/watch?v=7_hW4DBwJDQ[/youtube]
The disorientated atmosphere deepened as UoN went three goals down within fifteen minutes of the face-off. It wasn't meant to be like this. Didn't we win this ice hockey thing last year?
As the first twenty-minute period drew to a close, Nottingham twice had the puck in the back of the opposition net, only for both 'goals' to be ruled out by the biased prick referee – just in case things weren't confusing enough already.
Johnson Brown's smartly taken goal twenty seconds from the end of the first third gave Uni hope, but they didn't stop there.
UoN came storming out of the blocks for the second period, as joint-assistant captains Tom Bradshaw and Simon Bell demonstrated their influence with two quick-fire goals, pegging Trent back to 3-3.
The mounting pressure of the final third eventually showed as Francis-Barrie's long-range screamer sent the Uni of fans into delirium.
The result leaves University of Nottingham 1-0 up in the 10th Annual Varsity Series. Next up: American Football. Enjoyed the ice hockey or wish you were there? Get yourself down to the Harvey Hadden Stadium THIS FRIDAY https://www.facebook.com/events/721515244533949/?fref=ts
For more excellent photos of the ice hockey action, check out Martin Sylvester's Facebook page https://www.facebook.com/MSylvesterPhotography