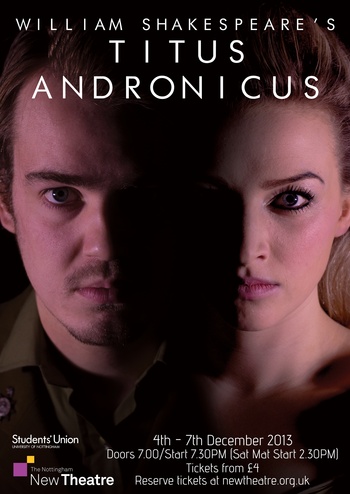 11 Things to Do This Week
It's December so it's officially Christmas. Cue plenty of Christmas concerts with mince pies!
Letting Go @ New Theatre Studio
Set at the start of the First World War, this is a play about love, rivalry and ultimately forgiveness.
Tuesday, 8.20pm, £4
The Tarantino classic is on for a special charity showing this week.
Wednesday – Saturday, times vary, £4
New Theatre take on Shakespeare's darkest, most violent play this week; expect lots of sex and death in this darkly comic tale.
The Festival & Lessons of Carols @ St Mary's Church
Thursday, 7.30pm, FREE
A traditional carol service, with performances from uni choirs Viva Voce and Revival Gospel Choir.
Saturday, 12-5
The Vintage Fair comes to Notts on Saturday, pop along for a browse and maybe pick up some Christmas presents.
Christmas with the Rat Pack @ Royal Concert Hall
Wednesday, 7.30pm, £21.50
Celebrate Christmas in '50s and '60s style at the Royal Concert Hall with some classic tunes.
Starts Saturday and runs 'til January, times vary, £15+
The Hoff graces the Nottingham stage for the panto season this year, expect back to back laughs and frivolity. Check out the trailer that doesn't feature the Hoff!
[youtube]http://www.youtube.com/watch?v=Vvk9HcYi6lU[/youtube]
Lunchtime Concerts @ Djanogly Recital Hall
Tuesday & Friday, 1.15pm
Blueshift and Moonlighters Big Band fill the lunchtime concert slots this week.
University Sinfonia @ Trent Building, Uni Park
Sunday, 7.30pm, £5
The university's student run orchestra puts on their concert for the term this Sunday. With an exciting programme including Vaughn-Williams, Dvorak, Beethoven and Sibelius, it's selling out fast!
Revival Gospel Choir's Christmas Concerts @ Lenton Methodist Church
Friday and Saturday, 7.30pm, £5 for students
The uni's gospel choir Christmas concert, it sold out last year because it was really really good.
Coro Sorelle @ Holy Trinity Church
Saturday, 7pm, £3
Mussoc's all female choir host an evening of Christmas cheer, including mulled wine and mince pies.