Despite what you think, my accent doesn't make me stupider than you
Ellie Healy thinks its tough being surrounded by rahs
I wouldn't even be able to begin to tell you how many times people have asked me if I'm from Essex. 
Not that there's anything wrong with Essex obviously – my family are from Romford – but when you're a proud South Londoner, having countless Jack Wills-clad Surrey girls enquiring "Are you from Essex by any chance?", it does start to grate on you.
When I applied to Nottingham I was under the impression that it was the most fun and down to earth decent uni in the land, and that I would fit right in.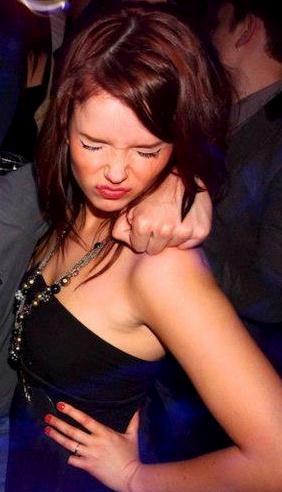 Although the former is definitely true, I have to admit I've had slight difficulty with the latter. It's not because I'm a horrible person, but because I've been told by a few people (now my mates) that my accent can give off the wrong impression.
At this point I would just like to point out that I am not a friendless psycho who lives on my own in Beeston (no offence if that's you, reader).
In Freshers' week, on the second night, I have since been told that somebody in the flat downstairs (not naming any names, but you know who you are, bitch), said behind my back during pre-drinks that they would have loved to have taught me how to speak 'the Queen's English'.
On a separate occasion, someone who I would now consider to be a friend told me that when they first met me they thought I was lairy and a bit of a dick. Others have said they assumed I was just thick.
I'm in the final year of my English and German degree. I am definitely not thick. I would consider myself well-read, though I don't wear the typical 'English student' baggy vintage denim jacket, creepers and leather satchel that screams "I JUST LOVE CATCHER IN THE RYE, I AM TOTEZ A MODERN DAY HOLDEN CAULFIELD".
I say that as if I detest people that wear that shit, when I'm actually seethingly jealous that my wardrobe isn't filled to the brim with Urban Outfitters. I am a complete wannabe.
Before I came to uni, I didn't know what Jack Wills was. I didn't really know what Mulberry was. I wouldn't even have known what/where Marbella was if it hadn't been for the fact that I'm an avid TOWIE fan.
I now own a pair of grey Jack Wills sweatpants (my pride and joy), a Primark gilet (that I thought people would assume was Jack Wills as well… oh how foolish I was), a real pair of Ugg boots in the classic chestnut colour, and am now considering investing in a Michael Kors watch (which, admittedly, is in the Ernest Jones sale at the moment).
What has happened to me then?
It seems I've become a slave to the system (sort of). In my English seminars during group work my accent always morphs into what the spawn of Alan Sugar and Millie Macintosh would sound like. I have to try my hardest not to swear when I'm talking to people in lectures and tutorials, and God forbid I even think about mentioning the words 'innit' or 'melt' or 'that's jokes'.
On the rare occasion that I meet someone who's from near where I'm from (I recently met a lovely bloke from New Cross who's doing Classics, and another lad from Penge doing History) I jump for joy, scream weird slang at them and joke about the horrific shenanigans that occur in South East London (Lewisham was recently said to be the 'least peaceful' place in the UK – shout out to my homeboys).
It's definitely not normal to get that excitable over meeting a normal lad.
So yes, this is what happens to me at uni. Trust me, I'm definitely not using this biographical material as any kind of self-help therapy; the whole situation doesn't bother me at all…