Pharmacy grad runs his own clothing company in his spare time
He even does the modelling too
abercrombie
blakely
blakeney
clothing
fashion
hollister
jack wills
Norfolk
norwich
prep
style
uea
For most people, a day job after uni is more than enough – but UEA grad Gareth Newman balances his with running his own clothes company.
The 28-year-old Pharmacy graduate-turned-fashion-entrepreneur sat down to chat with The Tab about his clothing line, Blakely.
Gareth said: "When I was at uni there were no clothes that I liked other than Hollister and Superdry, so I decided to start a clothing line for students."
Gareth, who graduated in 2010, practices Pharmacy by day and manages Blakely at every chance he can get.
Gareth added: "I'd say the style for Blakely is definitely universal style for university students. The name of the brand, Blakely, is a play on the word Blakeney – an area which we grew up in."
The Blakely slogan, "Untameable British attitude" is apparent in the online store's designs.
Gareth says: "Blakely has been running for about three and a half years, including finding suppliers and becoming known.
"We're big on social media and love Instagram, especially as it has really helped Blakely grow and now have a pretty decent following of 28k."
So where does Gareth get his inspiration? He says: "Mostly unbranded clothing like the stuff you find in Topman or Urban Outfitters.
"I've never been a fan of massively branded clothing or anything incredibly over-the-top, which I guess has influenced the colours and designs of the Blakely stuff."
Gareth adds: "We often feature our customers on our Instagram page, wearing our items under the tag #MyBlakely, as we love seeing our customers wearing Blakely.
"We don't have a store at the moment, so we are purely online and do pop-ups at universities and festivals."
Local to Norfolk, Blakely is based in Langham. Their jackets and tees are all named after places in Norfolk, keeping the brand's identity rooted in its Norfolk origins.
Blakely has no plans of slowing down. Gareth said: "We've found that it's been far more popular than we expected it to be and we've even started to get sales around the US.
"We now have a pretty big collection for both men and women such as tees, shirts, jumpers, sweatpants and, hoodies.
"This new A/W collection is really exciting for us as we have launched for the first time an accessories range including bags, hats, iPad cases and mugs."
He added: "We use models from agencies for our photoshoots, although our Blakely beauts have been found via our model search which anyone can apply to via our website, or if we spot you on Instagram. We usually have a few girls and guys per season.
"Usually it's £22.00 for the standard T-shirts. However, if you find us at one of our pop-up shops, they're £15 – and we try to give discounts if people contact us through Facebook or Instagram and can prove they're students, because we like to make it easier for students to get clothes."
Gareth's enthusiasm for Blakely is obvious, saying: "The hardest thing about running Blakely is that there aren't enough hours in the day."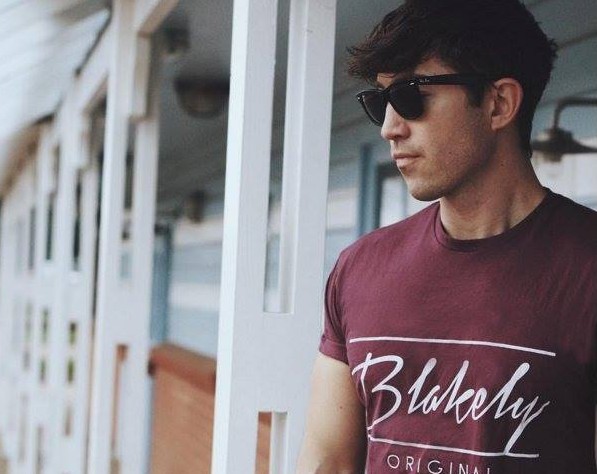 "We do student pop-ups because it's a great way for us to promote our brand across the UK and get great feedback.
"We love coming to UEA as it's a great way to give back and give students Blakely at student discount."
Gareth and the Blakely team will be returning to UEA for the Christmas fair with their new collection.
Visit the Blakely website here – you can get an exclusive 15 per cent discount with the code B15.
All pictures courtesy of @blakelyclothing