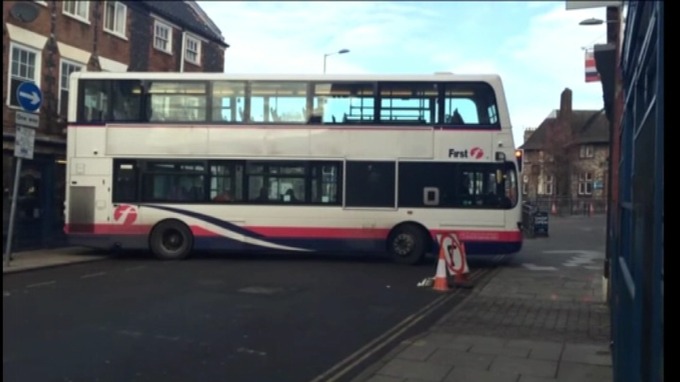 Bus-ted! Norwich bus driver forced to make embarrassing U-turn
As if First could get any worse
An embarassed bus driver found himself in the spotlight after getting stuck trying to do a U-turn.
The ditsy driver drove down a closed road after a sign mix-up and was forced to make a 140-point turn down Magdalen Street.
And to make matters worse for him, the whole thing was caught on camera by a passer-by.
The video has gone viral, with over 14,000 views.
Chris Gosbell, who owns a pawnbrokers down the road, said: "I went out to try and help him to make sure he didn't reverse into the building. He said thanks for helping him out. I felt for him a bit."
Red-faced First representatives said: "We can confirm that one of our buses drove along Magdalen Street on Tuesday, January 27 as the diversion signs were placed to read "No access for any vehicles except buses."
"We issue staff notices to all our drivers in advance of roadworks, advising them of the diversion and diversion route.
"However, in instances like this, our drivers obey signage on the roads.
"We will remind our drivers about the diversions and apologise for any inconvenience caused."