A UoM student had an actual lamb heart shoved through her own letterbox
The real heart of the issue
Right, it's exam season. You know you're not revising. It's Saturday night, it's a little warm, the sun has come back out. It's probably going to be Platt Fields weather soon. Just give this a read.
Aoife Sherry, second year student at The University of Manchester had an actual lamb heart posted through her letterbox on Thursday.
At first thinking it was a death threat, she posted this picture to her Insta story with the caption: "Someone has posted an actual heart through our letterbox what the fuck I hate Fallowfield"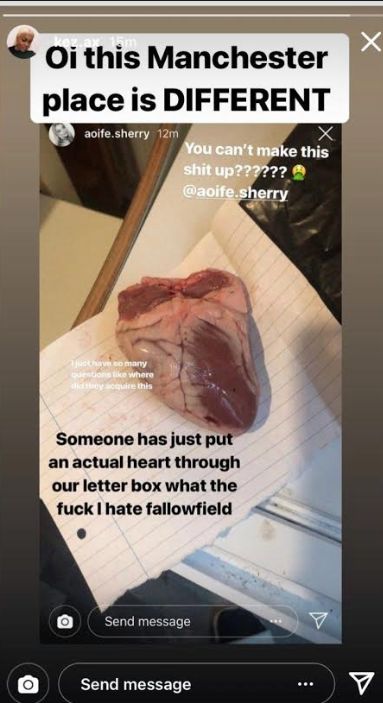 It has since been revealed that it was a lamb heart, and not a death threat or pastiche of The Godfather, but a prank executed by Aoife's friends.
Speaking to The Manchester Tab, Aoife said: "It was posted through my letter box on Lombard Grove yesterday evening, at first I thought it was a death threat but it has emerged that the culprits are my friends George, Luke and Tom (who run the event Big One)."
In Christianity, the lamb symbolises gentleness, innocence, and purity. In John 1:29, Jesus Christ is referred to as the "Lamb of God", and so the lamb can also represent sacrifice.
Aoife said she initially thought the heart was a death threat, similar to that of the horse head in Jack Woltz's bed in Francis Ford Coppola's 1971 film The Godfather.
But according to Aoife the heart wasn't a death threat, and: "Either they've started to partake in ritualistic satanic foreshadowing or they're just freaks."
Luke denied responsibility, saying "Aoife put it through her own letterbox in search of clout."
But whoever did send the lamb heart now has it back, as apparently Aoife's housemate "went and threw it through their window."
Keep revising hard guys x