Here's what degree this year's Love Islanders would study in London
We're really just a Luca fanclub
Another year, another season of Love Island.
With the first few weeks done, we finally collected enough crumbs from what may just be the blandest Love Island cast of all time (come on: it's only the truth).
So allow us to present you with the ultimate guide on who to root for that's completely based on who you could end up studying with in London in an alternate universe.
Luca – Uni of Greenwich (Aquaculture and Fisheries Management)
Fishmonger Luca is the golden boy of this season. A prince among men. A humble king who deserves the world.
We're unsure how he's even ended up in the villa, being genuinely too good for anyone there. For crying out loud, the man took a girl who wanted flying lessons on a private plane for a date. 
While he would probably be above paying thousands for a piece of paper, he may be a good fit to study Aquaculture and Fisheries Management at Greenwich Uni. He'd feel right at home in all the water themed decor that they have down at the naval college and it's exactly the "out there", yet  perfectly reasonable choice he'd make. And we love him for it. Protect Luca at all costs.
Gemma – Uni of Greenwich (Equine Training and Management)
Dressage rider Gemma doesn't seem to realise how much of a main catch (get it?) Luca is, from calling him "Jacques" while getting a back rub with her ex in the room to being happiest when he acts aloof and uncaring.
So while she'd be doing a Greenwich degree alongside Luca, she doesn't actually want to be seen with him and thinks she's too good for London anyway. Luckily, Greenwich offers the Equine Training and Management degree that actually takes place at Hadlow College in Kent (don't even ask). 
Ikenna – Goldsmiths (Politics, Philosophy and Economics)
Pharmaceutical sales worker Ikenna may have taken too much of the chill pill, living his best life on a nice summer holiday in the villa while everything around him turns to chaos.
He's just there for the party and vibes and doesn't really seem to care about the drama or competition: a Goldsmiths student's natural behaviour. Ikenna would probably be doing something as vague and mysterious as politics, philosophy and economics. But let's be real, you won't see him at any of the lectures.
Indiyah – UAL (Fashion)
Strikingly self-aware and cool-headed in the Spanish heat, it is not surprising that Indiyah moved on to greener pastures after Ikenna's lacklustre efforts.
She embodies the vibes of a UAL fashion student and what we all wish we were: good takes, impeccable style at all times, and a general aura of being above-it-all. She'd be the apex predator of Hinge with its radius set to all of London.
Tasha – London Studio Centre (Dance)
Did you know that Tasha is a dancer? Yes, us too.
With she and Andrew being one of the blandest couplings in the villa, it's no surprise most of her personality comes from her being a dancer. This would also inevitably be her personality at uni, with a dance degree from London Studio Centre being an obvious choice. Really not much more to say here. 
Andrew – London Business school (Business Management)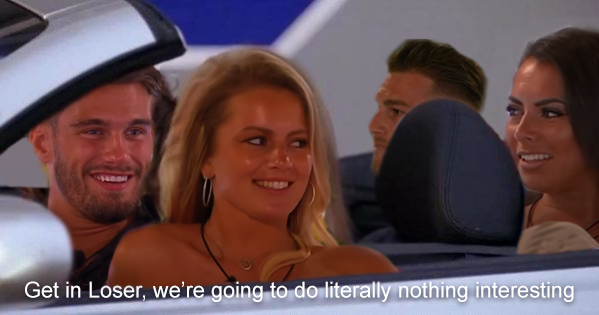 A stereotypical golden retriever, Andrew seems respectful and loyal but painfully bland. He eats up whatever Jay says like treats from a food bowl, which caused some minor trouble with Tasha, who he got to spend a very eventless night with in the Hideaway.
He'd probably do a perfectly fine business management degree at London Business School before flying back to his crib in Dubai. No risks taken here.
Paige – KCL (Law)
With distinct Valley Girl vibes, Paige definitely grew up with the likes of Clueless, Mean Girls, and (most importantly) Legally Blonde.
She would for sure want to live out her own movie-esque love story, and where better to romanticise uni life, than at King's with London's worst legal degree? (Sorry King's, had to make a dig at you.) She'd also definitely be social sec of the cheerleading society to hype up (actual) rugby player Jacques.
Jacques – Regent's (Liberal arts, Literature, and Creative Writing)
Jacques (pronounced 'Jax', apparently) is stereotype-defying as a professional rugby player. Having quite the sensitive soul, he's provided advice and emotional support to ex Gemma, comforted distraught Davide, been an all around decent match for partner Paige. 
He'd choose Regent's to have training fields as close as possible, but he'd study something artistic like liberal arts, literature and creative writing. The "anti-Davide" if you will.
Dami – Imperial (Biochemistry)
Scientist through and through, senior microbiologist Dami is the proud inventor of Love Island's first invisibility cloak that fully functions in his relationship with Amber (especially when new boy Remi is around). 
To his credit, he does seem to be witty enough at times while leading the morning discussions amongst the guys. 
We think that Dami would be well-suited to do something like biochemistry at Imperial. Going off on his weird fixation at making sure everyone knows he's a scientist, while simultaneously sporting generally uncommunicative and awkward vibes.
Amber – London Met (Psychology)
Amber seems to be one of the more mature and put together characters of the season, with decent emotional intelligence and maturity.
She has her whole life planned out, but she's still willing to give Dami a chance even though he may not be part of that plan.
While her thoughts would not revolve around something as trivial as uni life at all, Amber definitely has the mature and experienced aura of a Masters student ready to move on with their lives. She'd also study something incredibly reasonable, like a Psychology MSc, at perfectly respectable London Met.
Ekin-Su – Uni of East London (Drama)
In consideration for the 95th academy awards is actress Ekin-Su. Maybe not West End material, she certainly knows about drama, which she has brought to the villa in abundance.
Her greatest performance was  undeniably the self delusion of being in the right for making out with Jay behind Davide's back and lying about it to his face. Best of all, she casts herself as the victim afterwards in the role of a lifetime.
Always giddy to stir up chaos, even beyond her own relationships, Ekin is not exactly RADA Material when it comes to her dramatic skills. Maybe a BA in Acting for Stage and Screen at Uni of East London would be a good fit for Ekin. No offence, we just think that she'd fit in with the "rustic charm" over there. 
Davide – UCL (Arts and Sciences)
Entering the villa as the day one bombshell, personified Chad meme Davide seemed initally pegged to dominate the Villa for the foreseeable future.
Yet, the cracks in the stone that the Italian Stallion was seemingly chiselled out of, began to appear soon enough. The mere possibility of a girl not mooning over him seems to paralyse Davide completely, as he limply watches ruthless Jay conquers Ekin-Su.
Sporting the righteous, unearned self-confidence of any UCL student, Davide truly has the chops to be in every varsity team on the SU website and the King of Scala to boot. But to join the team you also need to study something, and Arts and Sciences provides just the right room for the indecisive and actually quite fragile Davide.
Jay – LSE (Economics and Finance)
Investment analyst Jay is a bit terrifying, giving the vibes of a man who had seen American Psycho too many times. In his ITV interview before the show, he said he "genuinely [has] what most females want" and "could add a lot of value to their lives." Charming.
Choosing violence every other morning, Jay is a cold reptile ready to fight every other man to the blood and burn down every couple on the show. He's made of the stuff that LSE Finance would drool over: someone ruthless that will do everything (and anyone) to come out on top. 
Related stories recommended by this writer:
• We came up with eight humiliating Never-Have-I-Evers for your next night out
• London student goes viral over grim condition of a shared £1,000-a-month flat
• Here are five budget- friendly food spots in London for all your food cravings