I'm doing Lockdown 3 in London and this is what the capital is really like
Unsurprisingly, it does involve binge-watching Bridgerton
For all those students at home wondering what crazy exciting things are happening in London right now, I have to disappoint you.
Just like the almighty lockdown numero uno, we are all basically living the same lives rewatching Netflix shows, feeling thrilled at a cheeky trip down the supermarket and trying but failing Chloe Ting videos.
The difference is that, with London being Undesirable Number One as the hub of the new Covid strain, things can feel slightly apocalyptic here.
I was lucky enough to get home just before Tier 4 was announced, and lucky enough to get back to London just before full lockdown ensued. No one really realised the seriousness of the new strain at that point, so my flatmates and I were just buckling in for another mere month and a half lockdown of day drinking and spontaneous lockdown haircuts when things started to look much more dire. Terrifying memories of Zoom pub quizzes and 5k challenges greeted us like Joe Exotic announcing someone's arm had been ripped off, but this time, we were in the exact place no one wanted to be.
It hasn't been all doom and gloom though – from the beautiful scenes at Hampstead Heath to actually getting snow (!!) I've not completely despised the lockdown. For the most part, Londoners are strictly sticking to the rules too, which makes it feel a lot safer.
Public transport is weirdly quiet, there's been hardly any panic-buying of toilet rolls and a lot more of us are choosing to act like outdoor tourists in our city. Last year I'd be lucky to make it as far as Regents Park before getting an emergency call to run to Tesco and grab some wine for pres, catapulting me back into the reality of uni life. This year, I've made it to Richmond Park, walked along the whole river and visited Bob Marley's house. It's kind of like being an adult?
Of course, there are some downsides to this lockdown being in the miserable months of winter.
It's freezing, like all the time, and on the rare occasion where I actually make it out of the house, it starts tipping it down. It also means exams and essays for a lot of us, which keep us cooped up in our bedrooms or the Student Centre when we're lucky enough. Yes, it's something to keep me busy, but do I really want to be downing wine at 1am to get my 'creative juices flowing' when I could be downing wine while watching Shaun of the Dead instead?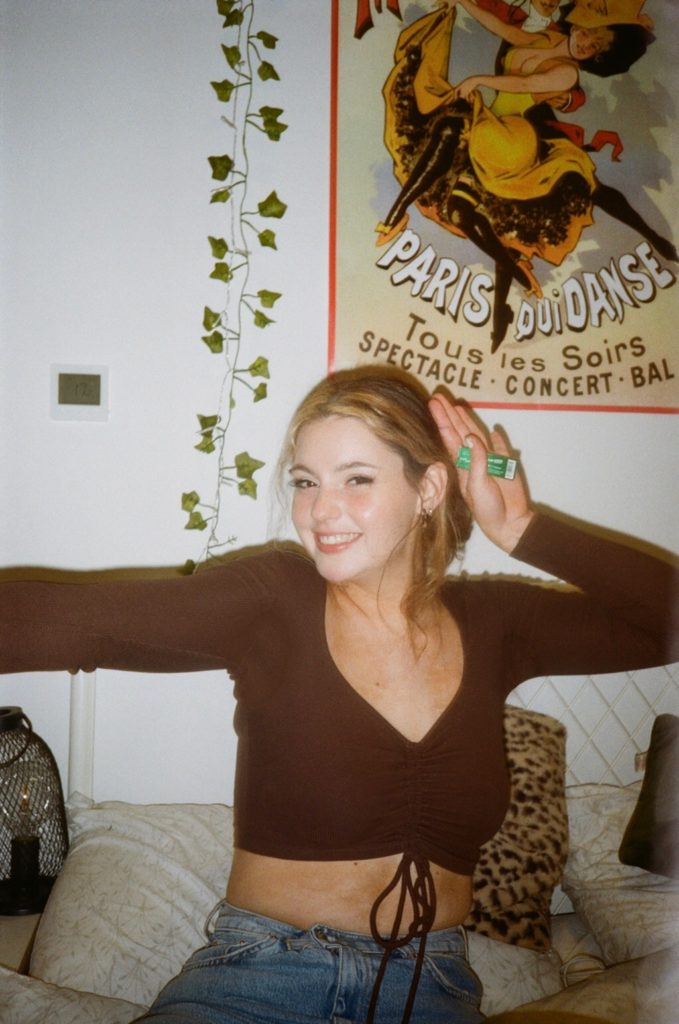 However, I do love spending time with my flatmates when we can, and it always spices things up a bit when lockdown madness hits in the form of stick-and-poke foot tattoos, dodgy fringe cuts and endless questionable fajita nights. One thing we all have in common is that we're very much stuck in a city where our uni is probably laughing at how much we're paying them for doing nothing, and it feels like it won't ever get back to normal. Walking past the Ice Wharf on a daily basis is just heartbreaking, and don't even get me started on catching a glimpse of the ghost of Phineas past. However, in their place, we have discovered how stupid Bridget Jones is, how to (maybe) cook a few nice flat dinners, and have treasured the nights spent drinking together.
I actually asked my flatmates how they would summarise lockdown in London, and after the initial unanimous response of "really fucking depressing", things started to lighten up. "You go through these crazy bipolar stages of wanting to see literally anyone else other than your flatmates, and then having 5 makeover nights in a row," says Flora, "no offence though, guys." Quite literally as I am writing this we are having a thorough discussion about one of us being a closeted psychopath and yet bonding over the pure *trash* that is men.
Through all the compulsive online shopping and Deliveroo ordering, being in London with 3 girls can have its challenges, but having the liberty to spend all of our SFE loans at once without parents yelling at us for it is refreshing, to say the least.
Despite having to rearrange her room, cover everything in hay and buy 48 eggs to use their boxes as moulds for her Architecture-at-home degree, Katie is also mostly avoiding daily breakdowns and enjoying being in London. "I never realised how many parks there are in London – we've been to loads and there's still more we haven't seen," she tells me. "I think I can safely say that I've covered every single inch of Regents Park three times over, though." The one saving grace of not being able to go anywhere inside in the city apart from our very communal flat is that there is a surprising amount of nature here, and procrastinating work by going on a really, really long walk is pretty much all we do.
Honestly, my brain can't really comprehend how long we'll be expected to do this for until things start relaxing a bit, but for now London isn't just bearable but actually a lot of fun sometimes. I feel hugely lucky that I had last year to meet friends and move into an apartment away from halls, but of course a lot of us haven't had that chance. For people stuck in London away from home, wanting to be anywhere else but with their family, or just struggling mentally with the tolls this lockdown is bringing, know that you're not alone.
This is an overwhelming time for everyone, and at the Tab, alongside our You Matter campaign, we've suggested some free mental health services to help you get through this. Whether in London or not, I hope that everyone is staying happy and healthy this lockdown.