King Percival: Agatha Christie goes medieval with a comedic twist.
UCL Comedy Club, in collaboration with UCL Stage Crew, presents their original, sitcom-worthy piece at Camden People's Theatre.
UCL Comedy Club's King Percival dazzled audiences at the Camden People's Theatre from the 20th – 22nd February with a wonderful, wacky performance. A characteristically up-to-date whirlwind covering everything from LGBTQ+ History Month to the online streaming revolution to Brexit, the show centred around celebrity historian Lucy Cumber's fall from grace.
As various celebrities proved in awards show speeches this year, the royals are fair game for comedy, and King Percival took full advantage; Lucy's downfall followed a verbal altercation with HM The Queen, and came with a pretty fiery social media backlash (#Cumberbitch trending, and not because of the Benedict fanclub). Left with limited career prospects she becomes the historical presenter of Hystory's Mysteries, an Amazon Prime show.
In the episode the show revolves around, Lucy wittily explores the mysterious absence of King Percival, weaving current events and debates into her coverage of a curse that befell Little-Frington-on-the-Gripsy, the site of his disappearance.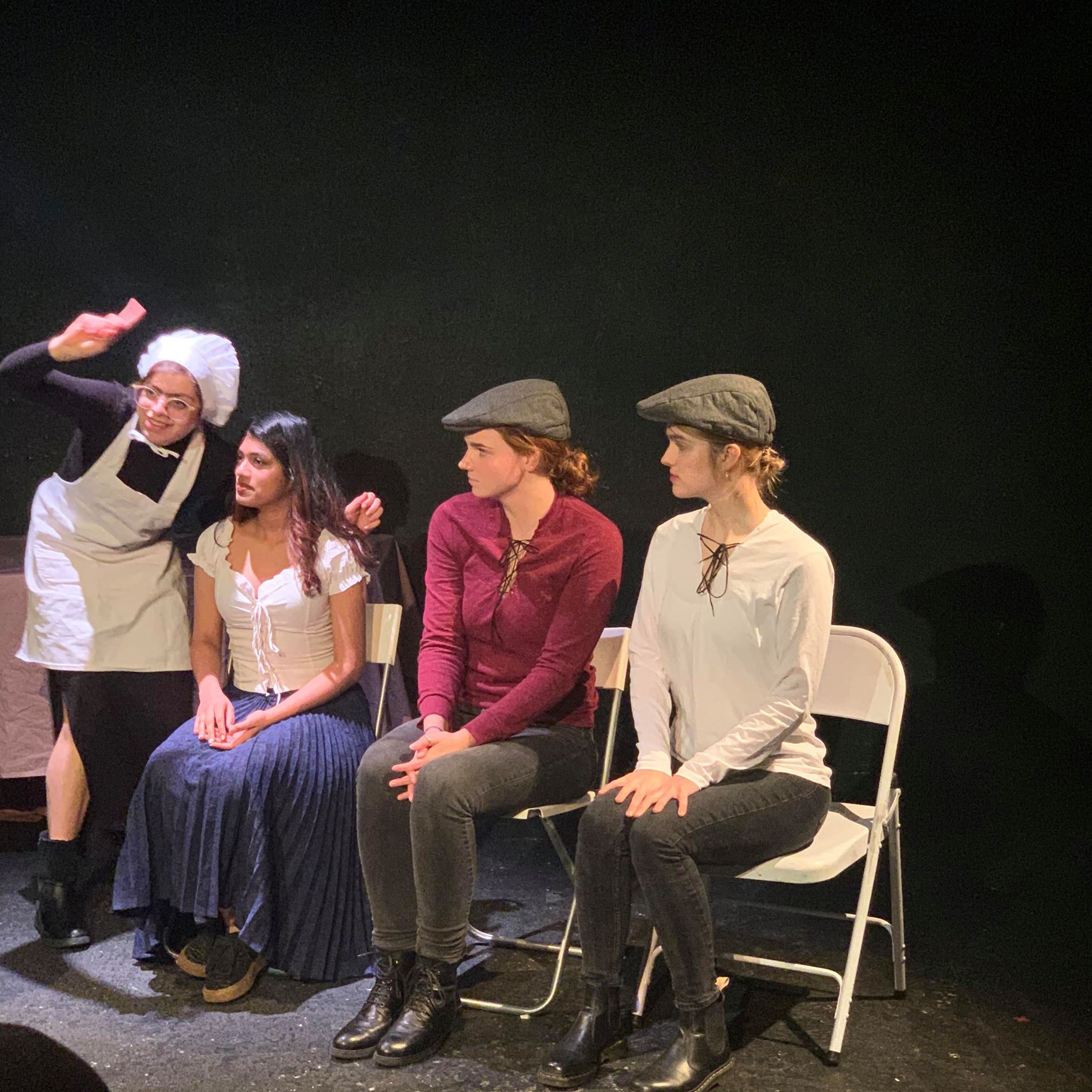 An original piece that keeps the audience on the edge of their seats, King Percival has enough plot-twists to engage even avid crime fiction fans, as every inhabitant of Little-Frington-on-the-Gripsy has a vested interest in getting rid of His Majesty. Reasons range from old boarding school vendettas and forbidden love to demonic possession; it's safe to say there's more to this medieval town than meets the eye.
It's the memorable characters that really bring the play to life, though. From Patsy, the old hag, leader and official pioneer of feminism, to the town's priest Father Father (yes, really), keen advocate of the Holy Trinity: Live, Laugh and Love, with a huge VSCO fanbase.
Two couples dominate throughout, showcasing very different dynamics. While Mr and Mrs Frington-on-the-Gripsy, the local nobles, are your typical bickering married couple or your annoying yet can't help but love the drama Ross and Rachel, Plebus and his vegan, gluten-free partner are caught in a whirwind of love triangles, witch hunts and an unravelling murder mystery (Adam Silvera, the ending is to die for). Meanwhile, Little King Percy is predictably cruel,  arrogant and self-centred, just like any other Tory you've met.
Nothing is safe from Lucy's sharp wit, with shots fired at two of the most contentious London institutions: The British Museum and King's College London (boo!). Another dig at current affairs comes in the shape of an imagined"original" Magna Carta  Moreso, which included a whole article on impeachment. Explains why no attempt has been successful ever since.
Perhaps this piece's only downside was the lack of props and costumes, meaning they didn't quite create the medieval vibe they were rooting for. Nevertheless, the actors were so brilliant that it was still an overwhelming success. Besides, the 21st century soda cans made their tavern scenes even more relatable.
To keep up with the work of UCL Comedy Club you can find them on Facebook here – we promise you won't regret giving them a like!