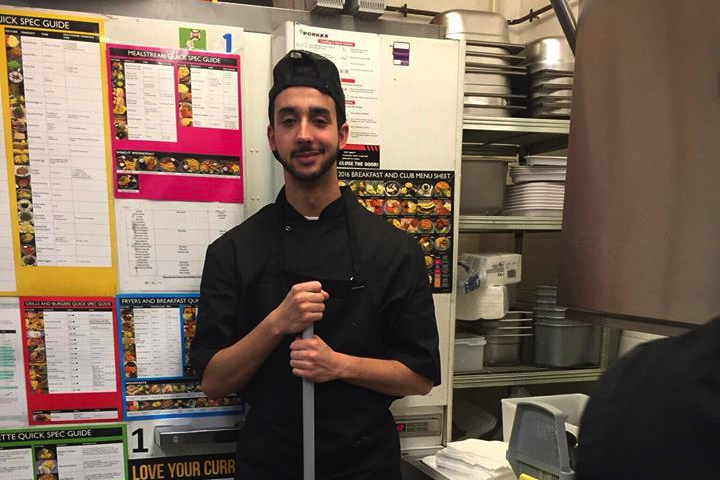 I graduated with a master's and now work as a kitchen porter in Spoons
It taught me lessons university never did
I'm washing piles of dishes, whilst sliding across the slippery floor. My arms ache from continuously loading trays full of chips and hash-browns into a tall furnace. I'm sweating and the only respite from the heat is the walk-in freezer, where more boxes of ready-made carbs and cheap meals are stored.
Where am I? I'm a kitchen porter in a Wetherspoons pub.  It's not easy and it's a big transition from where I was this summer, finishing off my master's dissertation in Media and Communications from University of Roehampton in a central London library. Achievement and a sense of relief shaped a hopelessly optimistic vision of the future.
A few months ago, I wrote an article about signing on. Well since then, and with bills to pay I've been working down a local Spoons. When I started my kitchen job, my university degrees were all I talked about. I was quick to ask my co-workers on the first day, "so, who else has a degree?" My icebreaker to a waitress was how race is a 'social construct'. I even told my senior supervisor that I received a 78 mark for my MA dissertation. Expecting an awed response, the uninterested reply bruised my ego.
As smart as I saw myself, I soon realised it didn't make me any different or any better than my colleagues. In fact many of them who left school at 16 were able to solve problems intuitively.  My slow, cumbersome reliance on logic was no match.
My initial arrogance disappeared and my respect for my co-workers increased. I couldn't help but notice that customers had little idea of how difficult and even painful preparing their food was. Collectively our hearts sank when a large order of paninis came through, the melted cheese always dripped off the grill, burning the finger tips of the poor sod preparing it. Even the plates they ate on were only clean because someone had been standing for four to eight hours washing piles of crockery as fast as they could in order to keep up.
Being a Spoons kitchen porter was hardly the graduate life I expected. However it taught me that the real world cared little for degrees or how you intellectually matured.  My sense of entitlement for having a degree was replaced with humility and gratitude for having 22 years to study and pursue my interests.
Manual labour is hard, really hard. Those who do it day in, day out deserve our respect. Although we look down on them, we all rely on them. So next time you find yourself munching on cheese and tomato panini in your local Spoons, spare a thought for the porter who burnt their fingers preparing it, or the porter who cleaned the plate you're eating off.