UCL issue warning after meningitis death
The university earlier announced two reported cases of the disease
An email from UCL has confirmed the death of a student from meningitis.

On Wednesday evening the Director of Student Support and Wellbeing confirmed a student had "sadly passed away from confirmed meningococcal disease".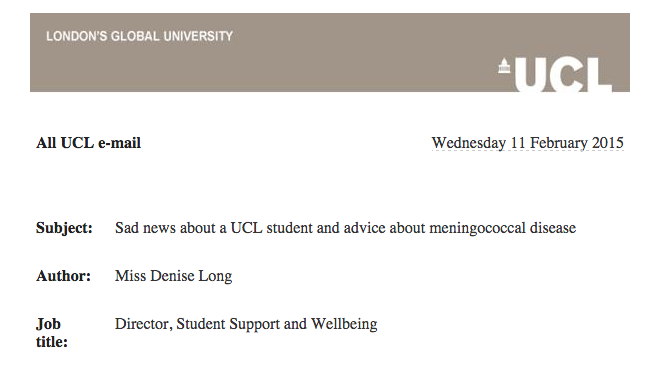 In an e-mail sent to all students, the university said "our thoughts are with the student's family and friends at this very sad time".
It added that friends who had close contact with the student are being given antibiotics by Public Health England as to "kill the meningococci that they may be carrying in their nose or throat".
Student Support and Welfare said risk to other UCL students is "generally low".
The tragic announcement followed an earlier email warning there had been two reported cases of meningitis at the university.
The message read: "THIS DISEASE CAN KILL IN HOURS IF NOT TREATED."
"If you think it's a bad dose of flu, a heavy hangover or drugs DON'T just leave it."
The announcement follows the death of two freshers at the universities of Birmingham and Manchester last year.
Symptoms of meningitis include fever, vomiting, headache and feeling generally unwell.